Academy Backtracks On Idea Of Oscar For 'Popular' Movies
(Bloomberg) -- Well, you can't say the Academy of Motion Picture Arts & Sciences doesn't listen.
The institution behind the Oscars scrapped plans for a new popular-movie category at its next awards show. The notion of a separate award for more mainstream films had drawn scathing criticism on social media since it was announced last month. So the Academy now plans to spend more time studying the proposal, and it won't be part of the upcoming 91st awards.
"There has been a wide range of reactions to the introduction of a new award, and we recognize the need for further discussion with our members," academy Chief Executive Officer Dawn Hudson said in a statement. "We have made changes to the Oscars over the years -- including this year -- and we will continue to evolve while also respecting the incredible legacy of the last 90 years."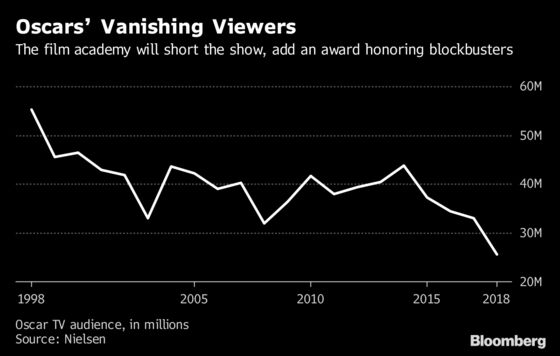 The academy has been pondering changes to its format after a decline in ratings. Critics of the show have said it focuses too much on movies that few Americans have actually seen.
In the past, films like "Titanic" and "Lord of the Rings" were both popular and Oscar-worthy. But Best Picture winners in more recent years, such as "Birdman" and "Moonlight," were more esoteric. Even so, the idea of adding a runner-up category for popular films was widely lambasted.
The silver lining for the academy this year is that the Best Picture hopefuls are generally expected to do well at the box office. "A Star is Born," featuring pop star Lady Gaga, and "First Man," a film about Neil Armstrong featuring Ryan Gosling, are already getting buzz at festivals. And some critics expect the superhero movie "Black Panther" to get Oscar recognition.
Other changes are afoot for the Oscars. The academy plans to give out eight of 24 awards during commercial breaks, helping shorten the show to three hours. The date of the 92nd Oscars has also been moved up to Feb. 9, 2020, from Feb. 23. The show will air this year on Feb. 24 in more than 200 countries.