London Chef Clare Smyth Strikes Again
(Bloomberg) -- Core by Clare Smyth today becomes the first new restaurant to score a perfect 10 since The Good Food Guide introduced the scores for cooking in 2008. The London restaurant enters the Top 50 at No. 3. 
Smyth opened Core, in Notting Hill, last August and has already received several accolades. She was formerly guardian of Gordon Ramsay's three Michelin stars at his flagship establishment in Chelsea and will now be looking to the Michelin Guide's U.K. stars for 2019, which will be announced on Oct. 1. There's speculation she might go straight to two stars.
The Northern Ireland-born chef celebrates British ingredients at her informal fine-dining restaurant where her most famous dish is Potato and Roe, with dulse beurre blanc, herring and trout roe. Smyth's signature tasting menu costs £115 ($148) and features dishes such as Isle of Mull scallop tartar. The three-course lunch menu is £65.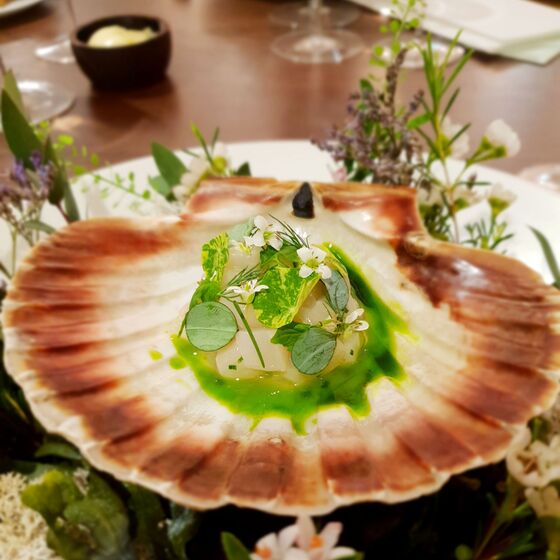 Smyth was named the world's Best Female Chef earlier this year in the World's 50 Best Restaurants awards, while Core by Clare Smyth placed fourth in the U.K. National Restaurant Awards 2018. (Smyth previously scored 10/10 in the 2015 Good Food Guide, but that was for Restaurant Gordon Ramsay.)
Women chefs are achieving increasing prominence in the U.K. Among them is Lisa Goodwin-Allen, executive chef at Northcote, in the north of England. Most of the others are London-based, including Nieves Barragán (Sabor); Ravinder Bhogal (Jikoni); Skye Gyngell (Spring); Monica Galetti (Mere); Angela Hartnett (Murano); Thomasina Miers (Wahaca); and Ruth Rogers (River Café).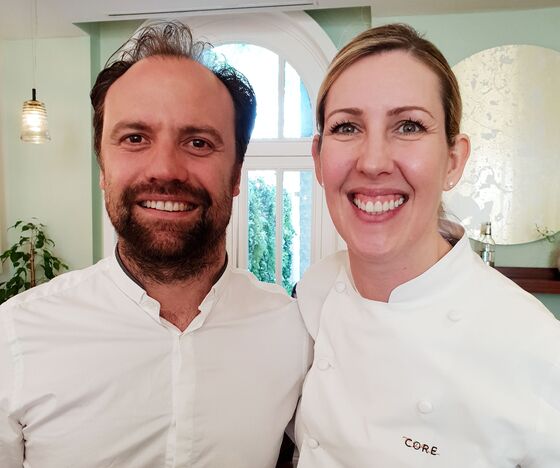 Restaurant Nathan Outlaw in Port Isaac, Cornwall, tops the Top 50 for the second year in a row in The Good Food Guide 2019 by Waitrose & Partners, followed by L'Enclume (2nd) and Core, which is the top-ranked London establishment. Claude Bosi at Bibendum (6th), Restaurant Gordon Ramsay (7th) and Pollen Street Social (9th) also make it into the Top 10.
The guide praised Outlaw's confident cooking and his tasting menu, which it describes as "ingenious in its simplicity, yet continues to surprise." The six-course menu costs £130 and may include dishes such as raw scallops, peas and mint; and gurnard, kohlrabi and saffron.
The Top 50 (with scores for cooking in parentheses):
Restaurant Nathan Outlaw, Cornwall (10)
L'Enclume, Cumbria (10)
Core by Clare Smyth (10) New
Restaurant Sat Bains, Notts (9)
Ynyshir, Powys (9)
Claude Bosi at Bibendum, London (9)
Restaurant Gordon Ramsay, London (9)
Casamia, Bristol (9)
Pollen Street Social, London (9)
The Fat Duck, Berkshire (8)
Moor Hall, Lancashire (8)
Restaurant Andrew Fairlie, Tayside (8)
Adam Reid at The French, Manchester (8)
Bohemia, Jersey (8)
Le Champignon Sauvage, Glos (8)
Restaurant Story, London (8)
André Garrett at Cliveden, Berkshire (8)
The Ledbury, London (8)
Fraiche, Merseyside (8)
Roganic, London (8) New
Midsummer House, Cambridgeshire (8)
Alain Ducasse at the Dorchester, London (8)
The Peat Inn, Fife (8)
Marcus, London (8)
Dinner by Heston Blumenthal, London (8)
The Kitchin, Edinburgh (7)
Forest Side, Cumbria (7)
A. Wong, London (7) New
Orwells, Oxfordshire (7)
Sketch, Lecture Room & Library, London (7)
Hedone, London (7)
The Ritz, London (7)
Castle Terrace, Edinburgh (7)
The Three Chimneys, Isle of Skye (7)
The Waterside Inn, Berkshire (7)
Simon Radley at the Chester Grosvenor, Cheshire (7) New
Restaurant James Sommerin, Glamorgan (7)
Whatley Manor, The Dining Room, Wiltshire (7)
Matt Worswick at the Latymer, Surrey (7) New
The Raby Hunt, Co Durham (7)
The Greenhouse, London (7)
The Sportsman, Kent (7)
Restaurant Martin Wishart, Edinburgh (7)
Artichoke, Buckinghamshire (7)
Lake Road Kitchen, Cumbria (7) New
Adam's, Birmingham (7)
Morston Hall, Norfolk (7) New
Le Gavroche, London (7)
The Whitebrook, Monmouthshire (7)
Hambleton Hall, Leicestershire and Rutland (7)
The Good Food Guide is published by Waitrose on Sept. 6, available in Waitrose shops and online.  The 2019 edition is the sixth GFG to be published by the supermarket. £17.99.