Toppling Tom Cruise Was 'Mission: Impossible' for Pooh Film
(Bloomberg) -- "Mission: Impossible -- Fallout," the Tom Cruise action film featuring the star performing his own stunts, held on to the top spot in movie theaters this weekend, outdrawing three new releases including Walt Disney Co.'s "Christopher Robin," a live-action take on Winnie-the-Pooh.
"Fallout" collected $35.3 million in sales at U.S. and Canadian theaters, researcher ComScore Inc. said Monday. That was enough to top "Christopher Robin," which opened in second place with $24.6 million, along with the Mila Kunis comedy "The Spy Who Dumped Me," from Lions Gate Entertainment Corp. and "The Darkest Minds," a 21st Century Fox Inc. thriller.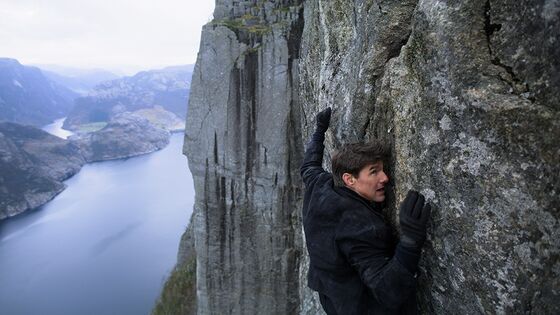 The weekend continued this summer's upward trend compared with last year. The box office totals were about 14 percent higher than the same period last year, when "Dark Tower" led with $19.1 million in ticket sales, according to ComScore's senior analyst Paul​ Dergarabedian. Overall, 2018 so far is 7.9 percent higher than last year.
The sixth film in the "Mission: Impossible" series is demonstrating that the franchise still has box-office vigor. That's good news for Viacom Inc. and its Paramount Pictures division, which has struggled this year and was sixth in domestic sales, according to Box Office Mojo.
"Mission: Impossible" has benefited from solid reviews and dramatic stunts including one in which the 56-year-old actor dangles from a rope attached to a helicopter. Analysts were forecasting sales of $31.5 million. So far, the film has taken in $124.8 million in the 10 days it has been in North American theaters, according to ComScore.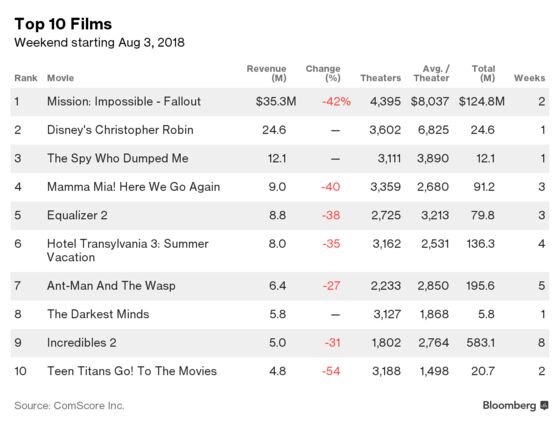 "Christopher Robin" fell short of the $31.5 million opening predicted by Box Office Pro, though the results were within the studio's expected range, said Cathleen Taff, president of theatrical distribution for Disney. The company didn't disclose the budget for the movie but it is likely to have a much smaller budget than Disney's higher-cost, tentpole movies.
"This is a solid start for this film," Taff said in an interview Sunday. "We are very encouraged by the positive response."
Now middle-aged, Ewan McGregor's Christopher Robin is a grown-up working stiff, focused on his job and the layoff notices he has to hand out -- to the detriment of his family. His childhood friend Pooh reappears and enlists him to help find their missing chums, Eeyore, Piglet and Tigger.
The film aims for the nostalgia of adult viewers while introducing younger ones to characters who have typically only been presented in the traditional, hand-drawn animated medium, according to Shawn Robbins of Box Office Pro.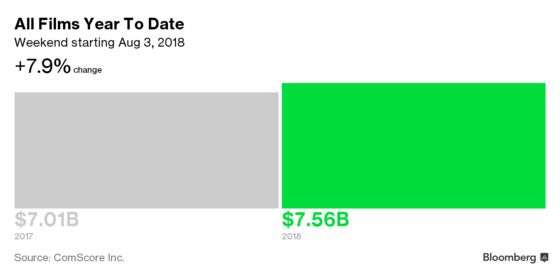 The good news for the movie is that it faces little direct competition in the children-family segment through Labor Day, according to Robbins. Most critics liked the movie, with 66 percent recommending it to fans at RottenTomatoes.com.
"The Spy Who Dumped Me" opened with sales of $12.1 million, missing Box Office Pro's $14.4 million forecast. Kunis stars as Audrey, alongside best friend Morgan, who's played by Kate McKinnon. They are unwittingly drawn into an international spy drama by Audrey's ex-boyfriend. Just 36 percent of critics recommended the movie.
"The Darkest Minds" delivered $5.84 million for Fox, against the $5 million forecast at Box Office Mojo. The film cost about $34 million to make.
The film is a dystopian thriller set in a world where 98 percent of the children and young people are killed off by disease. The survivors have development superpowers but are kept locked up. Just 19 percent of critics recommended the movies.