Japan's $150 Chicken Skewers Are Coming to New York City
(Bloomberg) -- "When you dine at Torishiki, look at Ikegawa-san's hands," chef Kentaro Nakahara said to me last month, almost in a whisper, as I sat at the kitchen counter of Yakiniku Nakahara, his esteemed wagyu tasting-menu restaurant in Tokyo. As he rapidly seared a paper-thin cut of beef tongue over a shoe box-size grill, he continued: "His finger nails have melted off because of proximity to the binchotan."
The restaurateur's hushed comments weren't idle gossip but rather respect, a nod from one master of the craft to another. Nakahara wanted me to know not only how hot Yoshiteru Ikegawa's charcoal becomes, or how closely he holds his hands to the glowing embers, but also his level of dedication—enduring self-inflicted pain—to grill Japan's, and really the world's, greatest chicken skewer: what we know as yakitori.
Counting just 17 counter seats in Tokyo's Shinagawa neighborhood, Ikegawa's Torishiki opened in 2007 and has since earned the chef one Michelin star and a worldwide following for his handiwork with chicken—bamboo skewers tethering chicken neck, heart, and tail kissed with binchotan smoke, flesh juicy as a summer peach. Within any genre of cuisine in Tokyo, Ikegawa is considered one of the top shokunin (craftsmen); Torishiki consistently ranks as the city's No. 1 yakitori restaurant on Japan's most widely read ratings site, Tabelog.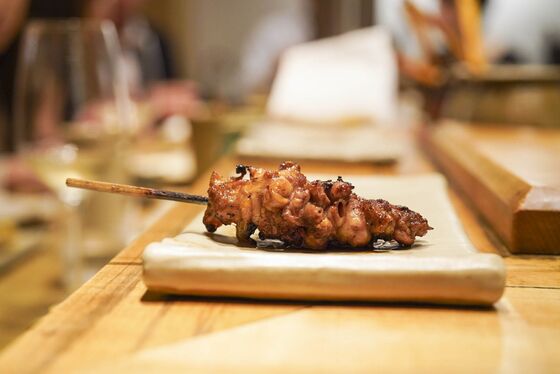 "Yakitori has always been a casual, plebeian dish until Torishiki elevated it to a sophisticated culinary experience," says chef Natsuko Shoji, of Tokyo's buzzy, introduction-only restaurant Eté. "Ikegawa's proficient technique is comparable to the meticulousness of French chefs." Never once do his hands stop moving during service, his gaze rarely leaving the glowing bincho grill around which guests sit, while his chicken skewers—made from all cuts of the bird—sizzle to perfection.
The problem is nabbing a seat. One may have better luck booking visionary chef René Redzepi's relaunched Noma in Copenhagen than scoring a spot at Torishiki, which has become as much a pilgrimage for gastrotourists as checking off any restaurant on the World's 50 Best list.
"I once called 700 times but failed," wagyu master Nakahara later tells me, explaining that Torishiki takes reservations one month out, by phone only, on the first day of the month. Which seems fair—whether anyone ever answers the phone, however, is another question.
But the world's luck may be changing.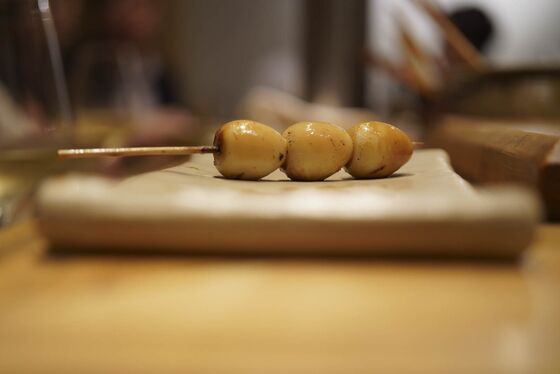 After years of expansion requests, Ikegawa has finally committed to international growth. He's solidified a deal over the past year with Los Angeles-based restaurateur Edo Lopez, who has more than a dozenJapanese restaurants and bars in Mexico, Miami, and Southern California. First stop: Manhattan's Lower East Side for an 18-seat, set-menu yakitori counter called Torien.
Yes, New York will now have an entire restaurant devoted to skewers of fancy fowl.
"Ikegawa-san wants to show the world how yakitori really is, highlight it like sushi," explains Lopez of his business partner's decision to expand internationally. There's no better city in the world to open a restaurant, he adds: "New York is everybody's dream!" This will be Lopez's first restaurant in the region.
Torien will open in the first quarter of 2019, in a 1,000-square-foot space at the corner of Elizabeth and East Houston streets in SoHo, replacing former vegan restaurant Siggy's Good Food. In addition to its 18 counter seats, the yakitori spot will be equipped with a private dining room for eight.
Many details have yet to be completed, but Ikegawa plans to offer a simple, affordably priced omakase chicken skewer menu paired with a concise beer and wine list—probably three of each, Lopez says. In Tokyo, Torishiki's omakase costs roughly $100 to $150 per person, depending on how many skewers one eats. The aesthetic layout will involve diners sitting at a counter, with a chef grilling yakitori skewers directly across.
There's also talk of to-go bento boxes for those who want to dine at home. And while Ikegawa plans to oversee the restaurant's inception and launch, the famed chef's second in command will most likely run service thereafter. 
Torien's timely inception lands amid New York's Japanese culinary renaissance. Beyond an influx of top-tier sushi bars shuttling in Tsukiji Market fish on the regular, the city has embraced niche concepts that highlight the specificity of Japanese cuisine. There's Tempura Matsui and its $200 fried-food omakase, as well as kaiseki- and wagyu-dedicated concepts, such as Uchu owner Derek Feldman's newly minted Don Wagyu. The Financial District spot with $185 beef sandwiches is clearly inspired by Tokyo's members-only beef club Wagyumafia, which is planning its own imminent New York debut. Details on that still to come.