This Bizarre Sunscreen Booth Is Driving Cocktail Sales at Hotel Pools
(Bloomberg) -- Nothing will ruin your beach vacation faster than a sunburn.
Get scorched, and suddenly everything that was meant to be fun isn't: Massages at the spa hurt, day-drinking by the pool hurts, getting on jet skis hurts. Listening to your skincare-obsessed partner saying they "told you so" on loop? That's a whole other kind of pain.
As it turns out, hoteliers feel the burn, too. With some of their largest margins—up to 70 percent—coming from poolside cocktails, excursions, and spa services, they, too, see the benefits of SPF (sun-protection factor).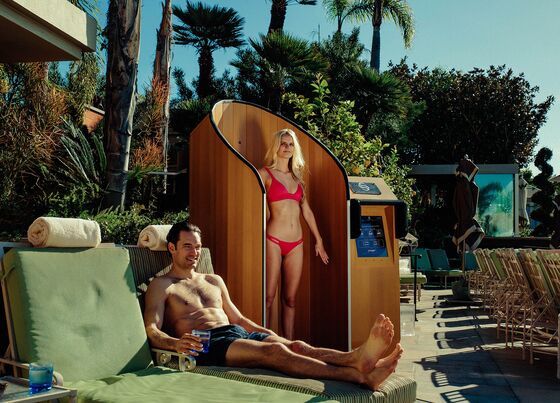 According to SnappyScreen's chief executive officer and founder, Kristen McClellan—who came up with the idea for her company when she was a 19-year-old Cornell University freshman—hotel guests spend an average of $26 more per person, per day on poolside food and beverage service when there's a complimentary SnappyScreen booth nearby.
"Increased spend is just one thing," she says. "At a time when more and more people are booking online, this can make the difference between a four- or five-star TripAdvisor review," she explains.  
At Four Seasons Dallas at Las Colinas, where SnappyScreen was installed before the start of the 2017 summer season, the food and beverage department enjoyed a year-over-year boost of $170,000. According to Vail Tolbert, the property's communications director, that's a 31 percent revenue spike—not to mention a highly "Instagram-able" amenity that's like free marketing for millennials.
Think of SnappyScreen machines as a spray-tan booth—in reverse. On a digital touchscreen in front, guests answer two questions to indicate height and desired type of sun protection (SPF 15, 30, or 40). Then they stand on a pedestal inside the wood-lined booth and get rotated while being gently spritzed with a proprietary formula of UVA/UVB broad-spectrum sunscreen.
"We were looking for a continuous-spray sunscreen that was also hypoallergenic, water-resistant, reef-safe, quick-drying, and free of oxybenzone, parabens, and alcohol—but it turned out that all those qualities are really hard to get in one can," explains McClellan. She spent a year developing a product that met those standards and made it safe to spray on top of clothing, a factor that's made SnappyScreen popular with golfers, as well as sunbathers.
At most resorts, SnappyScreen is offered on the house as an update to complimentary pump-based lotion stations. At others, it costs $5 per application, which guests can pay via taps of their room keys.
Hotels buy SnappyScreen the way office managers buy inkjet printers: It's the sunscreen, not the machine, that comes at a cost. The payoff can be quick, as with the Four Seasons Dallas.
At Andaz Mayakoba In Mexico, the food and beverage department can't offer a direct correlation between the machine and its bar sales—partly because the machine has been there since Day One—but the hotel is still cashing in. There, a spray costs $5, and travelers who prefer not to check their luggage have few other options.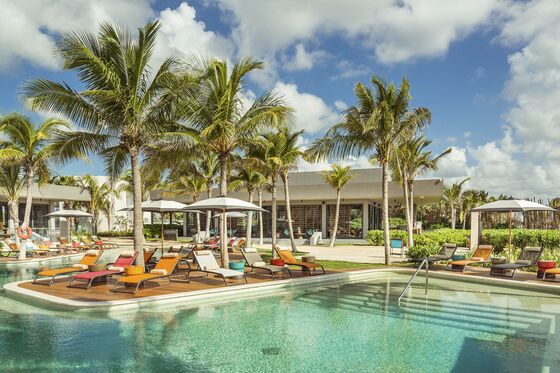 "About 23 percent of our guests are using it each month," explains Moises Espinosa, the property's director of rooms. The amenity is also offered free-of-charge to guests who book through certain travel agents—a way for Andaz to boost some of its most important sales channels.  
Among SnappySeed's newest clients is Hamptons mainstay Gurney's Montauk. It's had a complimentary machine by its beach entrance for just one month, and general manager Michael Nenner already wants three more.
"Sunscreen is the No. 1 thing people would request besides food or alcohol. This is more sustainable than giving it out in plastic cups, more luxurious, and certainly more efficient," he explains.
SnappyScreen has had a 50-resort backlog since 2016 but plans to deploy a 2.0 version of its machine—featuring digital advertisement displays and remote diagnostic capabilities—to all those properties by the end of the year, plus a handful of additional orders to be announced in 2019.
"Right now, we're mainly in four- and five-star hotels," says McClellan, "but we've already started speaking to cruise lines, water parks, theme parks, even municipalities about bringing this to certain areas."
And while SnappyScreen's main competitor, Sunscreenmist, is focusing on music festivals such as New York's Governor's Ball, with its three "mist machines," McClellan is prioritizing permanent locations—public or private.
"Believe it or not, we're getting inquiries for backyard versions," she says. "People might laugh, but clearly the need is there."