Rome Production of Bizet's Carmen Features ICE Agents, #MeToo
(Bloomberg) -- You'll know before the house lights dim at the Rome Opera House that this isn't your grandmother's Carmen.
Performed outdoors against 3rd century ruins at Terme di Caracalla, this milestone production includes pole dancing, transgender prostitutes, jaw-dropping stagecraft, and the most alluring mezzo-soprano in the world right now: Republic of Georgia–born Ketevan Kemoklidze.
Daring Argentine director Valentina Carrasco premiered her up-to-the-minute interpretation of Georges Bizet's classic last weekend to an enthralled audience that looked nothing like the pearl-wearing blue hairs you might expect. Instead, attendees seemed culled straight from a hip, high-end cocktail bar. Scores of ticket-holders in slick outfits took selfies at the orchestra pit, sipped Aperol spritzes, and smoked long cigarettes during the intermission. They were rewarded with an immersive, eye-popping experience that included black-lit skeletons, Day of the Dead–inspired floats, and video projection onto ancient ruins behind the stage. (Credit for these innovations go to Linbury Prize–winning stage designer Samal Blak.)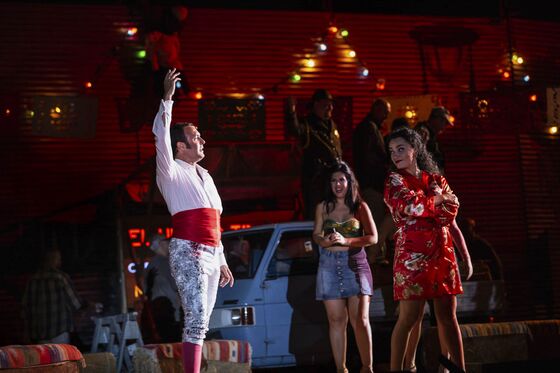 Bizet's tragicomic masterpiece about the Spanish gypsy who falls in love with a jealous corporal and a brilliant matador debuted on March 3, 1875. Back then, Bizet's portrayals of sex, smugglers, and strong-willed feminism were groundbreaking, shocking, and scandalous. Critics panned this work from Bizet, a former child prodigy who had won France's prestigious Grand Prix de Rome award in 1857 but never experienced mainstream success during his lifetime. He died a broken man on the evening of the 33rd performance of Carmen. He was only 36 years old.
Carrasco has reimagined Carmen against the backdrop of America's current immigration crisis. Her show is set at a Mexico-U.S. border wall and opens with children being torn from parents by ICE agents. There's a dead border-crosser in a body bag, real-life radio broadcasts, and later, a torn-up American flag. It's an astonishing, riveting production that addresses xenophobia, the #MeToo movement, women's power, domestic abuse, and the more general issue of making opera relevant again. While it's totally in the present, Carrasco did not change a single authorial word or note. Her Carmen is easily on par with the energy, impact, and production value of a first-run Broadway show, albeit with the guts, grandeur, and Gesamtkunstwerk of a 143-year-old French opus.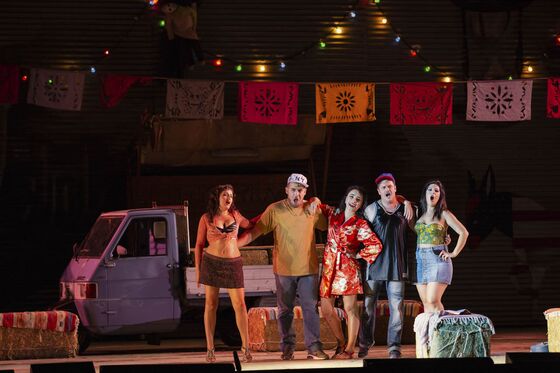 "All over Europe, there is a tendency to modernize classics," says Carrasco backstage at the premiere. "It's an approach taken by a lot of directors these days, but sometimes things get forced and impose a context that doesn't work, which is a problem." Carrasco mentions a flawed production in Paris of a La Bohème that took place on a spaceship and a version of Mozart's Die Entführung aus dem Serail (The Abduction from the Seraglio) that incorporated Islamic State. "I like how they bring up things, but it didn't fit because the opera wasn't written that way," she says. "The thing I manage to do that I don't see in other stagings is, I keep very faithful to the piece, even if it's in a totally different context." The best theater engages its audience with passions, feelings, and conflicts that are relevant, she adds, "even if it was written 100, 200, 300 years ago."
It works. Carrasco is a visionary who's quick to acknowledge like-minded provocateurs. She rattles off names—"Calixto Bieito (Spain), Barrie Kosky (Australia), Robert Carsen (Canada)"—of colleagues moving the needle beyond opera's staid traditions.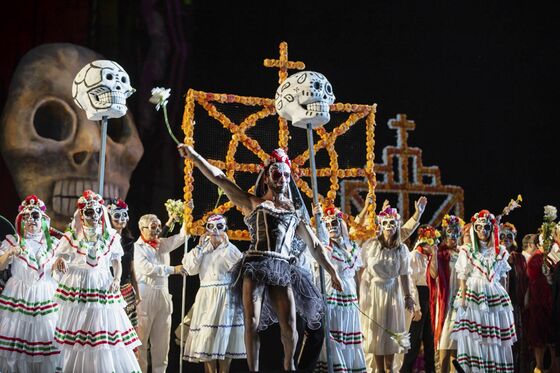 "This production of Carmen is very present. I added new facts with the children just last week," says Carrasco. She's referring to the opener that includes ICE agents hassling border-crossers and an audio interlude of Mexican news broadcasts from the prior week. "It talks of how many kids are separated. I didn't want to put it in Italian because it would be artificial. We're supposed to be in Mexico." The Italian audience had little trouble discerning the disturbing images and the word "Trump" in authentic, radio-static Spanish.
Later, our titular character, in an act of defiance, tears up the American flag. "Can you imagine," says Carrasco, "I did the same thing on the Fourth of July at the rehearsal. I went to say to maestro [American conductor Ryan McAdams] 'I am sorry.' But he told me, 'I think that the pride of the United States is that you can tear the flag, but still there is freedom.'"  
Tying it all together, the U.S., Mexico, Spain—all sung in heart-stirring French—is the scintillating Georgian mezzo-soprano, Ketevan Kemoklidze. "It is difficult to sing Carmen because everybody knows Carmen, but I always try to put in something that is mine, something different," she says outside her dressing room. Kemoklidze owns the role in a way that Gal Godot gracefully owns Wonder Woman.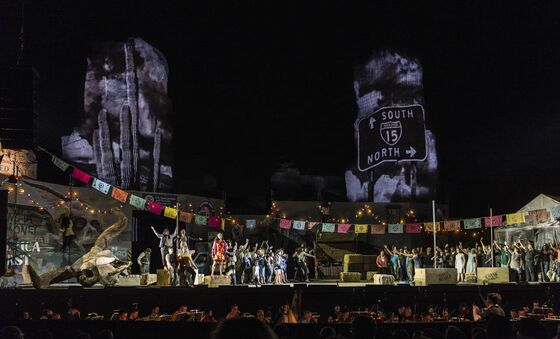 "Carmen has two sides," explains Carrasco, "and Ketevan embraces the role so perfectly: sensitive, emotional, political. She's fearless and she controls her body very well. She can be very strong, rough, and bitter, yet beautiful and super-sensual." At one point, Carmen undresses on stage and tantalizes Don José with a sponge bath while singing a seductive duet. "It is difficult to find someone who could do it and is willing to do it," says Carrasco.
"It is an important thing," says Kemoklidze. "What is the aim of a singer but to bring people to the performance, to make them interested in opera? Because we need young people, and we need to break the idea that opera is art for old people, that it is not modern or interesting, that it is for the rich and old-fashioned. We have to break this cliché." She pauses to receive kisses and congratulatory flowers. "And I cannot imagine a more modern production to do so than this one."
This Carmen—in four acts, with a 30-minute intermission—lasts about three hours and will run through August 2. Tickets range from €25 to €110 ($29 to 128) and, with such an intimate al fresco setting, there isn't a bad seat in the house. As for whether or not you will be able to catch the Carmen of Carrasco, McAdams, and Kemolidze in the United States, Carrasco issues a challenge. "Theater is a place where people take more chances. Is there someone who is brave enough? America is a great country undergoing a weird situation, and I think Americans need to have this contrast, this chance." She texted to me photos of the Santa Fe Opera House. "This venue would be perfect. The stage opens to the middle of the desert." Staging Carmen cost about €50,000. "But," says Carrasco, "we would collaborate at a fair, easy price just to bring this important European opera to the U.S." I tell Carrasco that I met many people at the premiere who told me it was their first time attending an opera. Carrasco smiles: "And it will not be their last!"