A First Look at the New Steak Grill From Meat Master Pat LaFrieda
(Bloomberg) -- Pat LaFrieda, the third-generation butcher and eponymous meat purveyor, is one of the biggest names among American foodies. He sells beef to elite New York spots such as Union Square Cafe, Beatrice Inn, and Marea, and provides the burgers for Shake Shack worldwide. (He even helped train the staff in Dubai on how to cook the patties.) He sells about $200 million worth of meat a year.
You'd think that by now, he'd have his own line of branded merchandise. "Over the years, I've been approached by just about every grill company you can think of to stick my name on something," LaFrieda says. But he never found one he liked, including a big-name $14,000 model that broke down on him after a year.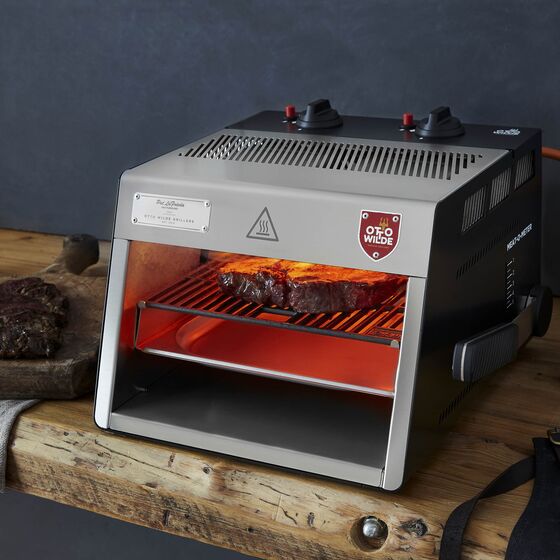 Now LaFrieda has signed on with an obscure German producer, Otto Wilde, for his first namesake grill. The $1,195 contraption, which looks a lot like a toaster oven, is a portable grill that can reach 1,500F in two minutes. (Most ovens this size top out at 450F.) That intense high heat means it can theoretically deliver a steakhouse-quality sear on meat, cooking a 1¼-inch-thick steak in fewer than four minutes. 
The secret is in the source of the heat. Instead of positioning it underneath the meat, the Otto Wilde grill has the flames above, like a restaurant salamander. The doorless oven has a pan underneath that holds water to stop flareups from fat drippings, which also prevents steaks from burning on the bottom. "This catapults the grilling game so far," says LaFrieda, who won't divulge his stake in the company.
LaFrieda says he connected with the company in the fall of 2017 while catching up on email at 3 a.m. (His hours are keyed to supplying restaurants.) He saw a message about a German grill that looked nothing like a grill and cooked only a couple of steaks at a time. He deleted it. "Then I said, 'Wait. It takes about half an hour for my 48-inch grill to get to 850 degrees, and I only cook two or three steaks anyway.'" LaFrieda recovered the deleted email and started thinking.
"I like my steak medium-rare, with a sear. To get a sear on rare meat without overcooking it at home, that's hard. I thought, if the grill can really get to 1,500 degrees, that's awesome." He also considered the amount of gas that gets wasted grilling at 850F. "It's a big savings in fuel. And it's just more efficient," he says.
For its part, the Otto Wilde team knew LaFrieda by reputation. "We emailed Pat in 2016 when we were looking for potential partners," said Julia Wilde, co-founder of the company, by email. "The third time we emailed, he replied. It was a good way to bring together the best meat and the best grill to cook it."
Within a week of the exchange, a representative from Otto Wilde showed up in New Jersey with a prototype. LaFrieda produced two porterhouse steaks; they cooked in three minutes.
He then made a few tweaks to the model he saw, including a mechanism to move bigger cuts, like a tomahawk, farther away from the heat. The grill, which went on sale in the U.S. in late May, is assembled in Germany. So far, about 220 have been sold.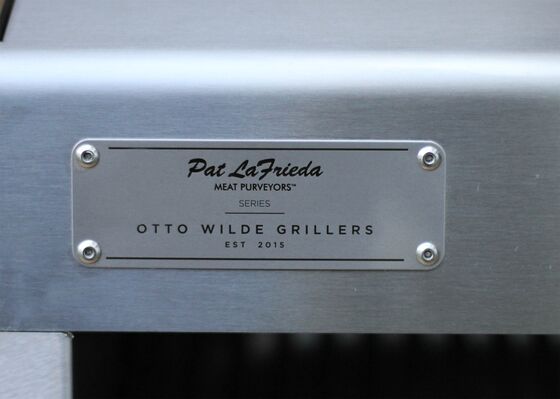 The star butcher is excited about what the grill can accomplish. At a spring event at Citi Field in Queens, LaFrieda cooked steak for 40 people on one grill, with minimal wait times. He lists what the grill can cook in one shot: "Two 42-ounce tomahawk chops; six boneless 1½-inch-thick New York strip steaks; three porterhouse steaks at one time." And because it weighs in at just under 40 pounds, it's also handy for tailgaters.
One drawback is that, currently, it runs only on propane. In cities such as New York, the standard tanks are banned on balconies, roof decks, and yards. Otto Wilde says a natural gas version is a few months away.