A Swiss Watch That's Not Made in Switzerland
(Bloomberg) -- Swiss watchmakers like to say they make heirlooms that fathers, mothers, and grandparents will eventually hand down to the kids. Richemont, the producer of Cartier and Vacheron Constantin timepieces that can command six-figure prices, is cutting out the middleman with a plan aimed squarely at millennials.
The company in May introduced Baume, a new brand that aims to lure younger consumers with watches starting at about $500 by replacing precious materials such as gold and platinum with recycled aluminum and stainless steel. Spun off from Richemont's struggling Baume & Mercier, the brand takes a page from the playbook of Nike Inc., which has allowed consumers to customize sneakers for more than a decade.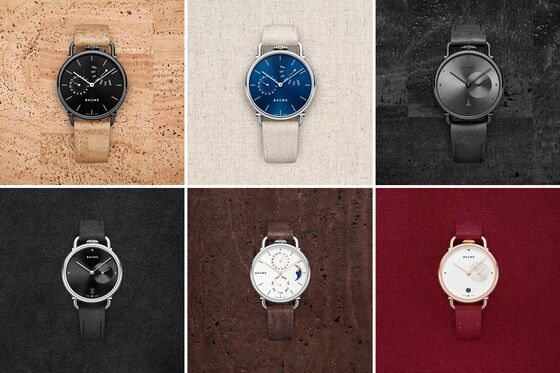 Baume lets buyers create their own designs from a slew of options that can be combined into more than 2,000 variants: the dial ("moonphase," anyone?), the style of the hands, and the strap (cotton, cork, or linen, but no leather, to keep the vegans happy). The company's website walks buyers through the options, then lets them rotate their creation to admire it from any angle.
The digital push may help attract buyers in the U.S., where consumers tend to be less enamored of luxury timepieces than in Europe and Asia. Only one in five young Americans wears a watch every day, about half the rate in the U.K., according to Deloitte LLP. China—where 29 percent of young people wear a watch—overtook the U.S. as the largest market for Swiss timepieces a decade ago, and American consumers today are more interested in tech gadgets than pricey wrist-wear that does nothing but tell the time.
"We're very much interested in clients who are interested in digital shopping and personalization," says Richemont Chief Operating Officer Jerome Lambert.
Perhaps even more radical for a centuries-old industry that extols the virtues of Swiss craftsmanship, not all the watches are made in Switzerland. To lower the cost, some mechanical movements are sourced from Japan. And the customized elements are assembled near a logistics hub in the Netherlands so they can be shipped as soon as the final engravings are made.
Richemont's strategy with Baume echoes its rivals' attempts to grapple with a four-year sales slump following a crackdown on corruption in China—where pricey watches had been a favorite bribe for bureaucrats—and the arrival of the Apple Watch, which allowed the tech giant to dethrone Rolex as the world's biggest watchmaker.
The shift has spurred competition among producers seeking to attract younger buyers. Swatch Group AG has cut prices for its Tissot brand to as little as $365. Hublot and Corum are wooing teenagers at schools to ensure they'll still have customers a generation from now. Rolex's sister brand Tudor is advertising with Lady Gaga and David Beckham. And Richemont in June agreed to buy a website for trading secondhand watches. The industry "does need to become more creative—but without abandoning its roots," says Patrik Schwendimann, an analyst at Zuercher Kantonalbank.
Analysts say Baume & Mercier has frequently been unprofitable over the past decade, though Richemont doesn't regularly publish details on its brands' results. Richemont, the world's No. 2 luxury house, with fashion labels such as Chloe and Dunhill, said profit last year rose 5 percent to 1.8 billion euros on sales of 11 billion euros.
Richemont risks undermining the Baume & Mercier brand by selling the cheaper watches and producing them outside of Switzerland, says John Guy, an analyst at MainFirst Bank AG. "While the sustainability theme will recruit millennial customers, ditching the Swiss-made label feels counterintuitive and it risks cannibalizing Baume & Mercier with cheaper products," Guy says.
Richemont Chief Financial Officer Burkhart Grund counters that the down-market move doesn't mean Richemont is abandoning its focus on high-end timepieces. He has assured investors that the goal is to get new clients wearing watches of any sort, and then moving them up to more expensive Swiss timepieces.
"It's been very important for us to continue to raise the relevance of watchmaking and fine watchmaking to new and younger generations," Grund said on a conference call with analysts in May. "We go one step further with Baume with a different approach. It's young, it's eco-conscious, it's digital."
To contact the editor responsible for this story: Eric Pfanner at epfanner1@bloomberg.net, David Rocks