Rare Ferrari 250 GTO May Fetch Record $45 Million at Auction
(Bloomberg) -- Another year, another trophy to test millionaires' desires for classic Ferraris.
A red 1962 Ferrari 250 GTO will be auctioned in August during the annual Pebble Beach Concours d'Elegance motoring week in California. The car is being offered by RM Sotheby's, which estimated it at more than $45 million, the highest valuation ever for a vintage auto at auction.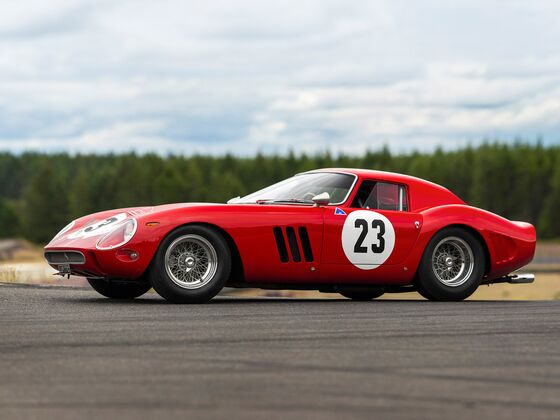 Ferrari built just 36 examples of the model from 1953 to 1964, and these elegant race cars have generated the highest prices among all vintage automobiles in recent years. In 2014, a 1963 edition fetched $38.1 million at Bonhams, the current record for a classic car at auction. Another 1963 version sold for $70 million in a private transaction earlier this year, according to Sotheby's.
While Ferraris remain the gold standard for many car collectors, vintage autos as a category declined 1 percent for the 12 months ended in March, according to the Knight Frank Luxury Investment Index. Still, the asset class has returned 288 percent over the past decade.
The owner of the Ferrari going on the block in August is Greg Whitten, chairman of Numerix Software Ltd. and an early Microsoft Corp. employee, who purchased it in 2000. The matching-numbers car competed in numerous races and won the 1962 Italian National GT Championship, according to Sotheby's. It has its original engine, gearbox and rear axle, as well as its factory Series II body, the auction house said.
Other owners included racer Edoardo Lualdi-Gabardi and Gianni Bulgari, who ran the Bulgari jewelry company for two decades, Sotheby's said.
A Sotheby's spokeswoman declined to say how much Whitten paid for the car, but added that the market for such Ferraris was about $10 million or less in the late 1990s and early 2000s. Whitten didn't immediately respond to a phone message seeking comment.