The Retro Volvo Everyone Forgot Could Be the Best One to Buy Now
(Bloomberg) -- After years of declining sales, Volvo is on a massive upswing. 
This week it will open a new plant in South Carolina, completing a global trifecta of having manufacturing bases in China, Europe, and North America; by the end of 2018 the company will have introduced nine new models since 2012, replacing its entire product lineup from those dismal times when it was owned by Ford Motor Co. Profits reached a record $1.76 billion last year.
Then again, Volvo (now owned by China's Geely Holding Group) has stood the test of time for nearly 100 years. It's bound to have ups and downs.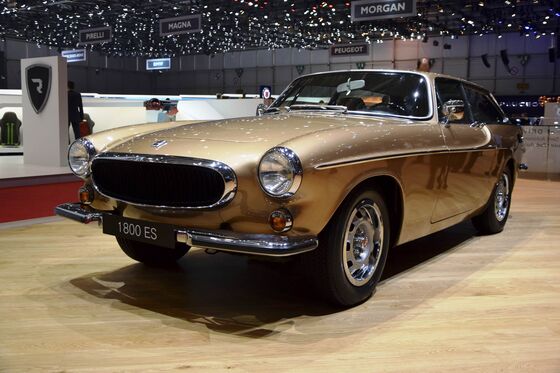 There's a reason the company has maintained its sterling, if staid, reputation since it first debuted the OV 4 in 1927: Safety and reliable Swedish design has always been paramount, coming before even performance and efficiency. (See: three-point seatbelts, anti-lock brakes, and side airbags, among other things—all of which added weight, reduced efficiency, and were first patented by Volvo.)
Take the 1800ES station wagon-type, which—with its oblong body and humble mien—seems to exude safety over performance just standing there. While it's the lesser-known sibling of the stylish P1800 coupe, it remains one of the most affordable and reliable vintage cars on today's market.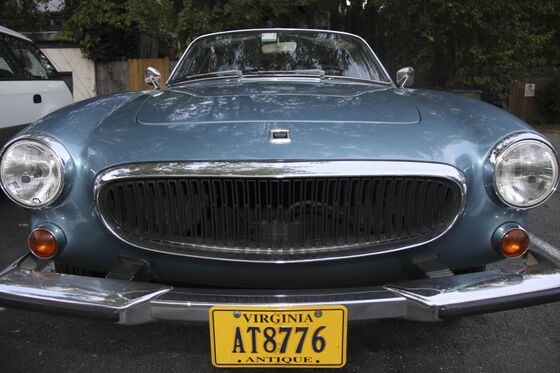 Volvo introduced the 1800ES in 1972 as the final installment of the famous P1800 line. You may remember its predecessor, the P1800 coupe, which was made famous in The Saint, the TV show Roger Moore starred in before he became Bond. Volvo marketed that little two-door as a stylish touring car for jet-set types and suave singles.
The 1800ES is not that car. It was made just as the P1800 was being phased out, and it's far weirder looking and squarer than its sibling. What's more, it has none of the hype that vintage Porsches, old BMWs, and—to a lesser extent—classic Alfa Romeos, do at this moment.
That makes it all the more endearing.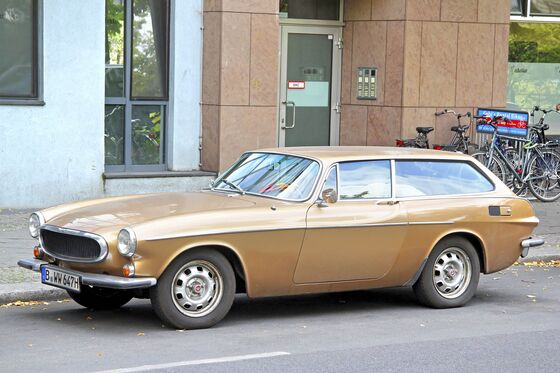 I call it a "station wagon-type" because, while the 1800ES does have an elongated body and top-opening rear hatch, it has only two real doors. The seats are in a 2+2 configuration, which means you can squeeze in four adults—and that's pushing it in the back. Finally, it comes with a frameless, all-glass tailgate that looks more like the back of a hearse than the end of a nice family hauler. In fact, as Anders Gustafsson, chief executive officer of Volvo North America, told me proudly last week at the Volvo Classic Center in New Jersey, it was known colloquially as "Snow White's Coffin" for that very reason. That's an unexpected reference from a company that prides itself on helping its customers avoid death, but I'm not one to argue.
Volvo made fewer than 8,100 of them in total, selling them for just two years in Europe and North America and discontinuing them after 1973, as stricter U.S. safety and emissions standards loomed. (The cars were supremely safe at the time, but—as happens with progress—ever-new requirements emerged that Volvo deemed could be better applied to other models.) They came standard with a 130-horsepower, four-cylinder engine and four-speed manual transmission, or a Borg-Warner-branded three-speed automatic.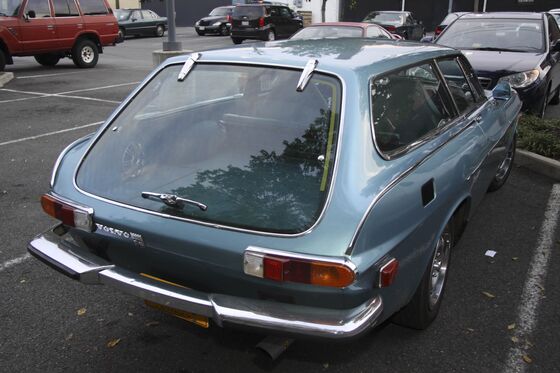 The four round headlights alongside the long, ovoid grille, smooth hood, and sleek body style embodied the values of Swedish design at the time. Inside were wide, bouncy seats, thick, black control knobs, and a curved wooden dashboard that all signaled durability. They also signaled space, at least lengthwise: The rear backrest folded down to create a long, flat loading area big enough to hold lots of grocery bags, a bicycle, or a picnic basket and camping gear. And while the headroom certainly felt cramped to taller people, it no doubt fit the many academics and mothers who were then the stereotypical owners of such humble and practical machines. (In Britain, the stereotype of the Volvo as a teacher's car was so strong that some referred to the 1800ES as a car for "boffers," which apparently wasn't complimentary; still, there is such a thing as nerd chic, and it certainly qualifies.) It's no coincidence that the world record for the most miles driven in a private vehicle belongs to a P1800 driven by Irv Gordon, a New Jersey schoolteacher who has racked up more than 3 million miles on his trusty, red car.
As you might expect, driving the 1800ES will not take your breath away. The 1800ES was designed for safe, suburban familial transportation, In those days, that translated into vague steering, soft brakes, and a heaviness of handling that can be felt, in general, at every turn. Driving one up the Palisades Parkway last week, I really had to push it to maintain 70 miles per hour.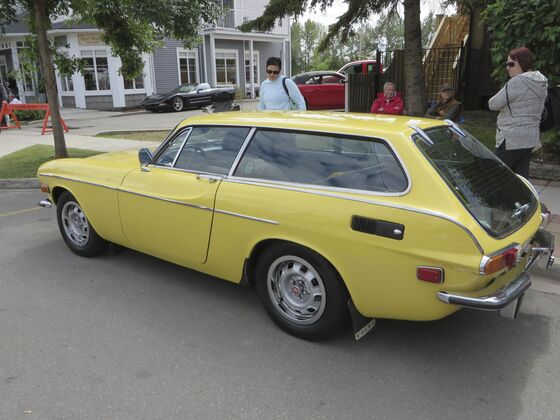 But the Hunter Green model I drove canvassed the two-lane roads of Bear Mountain State Park with surprising strength. It pulled up winding hills and shuffled around bends slowly, yes, but with a steady step, like a faithful plow horse making his way down a row. We didn't set any speed records—I'd estimate I hit 60mph in about 10 seconds—but we got there safely, easily, and most important, with personality. (It's worth noting that even the worshipped Porsche 356 doesn't have a sprint time much faster than that, and it costs gobs more money to buy.) Where other vintage cars sometimes have haters, for loud pipes or such ancient rivalries as Mustang vs. Camaro, there's something seriously wrong with you if you take an active dislike to an old Volvo.
What's the Investment Prospect?
You can find running, drivable examples for a fraction of the price of similarly cool-looking cars from the same era (ahem, Porsche, Alfa, et al) They're listed on Hemmings for as little as $6,950 or as much as $45,000 in top, "Sport Wagon" form. Totally restored versions can fetch $85,000, though that is really stretching it, if you ask me. Plenty of decent-driving ones can be had in the $10,000 - $30,000 range.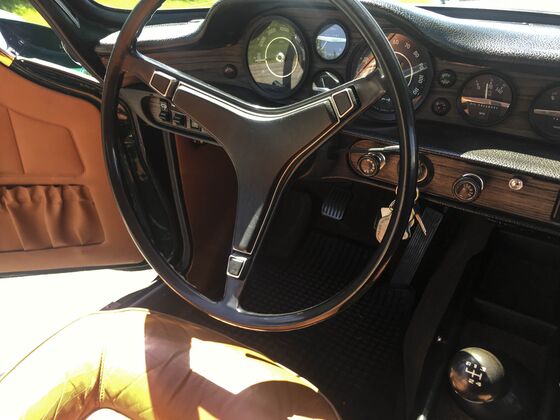 Most are four-speed manual variants, though there are some rare automatic options. An even-rarer find is one with air conditioning, though they exist.
According to Jonathan Klinger of Hagerty, which compiles sales data and investment records for rare and collectible cars, buying and maintaining an 1800ES probably won't make you a millionaire if you sell it someday, but the car will hold its value and then some.
"It is an inexpensive way to drive a unique low production car that absolutely stands out," he said. 
Parts support for the 1800s remains solid, with a good selection of specialists across the nation available to take competent care of owners. One note: While the engines are "nearly unburstable," according to Hagerty, the bodies tend to rust. It is usually more cost-effective and gratifying to pay a premium for a pristine example than to buy a project with plans to restore it. 
In short, "Buy the best example you can afford," Klinger said.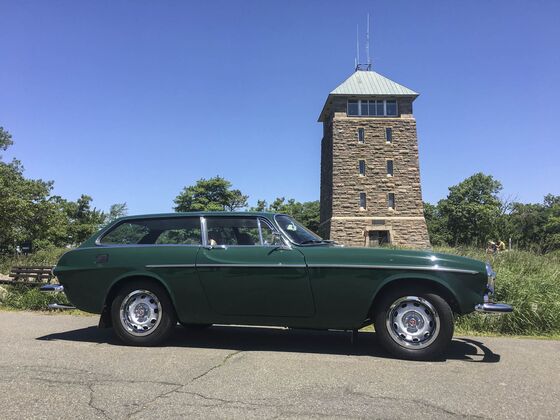 Apart from an outlier sale of $92,400 for a red 1973 ES at Bonhams Greenwich auction in June 2014, the best examples sell for an average of $42,500, according to Hagerty.com. The average value for an example in good condition is $16,500 according to the current Hagerty Price Guide, and this has remained on a gradual, steady incline for the past three years—up from $12,500 in 2015. The top examples have gained even more, rising to an average value of $44,500, up from roughly $31,000 in 2015. 
If you want to find one of your own, search lots on Bring a Trailer, Hemmings.com, and EBay.
And follow car auctions such as Barrett-Jackson, which sold a 1973 1800ES with overdrive in orange, with a black interior, for $16,000. It was listed as "a great driving car"—the perfect way to sum up a square-but-stylish safety standard-bearer.