Hamptons Homeowners Are Looking for a Score on U.S. Open Rentals
(Bloomberg) -- The U.S. Open is in the Hamptons for the first time in 14 years. Time to squeeze in some extra profit from home rentals.
Owners of lavish vacation houses within a 15-minute drive of the Shinnecock Hills Golf Club, where the competition starts Thursday, have been piling their properties onto the rental market for short-term stays and asking for a lot more money than last year.
Listings of rentals for two weeks or less in the town of Southampton surged 83 percent in May from a year earlier to 1,232, according to an analysis by OutEast.com, the Hamptons-listing site of StreetEasy. In the hamlet of Shinnecock Hills, where the golf course is located, such listings more than doubled to 49 last month from 20 a year earlier.
That compares with a decrease in the same towns in full-summer listings, Memorial Day to Labor Day, suggesting that owners near the course have opted to keep June free for golf tourists who might pay top dollar for a shorter span, said Matt Daimler, general manager of Out East.
"There's definitely a lot of opportunistic people thinking, can I get a June rental, then get out of here for the year and not have to worry about the traffic?" Daimler said in an interview. "Can I make my tax payment with a rental like this?"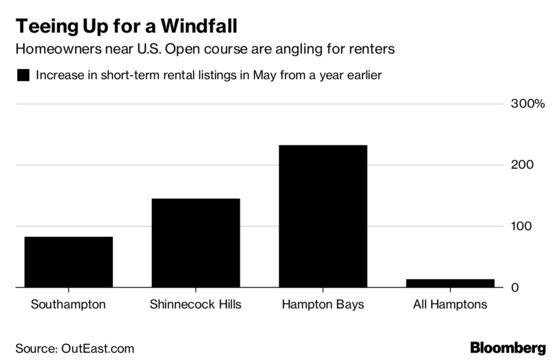 The median rent sought by owners listing Shinnecock Hills properties in May for short-term leases was $10,000, about 25 percent more than a year earlier. The priciest short-term listing specifying its availability for the tournament is a newly built, 9,000-square-foot (855-square-meter) home in Southampton at $500,000 for a two-week rental around the tournament. The five-bedroom property, listed as "less than 1,600 feet from the U.S Open course," includes a game room, a private putting green and an infinity pool. The second-most-expensive, at $175,000, is a 9,200-square-foot oceanfront home in Southampton that promises access to a secluded beach.
The number of short-term listings still available suggests that most owners may not get what they hoped for, Daimler said.
"We've got a lot of short-term inventory on our site right now, and I'm sure there's going to be some bargaining," Daimler said. "It seems like demand isn't as high as everyone thought it would be."