One NYC Developer, Two Projects and $3.4 Billion of New Condos
(Bloomberg) -- New York developer Ziel Feldman is unleashing about $3.4 billion worth of new condos onto the Manhattan market, at prices that guarantee him an exclusive buyer pool -- and lots of competition.
He's listing 95 units at the Belnord, a century-old Upper West Side building getting an overhaul by architect Robert A.M. Stern, where the cheapest three-bedroom apartment will cost $5 million. He'll also start sales for the 236 condos at the Eleventh, rising near the High Line park in Chelsea with a futuristic design by Bjarke Ingels. Two penthouses there are tagged at $70 million apiece, a purchase price that would set a downtown record.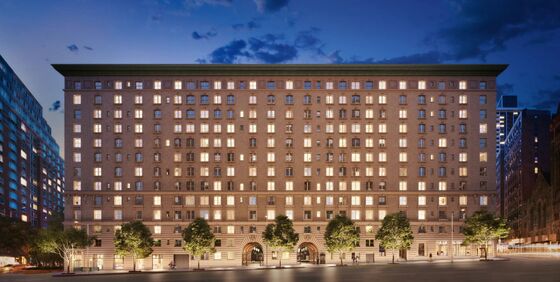 "I believe that when you have exceptional product, in unparalleled locations, with visionary architects and designers, that there will be no shortage of demand," said Feldman, chairman of HFZ Capital Group.
It's a bold move. Luxury-home buyers in Manhattan already have plenty of choices, and their appetites for high-end real estate, once seemingly insatiable, are flagging. And many other builders have similar plans: This year, 4,600 newly developed apartments are expected to be listed across the borough, with almost half of them priced at $2,400 a square foot or more, according to an estimate by brokerage Corcoran Sunshine Marketing Group. That's on top of the 3,323 new units that reached the market in 2017.
The well-heeled buyers those developers are competing for are in no rush to commit. They're taking time to assess their options and driving hard bargains to reach a deal. This year through June 4, contracts were signed for 500 Manhattan luxury homes, down 11 percent from the same period in 2017, according to brokerage Olshan Realty Inc., which counts units priced at $4 million and above. The properties spent an average of 435 days on the market, up from 395, and buyers got discounts averaging 9 percent, Olshan's data show.
"We are now in uncharted territory," Donna Olshan, the brokerage's president, said in an interview. "There's absolutely classic buyers' resistance going on right now."
Still, when a project's construction is moving forward, a developer has no choice but to try to sell units, she said.
"I don't think any developer necessarily holds off waiting for a better market or a better time," she said. "Every month you hold off costs a lot of money. So you have to launch when you launch and see what the market can bring."
At the Belnord, Feldman is gut-renovating a portion of its rental units and adding amenities to the landmark, such as a half basketball court, a fitness center and a children's playroom, to bring the 1908 building more in line with newer offerings.
Apartments at the property, which takes up the full block between Broadway and Amsterdam Avenue and 86th and 87th streets, will skew larger, averaging 2,500 square feet (232 square meters). Two penthouses -- one 4,600 square feet, the other 5,100 -- will be listed for $18 million and $23 million respectively. Feldman said he'd consider covering closing costs for some buyers and will negotiate prices on a deal-by-deal basis.
"We know what we're prepared to sell something for," he said.
In documents filed with the state attorney general's office, HFZ estimated a sellout of the 95 condos at about $1.35 billion, which would be among the highest ever in the neighborhood. Feldman plans to convert and renovate more of the building's rental units over time as existing tenants vacate.
Sales start next week at the Eleventh, where HFZ will seek an average of $4,000 a square foot for its condos, spread across two twisting, white travertine towers on 11th Avenue from 17th to 18th streets. In one tower, a Six Senses hotel and spa will occupy the first 10 floors, and apartments will take up the remaining 16.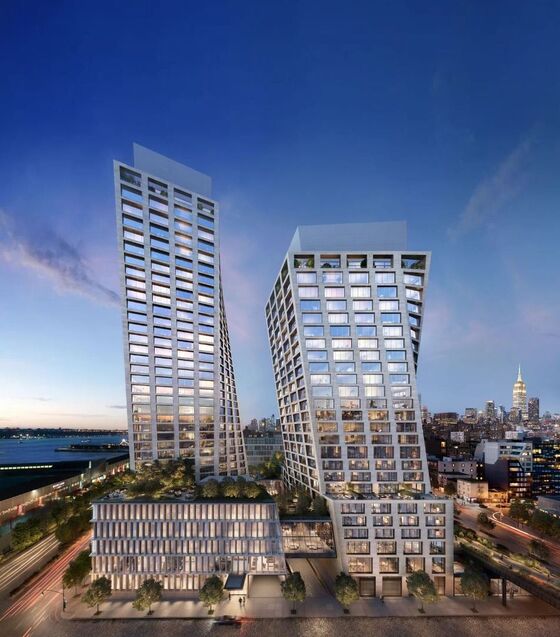 HFZ estimates a sellout of $2 billion at the complex, where one-bedrooms start at $2.8 million. Amenities include a 75-foot (23-meter) pool, sauna and a wine-tasting room. The ground floor will have a gallery that will host art installations and concerts.
Capping each tower will be a full-floor penthouse of about 7,000 square feet, with more than 4,000 square feet of terrace space, and each with a 40-foot private pool. The penthouses' asking price tops the record for a downtown Manhattan home sale, set in April with the purchase of the top three floors of the Getty -- a boutique condo project nearby in Chelsea -- for $59.06 million.
"The building is nicer, or as nice, for less money than what people are paying to live on Central Park," Feldman said. "We really believe this is the downtown version of where pricing is trending."