Lionel Messi Caught in Mideast Politics Before World Cup
(Bloomberg) -- Lionel Messi has gotten himself entangled in one of the Middle East's longest-running conflicts.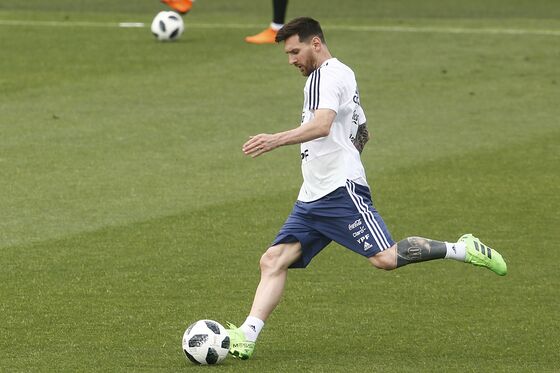 Argentina canceled a World Cup warmup game against Israel's national soccer team, citing unspecified "threats and provocations" against one of the tournament's star players, the Israeli Embassy in Buenos Aires said Wednesday. Messi and his teammates had come under pressure from Palestinians and their supporters to scuttle the game because of Israel's conflict with the Palestinians. Jibril Rajoub, head of the Palestine Football Association, called for fans to burn Messi's jersey, and protesters gathered outside Argentina's practice facility holding team shirts covered with red paint to look like bloodstains.
"The game was canceled for one reason only — threats to the life of the star Messi," Israeli Sports Minister Miri Regev said at a news conference Wednesday, showing photos of threatening posters she said were sent to Argentine players and coaches. "This is a new-old form of terrorism which scares, deters and terrorizes athletes."
Weeks after the controversial move of the U.S. Embassy to Jerusalem, Israeli leaders had seen the high-profile match as another opportunity to stake their claim to the city, whose eastern sector Palestinians want as the capital of a future state. Regev moved the game to Jerusalem -- to a stadium in the western part of the city -- after it was initially scheduled to take place in Haifa.
Palestinians and their sympathizers lauded Argentina's team for becoming the latest in a series of cultural figures to reconsider visits to Israel on political grounds. For more than a decade, they've led an international campaign to boycott Israel as a means to pressure the Jewish state to change its policies toward the Palestinians.
"We welcome the decision by the Argentina team to cancel this 'friendly' match," said Omar Barghouti of the Palestinian Campaign for the Academic and Cultural Boycott of Israel. "It would have been extremely unfriendly to human rights."
Palestine Liberation Organization Secretary General Saeb Erekat gave thanks to "Argentina and its brave people as well as its distinguished football team for choosing to abide by the principles of international law."
Alon Liel, a former director-general of Israel's Foreign Ministry, saw the dustup as fallout from the embassy move. The relocation was one of several developments, including the U.S. pullout from the Iran nuclear deal, that have buoyed Netanyahu domestically. The embassy move took place on a day Israeli troops killed more than 60 Palestinians in Gaza Strip protests; at least 120 Palestinians have been killed since the protest movement began in March.
"Netanyahu has been delivering one magic trick after another in recent months," Liel said. "This shows that even Houdini fails sometimes. Having Messi play in Jerusalem would have been a major accomplishment. Now this has turned into a mega diplomatic loss."