How Travis Pastrana Plans to Recreate Evel Knievel's Legendary Stunts
(Bloomberg) -- Travis Pastrana is the closest thing we have today to the iconic daredevils of 1960s and '70s Americana.
The 34-year-old from Maryland has won multiple world championships and gold medals in supercross, motocross, freestyle motocross, and rally racing but has gained even more fame for his stunts. His Nitro Circus commands 2.1 million fans on Instagram alone, while his personal account pulls in 2.8 million followers. They devour such exploits as his jumping out of planes with only a few friends—but no parachute—and combining backflips on motorcycles, sending him into the sky for what must feel like eons, letting him hover in mid-air, like a bird on a gale wind. They also witness his injuries, including hundreds of broken bones over the years.
"Pastrami," as his fans call him, possesses the steely nerve of an assassin, if on such an elite level that one comes around once every hundred years. (Those who know say he far exceeds Evel Knievel in talent and daring.)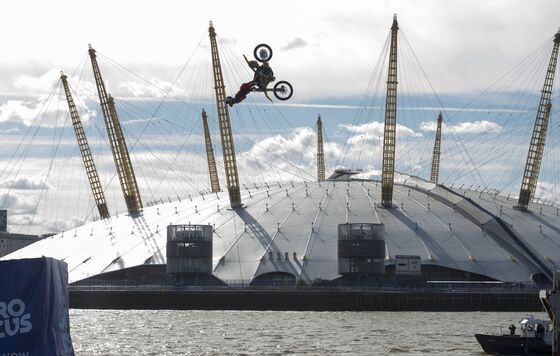 Still, he sometimes feels like a wuss. "I don't think Evel would have even tested out the jump, so I feel like a sissy already," Pastrana tells me by telephone from his home in Annapolis, Md. But, he admits, "The goal is to live through this."
Pastrana is going all-out for the July 8 event, to be filmed live in Las Vegas, including riding a modern-day bike that is the relative equivalent of the V-Twin motorcycle Knievel used. It will be significantly heavier and more difficult to maneuver than the feather-light dirt bikes Pastrana usually rides. Roland Sands, the architect behind the Super Hooligan crew, is overseeing many of the logistics of the operation; its sole nod to modernity will include fitting the 750cc V-twin Scout FTR750 with a Ohlin mono-shock on the rear.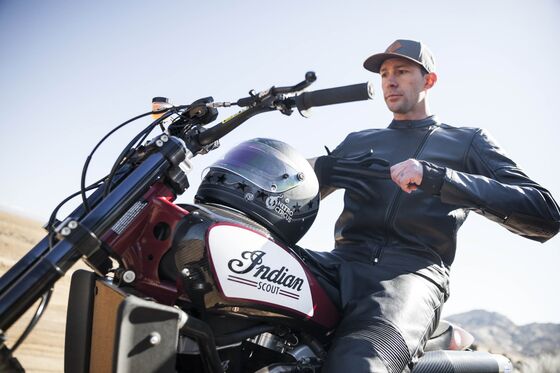 This is more about history than just a jump or two, Sands says. It's about honoring a legend.
"There's not a lot of stuff that Travis doesn't think he can do, and that came from somewhere," Sands says. "Watching Evel when we grew up—at the time we all thought he was insane, but we also wanted to be him. He gave a guy like Travis the belief the he could do things. He fired all of our imaginations."
Sands will also provide the costume—white leather suit, heeled boots, and, yes, a cape, all in American-made leather—that Pastrana will wear for the feat. Apparently the man doesn't go halfway in anything, let alone entertainment value.
"With all the leathers and the gloves and the helmet that you can barely see out of, it's kind of shooting yourself in the foot," Pastrana says with a laugh. "But it's what Evel would have done."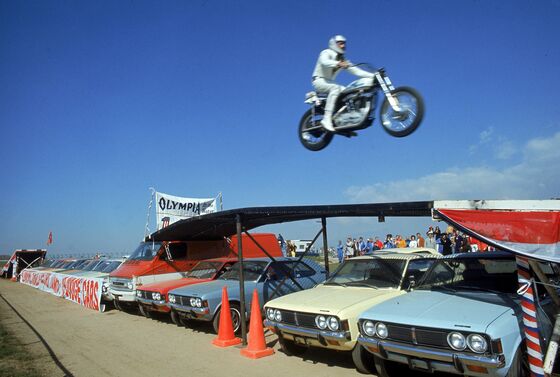 Knievel, as you might expect, was a determining force on young Pastrana, who says his entire life has been based around the guy. "This is us trying to go as big as we possibly can, on machinery as close to Evel's as possible, giving thanks to him for starting the industry and the culture."
More crucially for Indian Motorcycles, which is supplying the Scout FTR750 Pastrana will ride in the three-hour TV special, the stunt is a way to incite younger people to get out and ride. While the industry at large has suffered declining sales for years, due most prominently to an aging consumer base, pockets of passionate riders are growing like weeds around flat-track races, hooligan gatherings, and café-racer rallies.
The whole point about recreating the jumps is to show the next generation "that how all this started was from a salesman who had the brass to back it up," Pastrana says. (Knievel famously started doing stunts to prove the worth of the motorcycles he was selling out of a backwoods shop in Washington in the early 1960s.)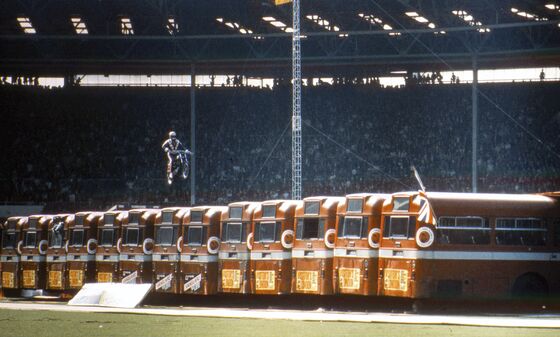 Pastrana says he has seen a massive change in popularity since he grew up as a kid obsessed with skateboards and BMX bikes. They provide an outlet to millennials who grew up loving speed, height, jumping, and sliding.
"This old style of bike has a huge appeal for people who want to go out and want to challenge themselves and work on things themselves," he says. "So many vehicles are impossible to work on. But these bikes are workable. You can change and modify and do everything yourself—they let you get down in the dirt, and I'm just happy to be a part of it."
Sands is rather more succinct.
"It's as real as it gets," he says. "There's nothing more real than putting your ass on the line and riding a motorcycle fast."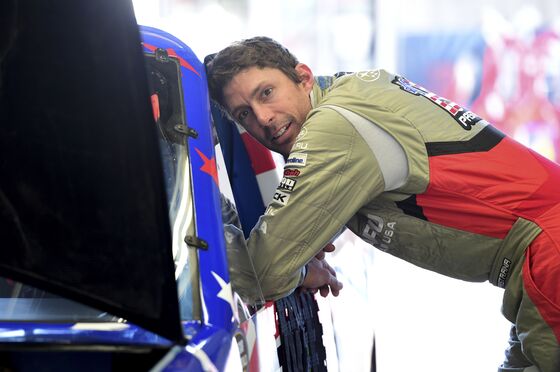 As for those preliminary tests, Pastrana will prepare by taking a few runs in the dirt next week in California—and not much else: no special running, weight-lifting, or even stretching, for that matter.
"It'll be July in Vegas—I'll already be pretty warm," says Pastrana, already in exceptional shape due to a lifestyle of constant riding, racing, and jumping. As for breakfast on July 8, it might be cereal or eggs. It doesn't really matter, he says. The main thing will be not to forget to eat.
The way Pastrana sees it, preparing much harder wouldn't be sporting.
"It'll be very difficult to do three jumps in a row, especially with the same motorcycle," Pastrana tells me. The wear alone makes each subsequent jump more dangerous. "You're jumping up and down two stories, from take-off to landing. Going as fast as the bike can go, we'll just barely make it. But as a human spirit, you do want to put yourself in a situation where you feel like it matters."
Evel Live will premiere Sunday, July 8, at 8 p.m. on the History Channel.