Brancusi Sculpture Sells for Record $71 Million at Christie's
(Bloomberg) -- A brass head by Constantin Brancusi fetched $71 million at Christie's on Tuesday, setting a record for the artist.
Titled "La Jeune Fille Sophistiquee (Portrait de Nancy Cunard)," the 1932 unique cast depicts a woman with a ponytail, displayed on a block of marble. It was estimated at more than $70 million by the auction house, which offered it during the evening sale of Impressionist and modern art in New York. The Romanian-born artist's previous auction record was $57.4 million, set last year.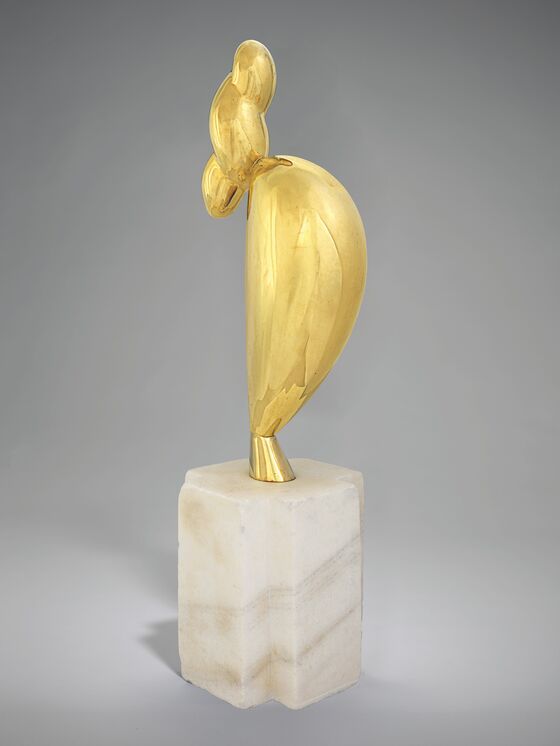 The work, with a third-party guarantee, was sold by the estate of Elizabeth and Frederick Stafford, an American couple who purchased it directly from the artist for about $5,000 in 1955, according to Christie's. For years, it was on view at the Metropolitan Museum of Art.
Earlier in the sale, a 1916 abstract painting by Kazimir Malevich, "Suprematist Composition," became a repeat champion at auction when it sold for $85.8 million, a record for the Russian artist. A decade ago, the same painting generated $60 million at Sotheby's, the artist's previous high.
The Christie's auction originally included two Picasso paintings, estimated jointly at as much as $105 million, that were being sold by the erstwhile casino magnate Steve Wynn. Both were withdrawn after one of them, the artist's self-portrait "Le Marin," was damaged on Friday.
The auction, which includes eight other Picasso works, continues.