Where the Rich Are in the U.S. Northeast: 50 Richest Zip Codes
(Bloomberg) -- Wall Street pays dividends for the New York metropolitan area, which dominates the list of 50 wealthiest zip codes in the northeastern U.S. compiled by Bloomberg.
New York area wealth represents about a quarter of the top 1 percent of households nationwide, but New York City wealth flows into surrounding suburbs to take the vast majority of the top 50 richest zip codes in the region.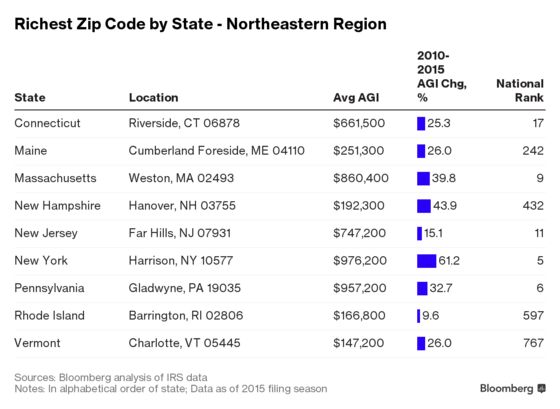 10577 -- Harrison, Purchase, New York in Westchester County -- takes the top spot in the region with an aggregated gross income of close to $1 million. The village with a population of more than 27,000 is located 22 miles north of Manhattan, according to its website.
In neighboring New Jersey, the Borough of Far Hills, 07931, is at the top. Rounding out the metropolitan area, Riverside, Connecticut, 06878.
No. 2 in the Northeast is Gladwyne, Pennsylvania, 19305, along the historic Philadelphia Main Line, named for a rail link that connects affluent suburbs to the city. No. 3 is the Boston suburb of Weston, Massachusetts, 02493.
One wealthy corner of Monmouth County, New Jersey joins the list as a 40 minute high-speed ferry to Wall Street makes Rumson, New Jersey a viable commute.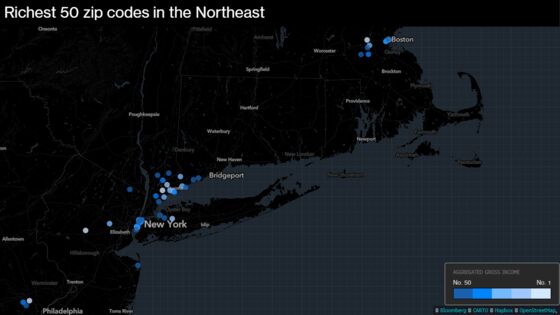 Bloomberg evaluated IRS data for zip codes with more than 200 tax returns as of the 2015 filing season, and with 500 residential households according to the latest Census tally. The U.S. Census Bureau Northeast region extends from Pennsylvania to Maine.