Here's How to Turn a Mustang GT Into a Performance Powerhouse
(Bloomberg) -- Ford Motor Co. is not well. 
Last month, total passenger-car deliveries plunged 15 percent, while overall sales fell 4.5 percent. Year-over-year sales in the United States dipped more than 4 percent from 2016. The company has announced it will slash all sedans from its U.S. lineup. 
But drive the 2018 Mustang GT Fastback—new this year—and you won't detect a hint of trouble in Detroit.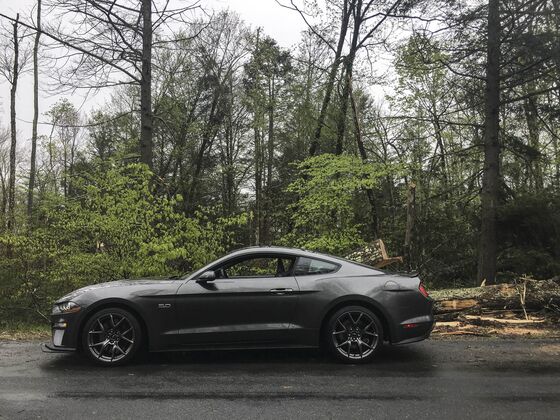 This is an updated, faster, and more beautiful variant of America's longest-running, most iconic car model. Ford has produced the Mustang continuously since 1964; it has sold many millions of units the world over, inspiring countless references in pop culture and art, along with a wildly devoted fan base of drivers and collectors.  
The Mustang is also—in addition to the lovely but peripheral $400,000 GT, which sold 10 units last year—the only actual car spared Ford's Reaper scythe (as opposed to trucks and SUVs).
No surprise: Global demand for the new 2018 model has driven the Mustang family to its third straight year as the best-selling sports coupe in the world, with global sales totaling 125,809 cars last year and two-thirds of those going to the United States. Over the past five years, Ford has sold half a million Mustangs in the U.S.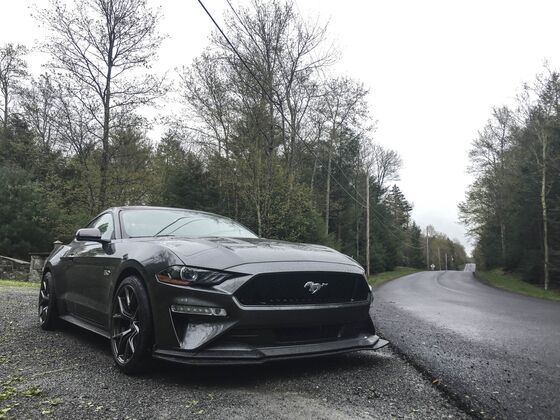 The most popular configuration of the Mustang worldwide is the GT. Which brings me to the version I drove last week in New York, a 2018 Mustang GT Fastback Premium that included the "Performance Pack 2"—Ford's lingo for the best handling and engineering available in a Mustang.
The term "fastback" denotes that the roof slopes down in an unbroken line from the roofline to the rear. This is the style of the modern Mustang as offered right now, synonymous for our purposes with the word "coupe." "GT" denotes one version that's a slightly faster, more powerful version of the Fastback "Ecoboost" models.
With a 5.0-liter V8 engine that gives 460hp and 420 pound-feet of torque, the Performance Pack 2 comes with a racing-tuned suspension and handling systems for sharper, more aggressive driving. It was developed in secret because Mustang's brass wanted to launch it with a bang. At just under $40,000, the combo serves a market that wants something very special but isn't going to shell out for a 526-horsepower Mustang Shelby GT350. (That Ford track animal costs $57,240 and up.)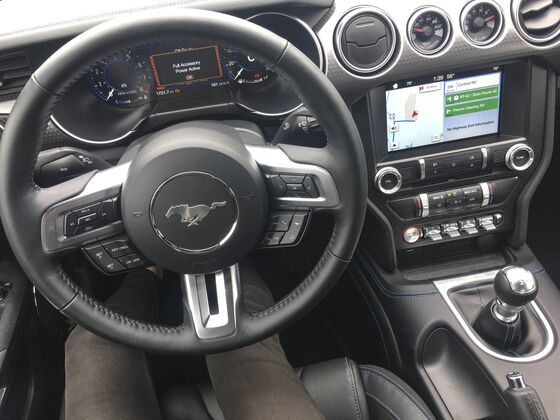 The one I drove was priced at $51,185 and featured all the options and extra-power splurges you can get. To use the lingo of kids these days, it is among the most extra cars you can get for the money: cheaper than a Porsche 911 and comparable with the higher-tuned variants of the Camaro SS, but more refined—the high school quarterback to the Camaro's defensive end.  
So why get the Performance Pack 2, rather than Performance Pack 1?  
For one thing, its Michelin Pilot Sport Cup 2 tires are fatter than "normal" ones and very smooth—slick, nearly—as well as engineered to be precise for maximum speed on the track, exactly like those on the hyper GT350R. Unique "MagneRide" shocks are extremely rigid and work hard to keep that set of four near-slicks pressed firmly to the ground. In fact, they feel as if the entire car has somehow been injected with steroids. I drove other Mustang variants last week near the track at Monticello Motor Club (heavy rain caused power outages and downed trees that scuttled our planned track day), and the difference in raw aggression between the base GT and each package option was palpable.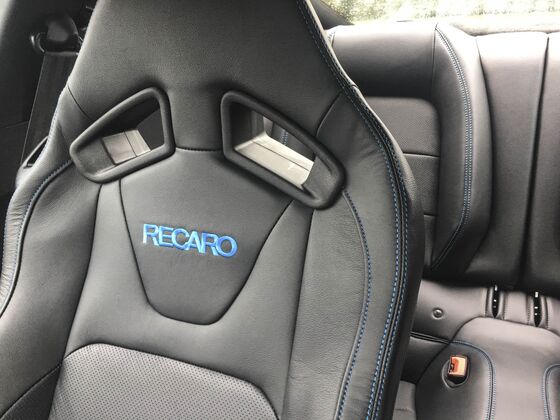 What's more, the Performance Pack 2 comes only on fastback manual-transmission GTs. It's automatically more fun to drive. Pushing through its short-shifting six speeds along the rainstorm-wet backroads of Duchess County was a lesson in control: Here is a car that you can feel wants to get away from you, however it can. Nothing about the GT Fastback Performance Package 2 is polished or polite or inclined to obey; it leaps and dodges and agitates in a way that makes you feel alive when you drive it. With an animal like this, you are not entitled to have a good time behind the wheel. You have to earn it.
There's something very American about the whole thing; I felt it in such a way that I don't in the other cars I drive all year. I will even admit to listening to country music along my route. Must have been that big outlaw personality under the hood.
With every iteration of its sport-oriented crown jewel, Ford has to marry an iconic heritage model with modern aesthetic sensibilities. That's no small feat. For many people, the only exposure they'll have to this piece of Americana is seeing it briefly on the road—or for a few frames in a movie—rather than driving it, so it's important to make a good visual impression. The good news here is that the exterior matches its compelling driving personality.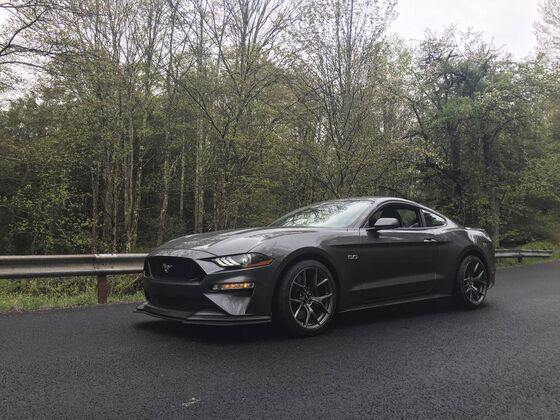 It starts with a firm foundation: The Mustang GT Fastback line is the best-looking American-made sports car on the market today. To my mind, it even looks better than the Shelby, which can come across as slightly overdone, as if it's trying too hard, when it's not around like-minded cars. It looks especially bossy in neighborhoods or during normal city driving, while the Fastback stands out like a gem.
On top of its naturally cool Fastback roofline, Performance Pack 2 sits lower and wider than regular Fastback cars, with the unique front splitter and rear spoiler giving it a menacing look, in addition to better downforce and improved handling. It also has a new active valve performance system that tones up or tones down the engine note, as the driver prefers. 
Visually, it's all there: The front headlights are narrowed in laser-focus; the unmistakable silver pony gallops across the front grill; the trim side body near the door handles inhales slightly, as when you suck in your stomach to zip up those cool, new jeans. The rear taillights have the distinctive vertical bars Mustang has offered for a while; and the calipers on the Brembo brakes come in six different colors, including blue, red, and orange, which would look especially cool against the Magnetic Metallic gunmetal gray exterior paint of the car I drove.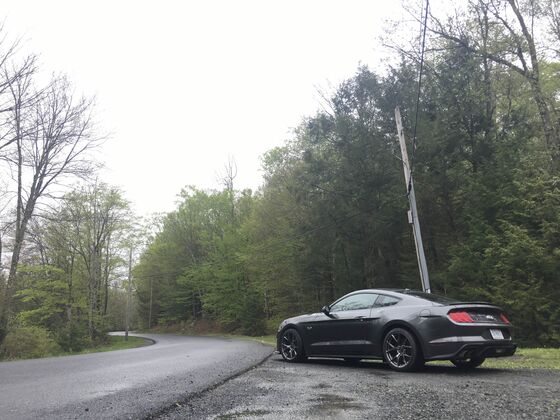 Inside, the Mustang GT Fastback is not fancy, but it's functional. Aluminum foot pedals and illuminated sill plates come standard; a 12-inch LCD screen customizable with myriad configurations of navigation, climate, audio, and Apple CarPlay is available and worth the purchase, as are the Recaro seats trimmed in leather. They complete the effect of true American sports car swagger when you drive this thing. 
You don't need to get such optional things as lane-keeping or pre-collision detection here; they have a place, but this is not the car for them. Why complicate something that already excels in all its bare-boned glory? All told, the Mustang GT Fastback offers comfortable, efficient driving without complications from frivolous additions, and the all-new Performance Package 2 turns it into a car for the ages.
Staying true to Ford's first best pony car from decades ago, it well deserves to be the last one standing.