'Jumanji' With Dwayne Johnson, Kevin Hart Tops Box Office
(Bloomberg) -- "Jumanji: The Next Level," which extends Sony Corp.'s reboot of the Robin Williams feature from 1995, topped two other debuts in the final weekend before the long-awaited release of "Star Wars: The Rise of Skywalker."
The sequel, starring Dwayne "The Rock" Johnson and Kevin Hart, took in $59.3 million in U.S. and Canadian theaters, Comscore Inc. said Monday. Analysts had forecast $42 million to $45 million.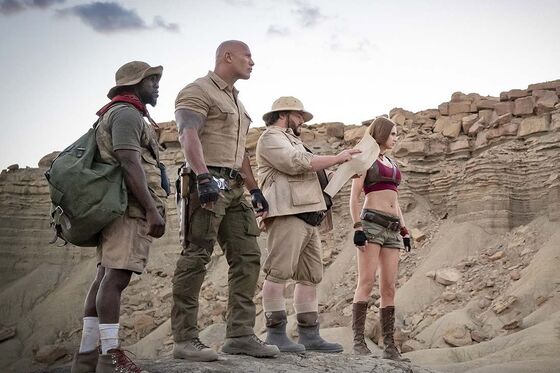 The previous installment -- "Jumanji: Welcome to the Jungle," which debuted right before Christmas two years ago -- grossed more than $400 million domestically. That made it Sony's largest domestic release of all time. Putting out the latest film further from the holiday weekend gives the studio a head start this Christmas.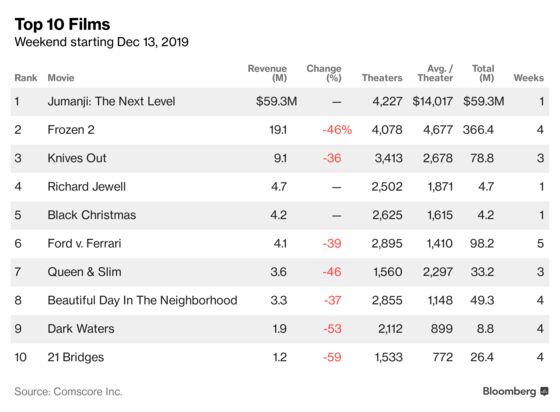 "Star Wars: The Rise of Skywalker," the J.J. Abrams-directed finale to the nine-picture saga, will debut Dec. 20, looming large over what has otherwise been a sluggish box office.
Another new release, "Richard Jewell," a Clint Eastwood film based on the true story of an Atlanta security guard wrongly suspected in 1996 bombing at the Atlanta Olympics, opened in fourth place with $4.68 million. Analysts at Box Office Pro had forecast $11 million. The film opened just in front of "Black Christmas," a horror remake.
"Frozen 2," which had been No. 1 the previous weekend, fell to second place. Another holdover, "Knives Out" -- from "Star Wars" director Rian Johnson -- landed in third place.