'Abominable' Gets Warm Welcome in Weekend Box-Office Debut
(Bloomberg) -- "Abominable," an animated movie about a girl who befriends a yeti, got a warm welcome at the box office over the weekend.
The film from Comcast Corp.'s Universal Pictures generated $20.6 million in North American theaters, researcher Comscore Inc. said Monday. The movie was expected to bring in $18 million to $21 million.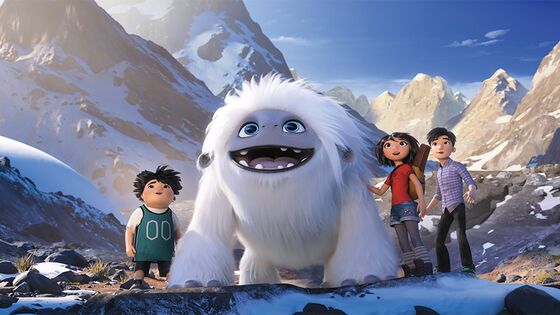 "Abominable," a Chinese co-production featuring the voice of Chloe Bennet as a teenage girl named Yi, is the first animated picture of the fall season. Yi finds a yeti on the roof of her home in Shanghai, names him "Everest" and sets off to help him get home to his family.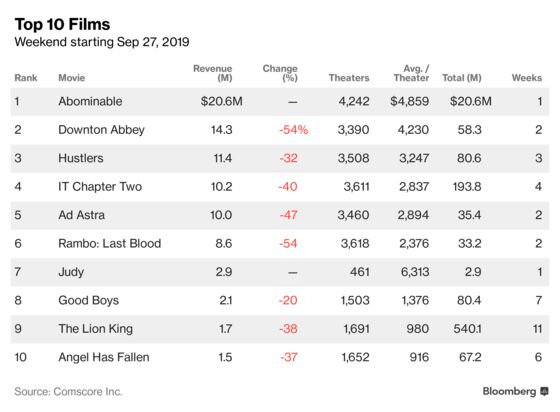 The movie marks a further inroad for Asian characters in big-studio movies, following on the success of Warner Bros.' "Crazy Rich Asians" last year. A live-action remake of "Mulan" from Walt Disney Co. is due next year.
"Abominable" was written and directed by Jill Culton, the first woman to be the sole writer/director for a major animated release. It was produced by Suzanne Buirgy with Peilin Chou of Pearl Studio.
2019 remains a sluggish year for the box office, compared with a record-setting 2018. For this year to break even with last year, every week from here on out would need to average $35 million more than its 2018 equivalent, IndieWire says.
Todd Phillips' "Joker" from Warner Bros. could open next week with sales as high as $125 million and shatter the $80.3 million record for an October opening held by "Venom." The $35 million surplus needed to beat those films doesn't seem likely for "Joker," IndieWire notes.
Disney's live-action "Maleficent: Mistress of Evil," based on the classic "Sleeping Beauty," could help revive the box office later this October.