Zuma Insisted on Gama for Top South Africa Rail Job, Hogan Says
(Bloomberg) -- Former South African President Jacob Zuma insisted on appointing Siyabonga Gama as head of the country's ports and rail utility even though he was facing misconduct charges and against the recommendation of the company's board, former Public Enterprises Minister Barbara Hogan said.
"I was extremely shocked -- the president would not hear of any candidate except Siyabonga Gama" as chief executive officer of Transnet SOC Ltd., Hogan said Monday at a commission of inquiry. "He wanted me to go ahead with the appointment of Gama. I said I can't do that."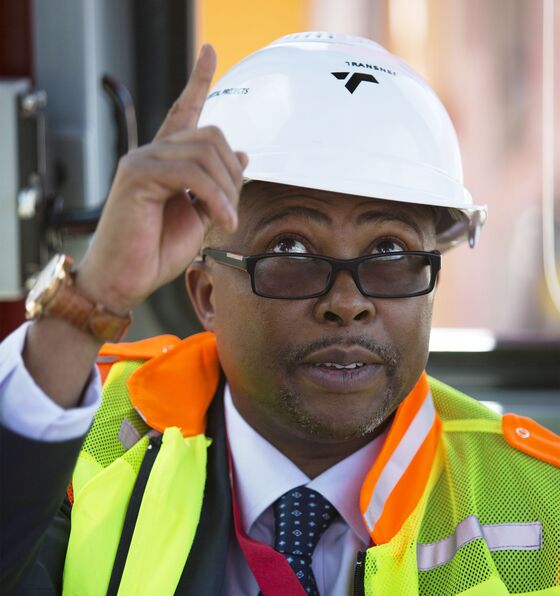 The board's preferred candidate to replace Transnet CEO Maria Ramos, who moved to Absa Group Ltd., was Sipho Maseko, who was head of southern African operations for BP Plc at the time, Hogan said. Hogan served as public enterprises minister from May 2009 until November 2010, when Zuma replaced her with Malusi Gigaba.
Hogan was speaking at the Johannesburg-based Zondo inquiry into state capture, a local term for the use of political connections to secure appointment of allies to key state posts and win contracts. The Gupta family has been accused of using a friendship with Zuma for business gain.
"I was only one month into that job but I was already feeling that the president was exceeding his authority," Hogan said, who added that Zuma told her not to appoint anyone until Gama's disciplinary proceedings were over. "There were ways that President Zuma and some Cabinet colleagues thwarted my attempts to get appointments approved."
Transnet started the disciplinary process against Gama in August 2009, and suspended him as head of its freight division a month later because of an alleged serious breach of governance requirements in respect of two procurement contracts. He was reinstated in March 2011, and was appointed CEO of the group in April 2015, first in an acting capacity. The company went almost two years without a permanent leader until Brian Molefe appointment in 2011.
Gama was fired as permanent CEO last month after being linked to allegations of corruption surrounding the purchase of 1,064 new locomotives. He is challenging the decision.
President Cyril Ramaphosa has pledged to stamp out corruption since taking over from Zuma in February. That has included replacing directors at a number of state companies including power utility Eskom Holdings SOC Ltd., which has also been embroiled in claims of mismanagement and graft. At the center of these allegations is the Gupta family -- they deny wrongdoing.
Zuma "never raised objections about Mr. Maseko. He never referred to Mr. Maseko, and he never raised reasons why he should not be appointed," Hogan said. "It was just Gama. That's it."
Hogan said Zuma failed to shield her and members of the Transnet board from sustained public criticism and pressure to appoint Gama at CEO, which led to at least four directors leaving the rail company.
"I expected the president to protect me," she said. "The president hung me out to dry."