Zuma Abandons Graft Probe to Defy Judge Who Wouldn't Quit
(Bloomberg) -- Former South African President Jacob Zuma walked out of a judicial panel probing state corruption after failing to persuade the inquiry's chairman to recuse himself, violating a summons to testify.
Zuma left the hearing during an adjournment on Thursday without requesting Deputy Chief Justice Raymond Zondo's permission. The judge said the transgression was "a serious matter," but didn't specify whether the former head of state would be sanctioned.
"He was going to be asked to take the witness stand," Zondo said before adjourning public hearings until next week. "The commission will reflect on the matters it needs to reflect on. It is going to continue with its work."
Earlier, Zondo dismissed Zuma's application that he recuse himself and denied the former president's claims that they had a close personal or professional relationship, or that his conduct was biased.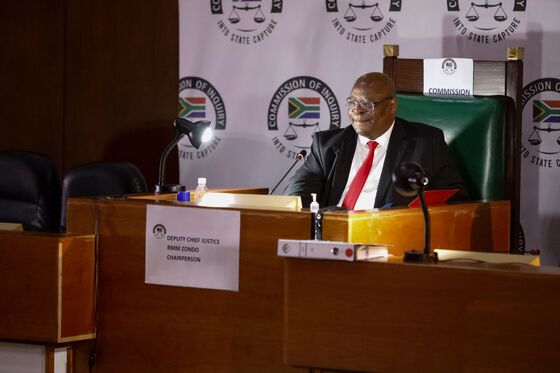 President Cyril Ramaphosa, who succeeded Zuma in February 2018, has estimated that more than 500 billion rand ($32 billion) was misappropriated from state coffers during Zuma's nine-year rule. While Zuma denies any wrongdoing, he has persistently frustrated efforts to investigate the allegations.
At least 34 other witnesses who've testified before Zondo's panel implicated the former president in the embezzlement of state funds. Zuma appeared before the panel last year, but withdrew from proceedings after his lawyers objected to the line of questioning and argued that he was being unfairly cross-examined. He was then subpoenaed to testify.
Muzi Sikhakhane, Zuma's lawyer, said his client would take the recusal decision on review, lay a complaint with the Judicial Services Commission and withdraw from the hearings.
"You have become a judge in the dispute that involves yourself," he told Zondo.
Paul Pretorius, the head of the panel's legal team, said proceedings should continue notwithstanding a review, and Zuma would be in violation of his summons if he unilaterally withdrew. Mbuyiselo Stemela, the commission's spokesman, said he was unable to comment until Zondo had pronounced on his next course of action.
"To disobey a summons is a criminal offense, so the commission could lay a charge against him for violating the summons," Warren Freedman, an associate professor of law at the University of KwaZulu-Natal in Pietermaritzburg, said in reference to Zuma. "He would have to be charged and tried in front of an ordinary court, which will decide if he has violated the summons and impose a punishment."
Eric Mabuza, another of Zuma's lawyers, said the ex-president hadn't walked away from the commission, but had excused himself after politely informing Zondo.
"We will deal with whatever comes," he said when asked whether he expected charges to be laid. "We don't want to pre-empt anything."
Justice Minister Ronald Lamola told reporters Zondo was capable of handling all issues that came before his panel, including applications for his own recusal.
"All of us must support the commission's work," Lamola said. "It is in the interests of the people of South Africa that the commission's work is finalized."
Zuma, 78, has used delaying tactics in other investigations and criminal proceedings, and is currently the defendant in an arms-deal corruption trial that took more than a decade to reach the courts.
"No one is above the law, including the former president," said Stefanie Fick, executive director of the Organization Undoing Tax Abuse, a civil rights group. "We believe the deputy chief justice needs to act decisively so as to ensure no precedent is set for others."