Zuma Fights to Halt Prosecution in Arms-Deal Corruption Case
(Bloomberg) -- Former South African President Jacob Zuma is seeking to ensure that his corruption case is never heard by applying for a permanent stay of prosecution over charges related to an arms deal two decades ago.
Zuma appeared in the High Court in the eastern city of Pietermaritzburg on Friday where the case was provisionally postponed until Nov. 30. Lawyers for Thint, the company that was the South African unit of French arms firm Thales SA at the time, will also seek to halt the case.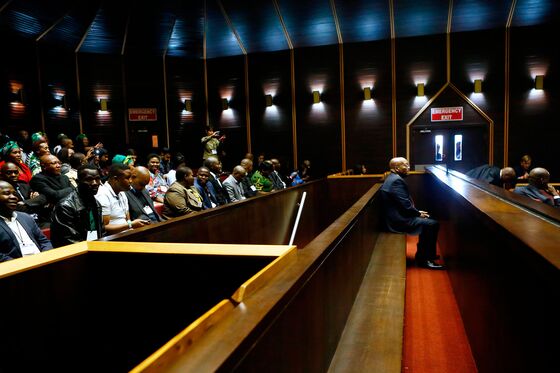 While Zuma no longer holds any positions within the ruling African National Congress and the government after being forced to step down as president in February, he still garners significant support, particularly in KwaZulu-Natal province where the trial is taking place. Hundreds of people held an all-night vigil before the court appearance and supporters, including former cabinet ministers, chanted his name outside the building after the proceedings.
The defense team said it will submit its application by Nov. 16, meaning the criminal trial may only start in 2019.
My new lawyers "are saying because this case is 17 years old, they don't want to play around. They want it gone," Zuma said outside the court, after supporters sang songs and praised his leadership. "Justice delayed is justice denied. They want to come back here and say this case must be stayed and never come back again."
Zuma, who served for almost nine years as president, is facing 16 charges ranging from corruption to racketeering for allegedly taking bribes from arms dealers, including Thales, dating back to the 1990s. The ANC forced him to step down in February and replaced him with Cyril Ramaphosa.
The former leader claims the charges are political and has been battling to have them dropped for more than a decade. The case is being pursued after the Supreme Court of Appeal in October upheld a lower-court ruling that a 2009 decision to drop the case was "irrational" and that the political considerations that had tainted the investigation were irrelevant to its integrity.
Thales denied wrongdoing and argued it can't be assured of a fair trial given how long it's taken to come to court. "Thales reiterates that it has no knowledge of any transgressions," it said in an emailed statement.
The charges are, however, only part of Zuma's problems.
In Johannesburg, Deputy Chief Justice Raymond Zondo announced to reporters that a judicial inquiry into accusations friends and family of the ex-president used the relationship to loot billions of rand from the state and its companies will begin on Aug. 20.
Zuma repeated a warning to opponents against attacking him in public, and urged backers to speak out against "injustice."
"In South Africa no one will be attacked by lions while people sit back and watch," he said. "If the law is seen to be skewed, the people will rise."