Zimbabwean Prices Surge at Fastest Pace Since Hyperinflation
(Bloomberg) -- Zimbabwean consumer prices surged at their fastest pace since a hyperinflationary spiral a decade ago as the policies of the government led by President Emmerson Mnangagwa caused shortages of everything from fuel to consumer goods.
Inflation accelerated to 20.9 percent in October, from 5.4 percent in the previous month, the Zimbabwe National Statistics Agency said in a statement emailed Tuesday. Still, that's below the 500 billion percent the International Monetary Fund estimated it reached in 2008.
"We're finished. They're taking us back to 2008," said Judith Moyo, who sells tomatoes on the street in northern Harare, the capital. "Zimbabwe is broken again."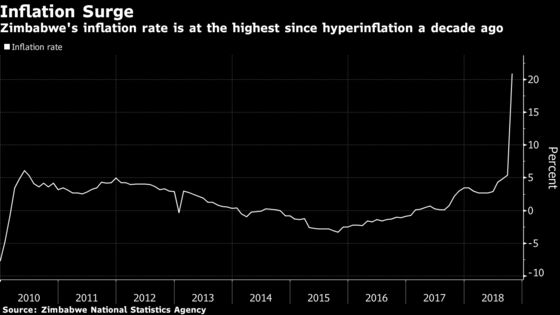 Mnangagwa, who took over when Robert Mugabe was toppled a year ago following almost four decades in power, has pledged to revive the economy, pay off arrears and lure investors. After winning the July vote, he appointed Cambridge University-trained economist Mthuli Ncube as finance minister. He faces the choice of allocating money to debts or imports.
A 2 percent tax Ncube imposed on electronic transactions from Oct. 1 in a bid to raise revenue contributed to the surge in inflation as businesses insisted on cash when there isn't any. At the same time, monetary authorities ordered banks to split customers' accounts into those backed by real dollars and others backed with a local version, known as bond notes, the government introduced to stem the cash shortage.
The result, in a country that abandoned its own currency in favor of a basket including the greenback and the rand in 2009, is that electronic dollars trade at a discount to hard cash. The government's so-called bond notes have also dropped in value . Mnangagwa has said the tax measure would be reconsidered.
A measure of inflation adjusted for the depreciation of bond notes shows that inflation is 244.6 percent, according to the Zim Bollar Index, an alternative market tracker on Twitter.
"The inflation print fails to account for the widening black market premium and therefore does not show the actual rate at which prices are rising in the informal market," said Jee-A van der Linde, an economist at NKC African Economics in Paarl, South Africa. "October's rapid increase in prices is likely to lead to even more confusion and panic among local consumers."
"My business is down more than 80 percent since mid-October because I can't buy goods without U.S. dollars cash," said Davey Munyeya, who owns a corner shop in Kuwadzana, a working class suburb in western Harare. "It's out of control and they have no ideas to fix it."