Bank of Israel Adds $10 Billion to Crisis Bond-Buying Plan
(Bloomberg) -- The Bank of Israel will buy 35 billion shekels ($10.3 billion) more in government bonds and provide cheap credit for small businesses to boost the economy that is now emerging from a second national lockdown.
The monetary committee decided to expand the scope of government bond purchases beyond 50 billion shekels "to ensure that the economy's credit needs continue to receive a response via a convenient interest rate environment," Governor Amir Yaron said on Thursday.
The Bank of Israel is trying to shore up the battered economy, with tumbling consumer confidence and unemployment rising to almost 20% since Israel hunkered down last month. The government started loosening restrictions this week as new coronavirus cases drop, but the pace of the phased reopening remains uncertain. The central bank now estimates the economy will contract between 5% and 6.5% this year.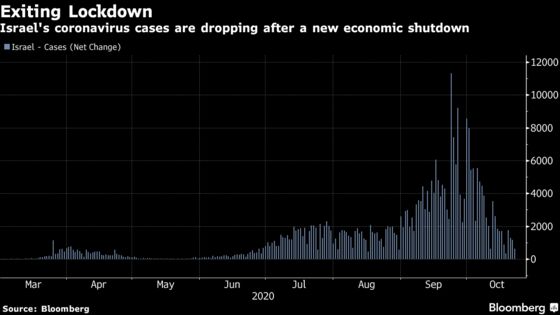 The added bond purchases are also coming to the aid of the government, which needs to find ways to plug the growing budgetary hole. The trailing 12-month deficit has more than doubled in 2020 to 9.1% of gross domestic product as a result of expanded fiscal stimulus.
"Getting activity and inflation back on track currently means providing the government with an environment that is conducive to raising money for its efforts to prop up the economy," Citigroup Inc. analyst Michel Nies wrote in a note before the decision. "Indeed, the higher debt levels mean that the impact of interest rate changes is considerably stronger than before."
The Bank of Israel has taken several steps since the start of the crisis to mitigate the damage, such as buying corporate bonds to lower borrowing costs for businesses, easing requirements for mortgage repayments and reducing banks' capital buffers to keep credit flowing. The central bank has so far bought 33.6 billion shekels of state debt.
The central bank also said on Thursday that it will extend 10 billion shekels of four-year loans to local banks -- at a fixed minus 0.1% rate -- to help small businesses survive. The index of Israel's biggest banking stocks jumped 2.5%, the most in more than in two weeks.
The central bank did disappoint those investors anticipating a cut to the base lending rate, which remained at a record low of 0.1%, according to Guy Beit-Or, head of macro research at Psagot Investment House. The yield on Israel's benchmark government bond rose.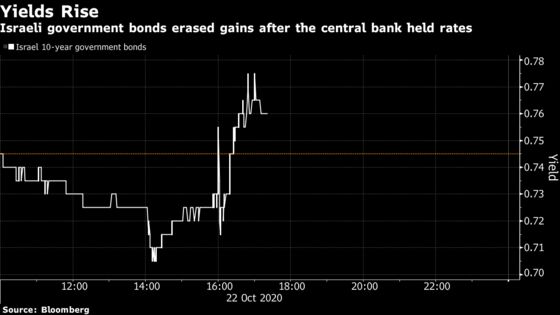 "The markets did not wait and were quick to express their disappointment with the decision not to cut interest rates," Beit-Or wrote in a report after the decision. "If the Bank of Israel's goal was to calm the markets and increase confidence that yields will remain low for the long term, at least today it has not worked for them."