Youngest Brother of North Korea Founder Kim Il Sung Dies at 101
(Bloomberg) -- Kim Yong Ju, the youngest known brother of North Korea's state founder who was briefly seen as a successor to the leader, has died at 101.
North Korea's state media reported his death Wednesday, saying he "devotedly struggled to implement the Party's lines and policies and made a contribution to accelerating socialist construction." Current leader Kim Jong Un sent a funeral wreath and expressed deep condolences over his death, the official Korean Central News Agency reported.
Kim Yong Ju made a splash on the international scene in the early 1970s when he led the North Korea delegation in secret talks with South Korea that resulted in the July 4th North-South Joint Communiqué in 1972 -- the first inter-Korean agreement since the division of the Korean Peninsula.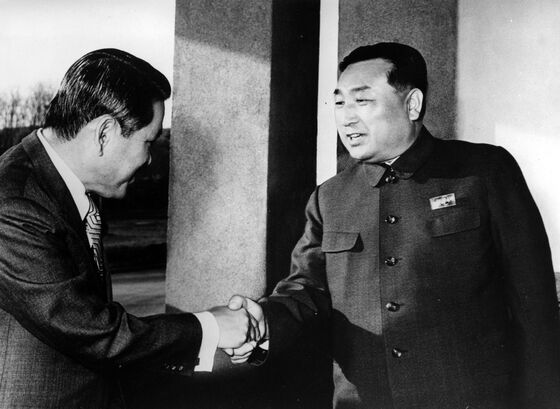 He was briefly seen in the early 1970s as the most likely successor for his older brother Kim Il Sung, becoming deputy prime minister in 1974. But his short-lived prominence faded as state founder Kim Il Sung began grooming his son Kim Jong Il to take over. 
Kim Yong Ju was removed from his posts and sent into the political wilderness for nearly two decades until the he was given a prominent position in the ruling Workers' Party in the early 1990s, in what was seen as a move by Kim Il Sung to bring aboard a possible replacement if his son was not up the task of being "Supreme Leader."
When Kim Il Sung died in 1994, Kim Yong Ju became a member of the funeral committee and in a sign of unity, he remained in the political fold when Kim Jong Il took power, serving as an honorary vice president. 
He held several ceremonial roles in the years that followed but was never considered a likely heir to the family dynasty of the state forged at the start of the Cold War and survived the fall of the Soviet bloc.
Kim Yong Ju was born in 1920 near the North Korean capital and moved to southern Manchuria when he was three with his family, according to South Korea's Unification Minister. He studied politics, economics and law in Moscow University, and returned to North Korea in 1953 where his brother already controlled the country. 
After the Korean War ended in 1953, Kim Yong Ju is thought to have been a key player in purging rivals to his brother who was solidifying his rule over the state, according to a New York Times article on him from the 1970s.