Yen and Euro Stage World-Beating Rallies in Week of Market Chaos
The yen and euro have emerged as the currency world's winners in one of the most painful weeks for global markets in decades.
The Japanese currency advanced 2.6% in the five days through Friday, set for its best weekly gain since 2016 and the biggest increase among major peers globally. The euro followed with its strongest advance since June.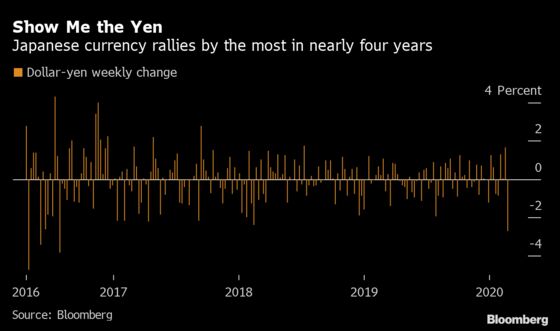 The currencies are benefiting from the prospect of a sooner-than-expected interest-rate cut in the U.S., which, if it comes to pass, would diminish the dollar's yield appeal. Money markets are pricing in a full rate cut in March, up from about an 8% chance a week ago.
Both the yen and euro were ripe for a rally, with the former having seen its haven status questioned by global investors on concern the virus had spread to Japan, and the latter suffering the consequences of being a funding currency of choice.
These factors aren't weighing on the currencies anymore, especially as the threat of a virus outbreak in the U.S. worsens and the likelihood of a contentious presidential election grows. The euro has risen 1.2% this week to $1.0973 -- after touching a high of $1.1053 -- and the yen traded at 108.68 per dollar as of 1:25 p.m. in London.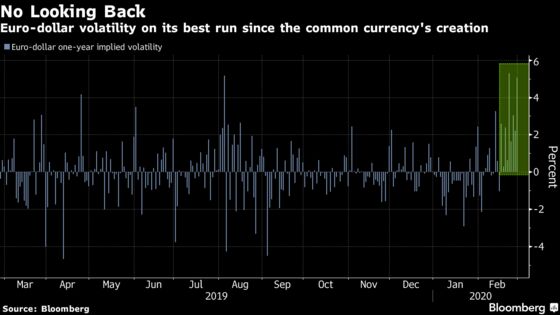 The shift sent the euro's one-year implied volatility rising a ninth day, the longest streak since the currency's creation about two decades ago, and hedging costs rose to the highest since August. Options traders are now the most bullish they have been about the common currency in two years.
There's turbulence in store for the yen, too. One-month volatility in dollar-yen is set for its widest daily gain in four years, while expectations over the pair setting a wider range next week haven't been this high in three years.
(Disclaimer: Michael Bloomberg is seeking the Democratic presidential nomination. He is the founder and majority owner of Bloomberg LP, the parent company of Bloomberg News.)