Yellow Vest Protests Draw Viewers Not Ads for French All-News TV
(Bloomberg) -- Yellow Vest protests in France are turning into a mixed blessing for news broadcasters: Viewership has never been higher, but revenue is tumbling.
The grassroots Yellow Vest protests every Saturday since mid-November against everything from higher taxes and falling purchasing power to deteriorating public services and inequality have brought thousands of people into the streets in major urban centers. As they've clashed with the police, set cars on fire and destroyed shop windows, bank branches and monuments, the story has provided gripping programming for the country's all-news channels. All that viewership hasn't, however, translated into an ad-revenue bonanza.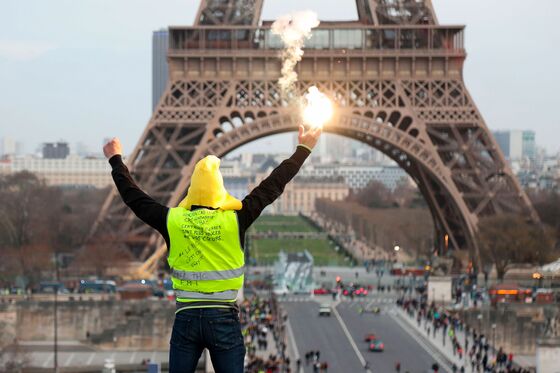 "As much as the Yellow Vest protests have helped networks enjoy record high ratings, it hasn't necessarily translated into added advertising revenue, showing how tricky it can be to monetize the interest of viewers for major political and social events," said Philippe Nouchi, media expertise director at Publicis Media.
Nouchi estimates that 24-hour news channels -- Altice Europe NV's BFM TV, Bollore SA's CNews and Television Francaise 1's LCI -- may have lost out on 3 million euros ($3.38 million) of revenue in November and December, or about 14 percent of ad sales for those months. Two-thirds of that was for BFM. Entertainment media company NRJ Group said fourth-quarter radio and TV revenue fell 3.8 percent and 7 percent respectively as advertisers either postponed campaigns or canceled them altogether.
The loss of revenue compounds an already difficult environment for the broadcasters. The landscape in France has become more competitive as the channels vie for the same advertising budgets. Traditional broadcasters like Television Francaise 1 -- owner of free-to-air LCI and TF1 -- are being dumped by investors as digital platforms proliferate and U.S. content giants like Netflix Inc. eat into their market shares, Thomas Coudry, an analyst at Bryan, Garnier & Co said.
Enter the Yellow Vests. The steady stream of news forced the channels to forgo ads on days when protests were held. Advertisers -- especially those selling consumer goods -- also withdrew ad campaigns amid a drop in demand, notably during the crucial period of December as the Yellow Vests disrupted shopping districts around France, Nouchi added.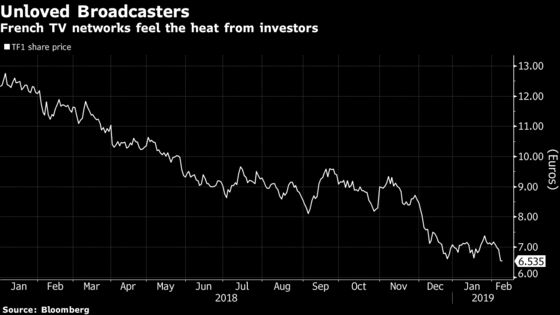 News broadcasters may be able to recoup the lost revenues in the coming months as the protests die down and advertisers and networks readjust media-planning fees, based on the strong ratings of November and December.
In the meantime, TV newsrooms across France such as BFM TV, LCI and CNews are basking in increased viewership. According to ratings tracker Mediametrie, BFM TV had a record 3.7 percent market share of all free-to-air TV viewing in December, similar to April 2017 -- at the height of the French presidential campaign. LCI and state-funded France Info had record 1.5 percent and 0.7 percent respectively. CNews had a 1.2 percent share, below its November 2015 record of 1.6 percent, when terror attacks struck Paris, leading to 130 deaths.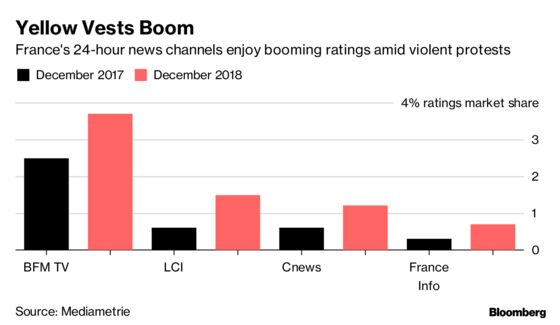 Nouchi said the channels also decided to forgo ads during those attacks. However, the ad revenue pain then was more limited because the events didn't drag on.
Another casualty of the protests has been broadcasters' reputation. A survey for the newspaper La Croix by WPP Plc's Kantar published on Jan. 24 showed that all traditional sources of news -- radio, TV, print -- saw their credibility collapse last year, with more than half of those surveyed saying the protesters were treated poorly by the media. Journalists have been attacked by protesters in cities like Toulouse, Marseille and Rouen, occasionally forcing newsrooms to escort teams of reporters with security guards.
"The Yellow Vest movement is showing us that part of the audience in France is frustrated with traditional media outlets, which are being challenged," Alain Weill, chief executive officer at Altice Europe and founder of BFM TV, said in an interview. That's even as the appetite for the news they provide has grown, he said. A spokesman for Bollore's CNews didn't respond when asked to comment while TF1 declined to comment.
BFM TV accepts criticism it enabled the rise of the Yellow Vests with its relentless coverage. "We're going through a historic crisis," which warranted that decision, its editor-in-chief Celine Pigalle said during a media panel called "Why journalists are so hated?"