Yellow Vest Fears Steer Macron Against No-Deal Brexit
(Bloomberg) -- French diplomats are privately warning of the damage a no-deal Brexit would do to the country's rural economy, as the impact of protests against President Emmanuel Macron starts shaping the European Union's strategy ahead of bloc-wide elections.
France is most worried about the consequences for its fishing communities if the U.K. crashes out the bloc without an agreement, according to officials familiar with the situation. Britain's departure, scheduled for March 29, comes at a crucial time with the vote across Europe two months later and Macron facing widespread street protests from the so-called Yellow Vest movement.
A no-deal Brexit will happen if the U.K. Parliament doesn't approve the agreement struck with the EU by the scheduled leaving date -- or instead request an extension to the negotiating deadline. After lawmakers dealt a resounding defeat to the deal earlier this month, Prime Minister Theresa May is hoping for more concessions from the European side.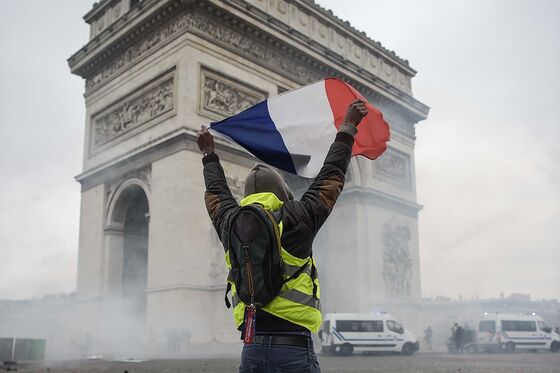 In a behind-closed-doors meeting about Brexit between the European Commission and ambassadors from the 27 remaining countries in Brussels on Wednesday, the French envoy said that as many as 70 percent of workers in areas of France dominated by the fishing industry could be hit if the U.K. leaves without an agreement, a diplomat present at the meeting said.
France repeatedly raises the issue of the serious damage Brexit could do to rural fishing communities in EU meetings, according to two other diplomats. France has switched from often taking the most hard-line stance in talks about the U.K.'s departure over the past two years to now striking a far more conciliatory tone as the domestic political situation has become more fraught, they said.
That's demonstrated in France's ambitions to see Brexit delayed by as much as a year, one of the diplomats said. A postponement will happen only if the U.K. requests it and all the 27 other EU governments agree. Some countries believe there shouldn't be any delay.
The French government didn't comment on the private meetings. It has said publicly it's worried about the fallout for fishermen and is seeking solutions.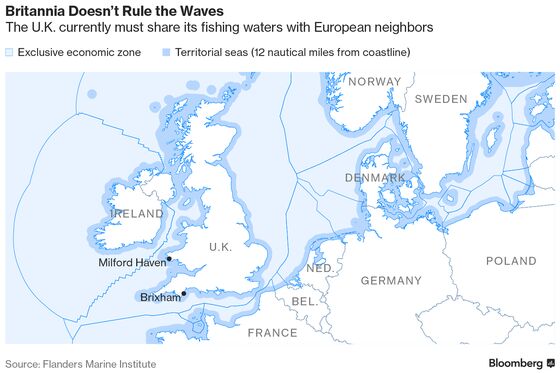 A common fishing policy -- in which access to waters is pooled and shared out in quotas -- is part of EU membership. If the U.K. crashes out, it will no longer be part of the deal, and nothing will have been agreed to replace it.
Daniel Fasquelle, a member of Parliament from Northern France, said fishermen in his district are well aware of what a no-deal exit would mean for their livelihoods.
"A hard Brexit would be a catastrophe for French fishing. For my fishermen, between 50 and 70 percent of their fishing zone is in British waters. They leave port and within a few miles are in British waters," he told Bloomberg. "In the case of a hard Brexit, they get back full sovereignty of their waters and block our boats."
Protesters wearing yellow vests have blockaded French shopping centers and staged sometimes violent marches in Paris since November. Macron, the main focus of their anger in France, has, in recent days, started a tour of the French heartlands, where much of the discontent originates, as he steps up campaigning for the May elections.
The protesters, named after the reflective yellow safety vests French motorists have in their cars, criticize Macron for being out of touch and pursuing policies that do nothing for people living in the country's small towns and rural areas. Some of them are planning to run in the European elections.
Under EU rules, all 28 nations are allowed to fish in what otherwise would be each other's national waters. To safeguard fish stocks and protect jobs in fishing areas, each country is given annual geographical quotas for the amount of every species its boats are allowed to catch.
French boats make sizable daily catches from the seas around Britain. In a crash-out exit they would have to compete with other European vessels in more crowded waters, which would be less profitable.
The European Commission this week proposed measures to mitigate the impact of no-deal on the fishing industry, including compensation for fisherman and a plan to discuss with the U.K. reciprocal access outside of the main Brexit deal.