Xi's Race Against a Population Timebomb
President Xi Jinping's biggest obstacle to completing China's rise to global wealth and power may not be the U.S. under Donald Trump, but a greying population.
That's why Xi's Communist Party may soon bring an historic end to its roughly four-decade-old policy of limiting the number of children each family can have. The population-control measures — involving steep fines, forced abortions and sterilizations — could be repealed as soon as this year, Bloomberg News exclusively reports.
The demographic experiment, which once limited families to just one child, has left China with 30 million more men than women and an aging problem similar to those of much more developed economies. By 2030 —  when Xi hopes to be completing China's modernization drive — about one-quarter of the population will be 60 or older.
Xi may need to take more dramatic steps if he wants to reverse the trend and maintain the dynamic economy that Trump views as such a threat. Will China now start paying families to have kids?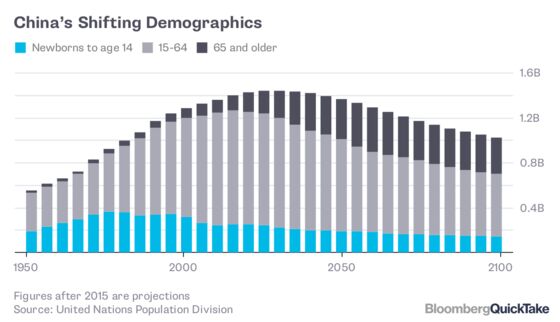 Emmanuel Macron's challenge | The French president's talks with Vladimir Putin in Russia this week on salvaging the Iranian nuclear deal just got more complicated. U.S. Secretary of State Mike Pompeo yesterday set out 12 demands for Iran that go beyond the 2015 accord to issues such as withdrawing forces from Syria, where the Islamic Republic is Russia's ally in fighting to preserve President Bashar al-Assad's regime. Pompeo threatened "the strongest sanctions in history" unless the terms are met.
Maxing out | The U.S. began stepping up its use of sanctions after the Sept. 11 attacks, deploying them against terror suspects and their financial backers. And in year two of the Trump administration, the number of financial penalties has hit a high. But as Ben Holland writes, the response to the president's decision to pull out of the Iran deal shows U.S. sanction power may be reaching its limit.
A novice in office | The way things are shaping up in Italy, the next prime minister will have to manage two populist heavyweights with no power base of his own. And it'll be his first proper job in politics. Law professor Giuseppe Conte's name was put forward for the job yesterday by the coalition, but the head of state is still considering whether to formally nominate him.
Brexit machinations | Is Britain, which sandwiched the 2016 Brexit referendum with general elections in 2015 and 2017, headed for yet another national ballot in 2018? The pound fell to its lowest level this year yesterday amid speculation a snap general election could be called. Rob Hutton and Charlotte Ryan explain why that probably wouldn't solve the problem that triggered it.
Risky business? | The U.S. Defense Department's efforts to recruit a more tech-savvy workforce are bumping up against the question of whether owning Bitcoins (or lesser-known cryptocurrencies such as Ripple and Ethereum) is an indicator of risky personal behavior. Daniel Flatley takes a closer look at the Pentagon debate over whether to subject such investors to extra scrutiny before giving them security clearances.
A primary runoff election in Texas offers a test of efforts by the Democrats in Washington to prevent a progressive insurgency from imperiling their bid for a House majority in November's midterms. Sahil Kapur examines the strategy.
Facebook co-founder Mark Zuckerberg, who has so far refused to appear before U.K. lawmakers over the Cambridge Analytica scandal, will be grilled by European Parliament members from 6:15 p.m. in Brussels.
And finally… Trump went from TV to the White House. Now Barack and Michelle Obama are headed in the opposite direction after agreeing a multiyear deal to produce a "diverse mix" of programs for video-streaming service Netflix. There'll be no shortage of Hollywood celebrities eager to associate with their star power. In a dig perhaps at their White House successor, the Obamas have called their production company Higher Ground.