Xi Faces Hurdles Bashing American Brands in a Trump Trade War
(Bloomberg) -- As a trade war looms, one of Chinese President Xi Jinping's biggest weapons could be boycotts of American brands by his country's legion of consumers.
But Xi would also be risking collateral damage at home: The China operations of all-American brands ranging from Coca-Cola Co. and McDonald's Corp. to Walt Disney Co. are co-owned by state-backed Chinese firms.
One of Coke's main China partners is government-backed COFCO Corp.; Shanghai Disneyland is part owned by a local consortium, and McDonald's franchisee in the country is controlled by state-backed conglomerate Citic Ltd. and private-equity firm Citic Capital Holdings.
"The perfect Stars-and-Stripes corporate victim doesn't exist," said Tom Orlik, chief economist in Beijing with Bloomberg Economics. "The number of big clean wins in terms of striking against the other guy -- without accidentally punching your own guy in the face -- is extremely small."
Even when Chinese companies don't have direct ownership links with U.S. brands, Orlik said, boycotts or other non-tariff retaliation would hit the local partners of those American companies.
Early shots in the trade war are set to be fired on Friday, with the U.S. scheduled to impose tariffs on $34 billion of Chinese exports. Beijing has said it will place levies on an equal value of U.S. goods, a move that Trump said would lead to additional penalties. This week, the U.S. moved to block China Mobile Ltd. from entering its telecommunications market, citing national security risks.
"By now there is no backing out," Pauline Loong, managing director at research firm Asia-Analytica in Hong Kong, said on Bloomberg Television on Monday.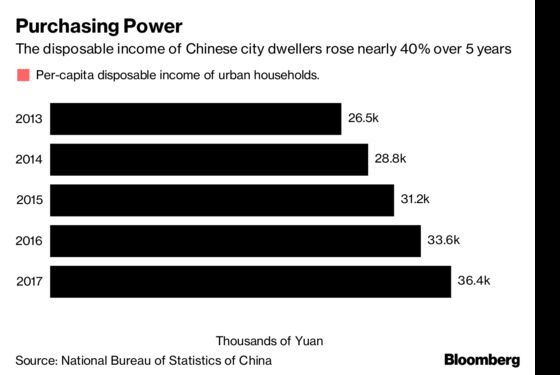 Unlike overt actions like tariffs, boycotts by Chinese consumers appear suddenly and usually follow angry rhetoric by government-controlled publications and social media. In earlier conflicts with foreign countries, Chinese citizens inflamed by nationalistic news coverage, boycotted high-profile international brands like Toyota Motor Corp. and Hyundai Motor Co., hurting corporate profits and boosting Chinese leverage.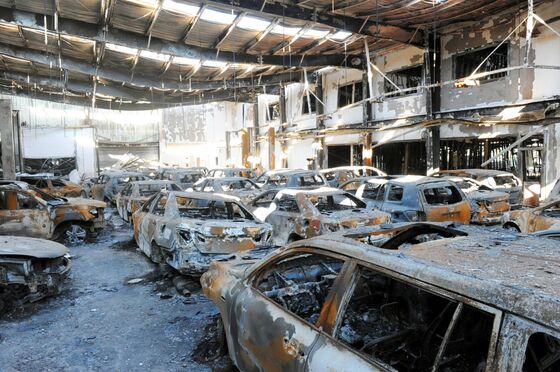 Imports of Chinese goods into the U.S. totaled $505 billion in 2017 while China only imported $130 billion from the U.S., limiting Xi's ability to respond with tit-for-tat penalties. However, American companies sold $280 billion of goods and services in China last year through their local subsidiaries, according to Deutsche Bank AG. That creates a big target.
"No U.S. product sold in China, or U.S. company invested in China, can be considered safe from its retaliation," said Yanmei Xie, a China policy analyst for Gavekal Dragonomics in Beijing.
Besides boycotts, Beijing could consider creating costly administrative bottlenecks for U.S. imports or impose punitive measures against U.S. companies operating in China, analysts at research firm TS Lombard wrote in a June 20 note.
So far government-controlled media have said little on how consumers should respond to a trade war with the U.S., although an editorial in the Global Times highlighted anti-U.S. sentiment in Europe as well as calls by Canadians to boycott American goods because of Trump's penalties on imported steel and aluminum. Xi's government last month said China would retaliate immediately and forcefully to U.S. tariffs.
Prominent consumer brands like McDonald's and KFC have in the past been easy targets, with thousands of restaurants across the country.
But since anti-U.S. demonstrations in 2016 targeted them with calls for boycotts, the U.S. owners of both fast-food giants have sold their controlling interests in their Chinese operations.
Oak Brook, Illinois-based McDonald's owns only 20 percent of its Chinese namesake, having sold the rest last July to state-backed conglomerate Citic Ltd. and other investors.
Louisville, Kentucky-based Yum! Brands Inc. no longer owns the KFC and Pizza Hut businesses in China, having spun off Yum China Holdings Inc. in 2016. Meanwhile, in April 2017, Coca-Cola sold its China bottling assets to COFCO and Hong Kong-listed Swire Pacific Ltd.
Consumers trying to punish Trump by staying away from Disney's $5.5 billion theme park in Shanghai would end up hurting Chinese companies because the American firm is just a minority shareholder there. A state-run consortium, Shanghai Shendi Group, owns 57 percent of the resort, which opened in 2016 and attracted more than 11 million visitors in its first year.
So consumers looking to punish an American brand could unknowingly punish a Chinese one as well.
That may be a price Xi's willing to pay, especially since he's not the only one facing the risk of collateral damage. Trump's efforts to punish China will damage U.S. business, with its farmers losing if China finds other suppliers of commodities like soybeans. And not all American brands have Chinese partners, so Beijing could simply decide to single out some.
A Chinese court, ruling in a patent dispute case, issued a preliminary injunction banning U.S. semiconductor maker Micron Technology Inc. from selling 26 products in China, according to a Tuesday statement from Taiwanese rival United Microelectronics Corp. Micron said it hasn't been served with the injunction and won't comment until it does.
If political ties deteriorate sharply, many Chinese looking to do their part probably won't be too concerned about who owns what, according to Bruno Lannes, a Shanghai-based partner with consultancy Bain & Co.
"I'm not sure Chinese consumers have a real understanding of the ownership structure of companies that do business in China," he said. "If they're told this is a U.S. company or a U.S. product, then they would accept that even if the majority share is owned by a Chinese company."