Xi Acts to Halt Virus's Political Contagion
The deadly coronavirus outbreak that has already killed nearly 1,400 people in China is now claiming the jobs of top officials as President Xi Jinping moves to shield himself from public anger over the official response.
The purge of the top Communist Party chiefs in Hubei province, the epicenter of the crisis, and its capital Wuhan, the city bearing the brunt of the outbreak, came as the authorities announced the number of virus cases had skyrocketed by nearly 15,000 to almost 60,000 following a dramatic revision to counting methods.
Xi also has used the opportunity to try to tackle his other major crisis — Hong Kong - by appointing a man known for tearing crosses off the roofs of churches to head the agency overseeing the turbulent city.
But it's the response to the virus that may present the biggest challenge of Xi's tenure amid public pressure for transparency over the outbreak.
China isn't alone — Indonesia has reported no confirmed cases, drawing skepticism from experts who point to dozens of infections in nearby countries.
Ousting officials — and letting them shoulder blame — during an emergency isn't unprecedented. The central government fired more than 100 officials including the mayor of Beijing when China battled the 2003 SARS outbreak.
Amid worldwide alarm over the virus's spread — Japan confirmed 44 more cases on a quarantined cruise ship today — how Xi reacts to pressure for greater openness will be crucial to the global battle to defeat the disease.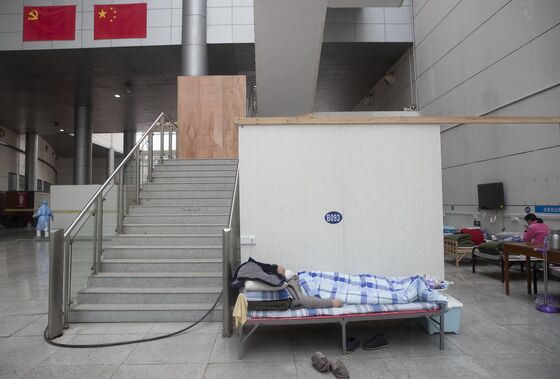 Sprint mode | The Democratic presidential candidates have spent their summers at the Iowa State Fair and fall weekends at New Hampshire diners, trying to win over one voter at a time in the two early states that can make or break a campaign. Now, the contest explodes into a geographic and demographic battle that will test their national appeal, fundraising prowess and staying power.
Click here for more on Amy Klobuchar's efforts to show her surprise third-place finish in New Hampshire is more than just a fluke.
Shuffling the pack | Boris Johnson fired a clutch of senior ministers today including a former rival for the Conservative Party leadership in a dramatic cabinet cull. After winning a big majority in December's election, the British prime minister is stamping his authority on his top team to bring in new blood and prepare the country for life after leaving the European Union.
Exit management | German Chancellor Angela Merkel helped avert the meltdown of the euro, navigated Europe's refugee crisis and handled a thorny relationship with U.S. President Donald Trump. Now she's facing potentially the final test of her crisis-management skills — the political vortex left by the sudden resignation of her heir apparent and dealing with her Christian Democratic Union's dalliance with the far right.
Boycott backfires | A plan forged by Serbia's opposition parties to boycott this year's elections is falling apart, providing a boost to the person it was designed to hurt: President Aleksandar Vucic. The move had called into question the Balkan country's democratic credentials as it ramps up efforts to join the EU.
Mideast rivalry | Dubai, the glitzy metropolis in the United Arab Emirates that built its reputation as a freewheeling business hub in a region clogged with bureaucracy, has a new rival. Saudi Arabia's capital, Riyadh, is vying to win back business as Crown Prince Mohammed bin Salman tries to reshape the kingdom and loosen conservative policies, ramping up competition in a big year for both cities as they host major events.
Trump faces a bipartisan Senate vote to limit his ability to strike Iran without authorization from Congress, an effort backed by some Republicans to constrain his foreign policy.
The president will meet with New York Governor Andrew Cuomo to discuss a potential compromise on the administration's ban on state residents enrolling in programs that allow travelers to more quickly move through airport passport and customs checks.
The Pentagon's new ground-based missile defense system being built in Poland is running as much as four years behind schedule, delaying a project intended to intercept potential attacks on Europe.
Tell us how we're doing or what we're missing at balancepower@bloomberg.net.
And finally … As Russia prepares to commemorate the 75th anniversary of the World War II victory in May, Vladimir Putin is cranking up his rhetoric against western powers in defense of Josef Stalin's 1939 pact with Hitler. At the same time, the president is digging in against calls at home to open up secret archives on the Stalin-era killing of millions of Soviet citizens. "We need to know the truth," said a Russian Orthodox priest whose grandfather was among those killed.