Thunberg Appears; Fossil Fuel Deal in Play: COP26 Update
(Bloomberg) -- Greta Thunberg showed up at COP at last, prompting a stampede of delegates trying to get a glimpse of her in the same room as Mark Carney. Carney was talking about offsets and Thunberg doesn't approve.
Carney and the financial elite have been center-stage for most of the day, as a group of banks, investors and insurers announced that $130 trillion of assets are now pursuing net-zero emissions by 2050.
But as the industry hailed its progress, anger from poorer nations with most to lose from climate change and activists continued to swell -- both at the pace of decision-making and the unequal access to the summit itself. Protesters marched and waved banners, with police security tight.
"The progress made here is disappointing and in a way also frightening," said Sonam Phuntsho Wangdi, who chairs the so-called Least Developed Countries group.
Carney says climate financing has reached "watershed" moment
Organizers told people to work remotely, as the venue was close to capacity
Al Gore says there's now a "subprime carbon bubble"
Activists slam lack of inclusiveness at talks
There's little agreement on what 'Net Zero' really means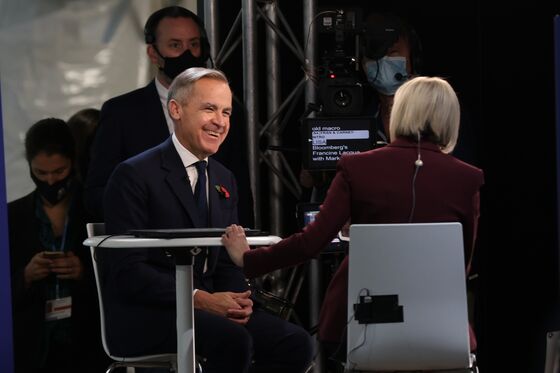 (All timestamps Glasgow, Scotland.)
Deal to Stop Foreign Fossil Fuel Funding; But With Key Holdouts (4:21 p.m.)
The U.K. has corralled about 20 nations in a pledge to stop funding foreign fossil fuel projects, though the diplomatic win is tempered by the omission of China and Japan.
A one-page statement will be unveiled on Thursday at the COP26 climate talks, according to people familiar with the matter.
Turn Paper Pledges Into Action, Sunak Says (3:40 p.m.)
U.K. Chancellor of the Exchequer Rishi Sunak said the world needs to translate hundreds of billions of dollars of financial pledges from companies and governments into concrete action on climate change as he hailed a new "wall of capital" directed toward eliminating fossil fuel emissions.
Sunak spoke in an interview at the United Nations climate talks in Glasgow, Scotland, where earlier in the day he'd vowed that the developed world will live up to a pledge to deliver $100 billion in climate finance a year. Along with the $130 trillion in finance industry carbon neutral pledges, "that wall of capital can now be deployed towards net zero aims helping developing countries," Sunak told Bloomberg TV. 
"But of course, this is going to be a process," he said. "We need to make sure that the governance works, it's high quality, and that what sits there on a piece of paper is actually going to turn into tangible actual projects on the ground that are going to make a difference to people's lives."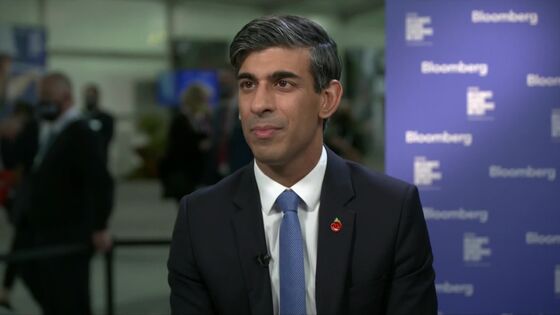 Greta Thunberg Tweets Criticism of Banks (3:32 p.m.)
Greta Thunberg caused a stir at the COP26 summit in Glasgow as she joined the audience of an event intended to present banks' contribution to the fight against climate change. "Greenwash alert," she wrote in a Tweet as she waited. The fossil fuel industry and banks "are among the biggest climate villains."
Her presence appeared to draw crowds who thronged to see what was happening. Thunberg and another activist who accompanied her then interrupted the event to accuse the organizers of greenwashing, and of relying on carbon offsets, which they called "climate sabotage." They left before Carney spoke.
Local Climate Action Seen as Solution to Future GOP Opposition (2:50 p.m.)
Rising local government and market support for climate action will head off legal and political opposition to those efforts from any future Republican presidential administration, Louisiana Governor John Bel Edwards said Wednesday in Glasgow.
"This is where the future is economically, and then governments across the board will start to embrace it to a degree we haven't seen," Edwards (D) said in an interview at the 26th Conference of the Parties of the United Nations Framework Convention on Climate Change, or COP26.
"If we're successful, then future administrations, whether they're Republican or Democrat, shouldn't pose the same level of opposition," he said when asked what legal hurdles future administrations may pose to local efforts to cut carbon to address climate change.
How Virginia Voters May Get Heard at COP26 in Glasgow: BNEF (2:47 p.m.)
What do the results of Virginia's elections have to do with the international climate negotiations taking place in Glasgow? Little, at least directly. But indirectly, possibly quite a lot.
Republican Glenn Youngkin's election as governor and a strong showing by Republicans generally in the Old Dominion are sending shockwaves across the Potomac to Capitol Hill, where Democrats remain deadlocked over two major pieces of legislation. If both passed, the bills would demonstrate unprecedented U.S. federal government support for addressing climate change.  That in turn would embolden President Joe Biden's negotiators in Glasgow, who are desperate to prove that the Trump years were an anomaly - and that America is taking the climate challenge seriously.
Biden Officials in Glasgow Talk Up Prospects of Climate Bill (2:21 p.m.)
While U.S. President Joe Biden's climate-and-social-spending bill is hitting snags in Washington, D.C., his top officials are talking up its promise in Scotland, highlighting the pending legislation as a symbol of U.S. commitment to clean energy.
The legislation would devote $555 billion to tax incentives for renewable energy and electric vehicles as well as conservation and clean technology initiatives.
"Of course, $555 billion is a lot of money, but we lost $100 billion last year just responding to wildfires and heat and disasters," said White House National Climate Advisor Gina McCarthy.
Biden's plan hits many sectors and "provides a mechanism for change," she said. It will be a catalyst for investment and designed to attract business involvement, she said.
Ex-PBOC Adviser Calls For Mandatory Chinese Climate Disclosures (2:07 p.m.) 
A former member of the monetary policy committee of China's central bank said the country should introduce obligatory climate disclosures as part of a concerted effort to boost private capital flows into sustainable investments.
"Disclosure needs to move towards a mandatory arrangement," Ma Jun, president of the Beijing-based Institute of Finance and Sustainability, said on a panel Wednesday at the Green Horizon Summit, a finance-focused event hosted by the City of London and the Green Finance Institute on the sidelines of the COP26 meeting in Glasgow. 
"You have to force the corporates and financial institutions really to disclose information that's related to the environment, climate and, in the future, related to biodiversity, so that the money can really identify who is green and not green," he said. 
Saudis Dismiss IEA Call to End Oil Spending Again (1:35 p.m.)
Saudi Arabia repeated its criticism of the International Energy Agency for a call to end new oil and gas exploration.
The IEA, which advises rich countries on energy policy, said in May the cessation of all new investment in fossil fuels was necessary to neutralize carbon emissions by 2050.
The world's biggest crude exporter last month pledged to cut planet-warming emissions to net zero by 2060, but said it would press ahead with a multi-billion dollar plan to raise its production capacity even more.
U.S. Commits $1 Billion for Smart Investments, Kerry Says (12:31 p.m.)
The U.S. is "putting a billion dollars on the table to help provide the capacity for smart investments, for smart development. But 30 countries have now stepped up to help provide an additional $3 billion . So more than $4 billion" is now available. 
Activists Say They're Being Excluded From Negotiations (12:26 p.m.)
Representatives of environmental non-governmental organizations say the COP26 convenors are keeping them out of rooms where negotiations are happening. 
"We have thousands of observers who have gone through all the accreditation stages, all registration processes, yet for environmental non-governmental organizations 4 representatives have been allowed in the entire room where negotiations take place," said Sebastien Duyck, Senior Attorney, Climate & Energy Program at the Center for International Environmental Law:
Al Gore Says 'We Now Have a Subprime Carbon Bubble' (12:26 p.m.)
Al Gore, the former vice president of the U.S. and the chairman of Generation Investment Management LLP, said there's no future for a number of hydrocarbon assets, comparing them to subprime mortgages.
"We now have a subprime carbon bubble," Gore said in an interview with Bloomberg Television's Francine Lacqua on Wednesday. 
COP26 Methane Pledge Must Win Over Laggards, Free-Riders: BNEF (11:36 a.m.)
More than 100 countries have signed up to the Global Methane Pledge, officially launched yesterday. Together these nations account for some 42% of global methane emissions, based on 2018 data from the World Resources Institute, although the U.S. and European Union suggest that this share is now over half. 
This will likely be marked up as a COP26 success: methane has driven a large share of the 1 degrees Celsius of global warming since pre-industrial times, according to the latest Intergovernmental Panel on Climate Change report. Low technological barriers, better use of satellites to identify methane leaks and the benefits of tackling a shorter-lived greenhouse gas burnish the case for concerted action. 
Still, larger emitters did not sign up: these include Russia, whose fossil-fuel sector is probably the world's largest in terms of methane emissions, and China, one of the largest importers of natural gas.
India Sees Carbon Emissions Peaking in 2040-45 (11:27 a.m.)
India's carbon dioxide emissions are seen peaking between 2040 and 2045, before sliding downward, according to India's environment secretary Rameshwar Prasad Gupta. 
Climate-Vulnerable Countries Seek Levy on Shipping Emissions (11:21 a.m.) 
Some of the world's most vulnerable countries to climate change are seeking a levy on greenhouse gas emissions for international shipping. The Climate Vulnerable Forum, which includes 48 member states, has asked for the International Maritime Organization to establish the fee "to ensure that IMO emission measures are fully aligned" with a pathway to limit the increase in global warming to 1.5-degrees Celsius. Shipping trade groups have previously submitted a plan to the IMO for a charge on CO2 emitted by vessels.
G-20 Fossil-Fuel Support Was $600B in 2020: BNEF (10:59 a.m.)
Fossil-fuel support by the Group-of-20 countries in 2020 totaled nearly $600 billion, based on BloombergNEF estimates - six times the volume of climate finance due to be delivered by developing countries last year. See the full climate-policy factbook here.
EIB's 1 Billion Euros to Help Ease S. Africa Coal Use (10.18 a.m.) 
The European Investment Bank will contribute 1 billion euros to help South Africa transition away from coal, a plan that was announced on Tuesday, Vice President Ambroise Fayolle said. The U.S., U.K., Germany, France and the European Union will mobilize $8.5 billion in concessional finance and grants over the next three to five years, in an attempt to make it a template for other heavy coal-burning countries.
Logistical Challenges Persist (10:13 a.m.)
Outside the venue in Glasgow, delegates and observers arrived to long queues and an hour-long wait that many expected to be shorter with the end of the leaders summit and the departure of heads of state. "At least it's not raining," one observer said as he slipped into the front of a line.
The long waits and limited access -- with capacity restrictions kicking in on Tuesday -- have been decried by some activists and civil society organizations. They say the constraints will curb the voice of climate-vulnerable nations to shape discussions and could prevent a successful outcome.
South Africa COP26 Deal Could Be Coal-Exit Prototype (10:04 a.m.)
South Africa's new 'just transition' partnership with France, Germany, the U.S., U.K. and the European Union could provide a blueprint for supporting other emerging markets that switch away from coal and other fossil fuels, provided they meet certain criteria.
Carney Describes GFANZ Financial Firepower as 'Watershed' (9:54 a.m.)
Mark Carney said that the $130 trillion of financial firepower behind the Glasgow Financial Alliance for Net Zero meant that there's no shortage of private capital to tackle climate change.
"Up until today there was not enough money to finance the transition," the former bank of England governor said on a panel. "Today is a watershed."
What is needed now is for governments and institutions to provide net-zero aligned projects for investors to back, Carney said.
There's skepticism though about big committments without follow-through. United Nations Secretary-General Antonio Guterres has said that there's a "deficit of credibility" on the issue, and that he plans to establish an expert panel to measure non-state actors' committments. 
On Wednesday, GFANZ announced that Michael R. Bloomberg, the owner and founder of Bloomberg News parent Bloomberg LP, will co-chair GFANZ together with Carney.
Carbon Pricing Is Key, IIF CEO Says (9:45 a.m.)
Institute of International Finance President and CEO Tim Adams urged government leaders to do more to convince voters that a carbon pricing system is key to reaching net-zero emissions.
A carbon price "is where the public sector could lead; they're not," he said in a Bloomberg TV interview. The IIF is a global association for the financial industry with more than 450 members in over 70 countries.
"Voters don't want it," Adams said. "They fear what it will mean for home energy prices, for the price of gasoline, so what we have to do help our voters, our societies understand the need to transition to what that entails. So far we haven't done a very good job of that."
Sunak Pledges to 'Rewire' Financial System for Net Zero (9:10 a.m.)
Sunak opened the finance day with promises to step up international climate aid, mobilize private sector finance and overhaul the global financial system to align it with a net zero future.
The chancellor told delegates at the United Nations climate talks in Glasgow that developed countries will meet their long-held pledge to mobilize $100 billion in climate finance a year, while acknowledging it's not happening "soon enough." Over the next five years, he said, $500 billion of financing would come in.
Sunak also pointed to a "a historic wall of capital for the net-zero transition around the world," referring to the Glasgow Financial Alliance for Net Zero.
Earlier, he said that the U.K. has convened over 30 advanced and developing countries representing over 70% of global GDP to back the creation of new global climate reporting standards by the IFRS Foundation "to give investors the information they need to fund net zero."
Climate Change an Economic Opportunity, Yellen Says (9 a.m.) 
U.S. Treasury Secretary Janet Yellen said climate change must be confronted immediately, but that it also represents "the greatest economic opportunity of our time."
The U.S. "intends to fully support," along with the U.K., a financing program created by the multilateral Climate Investment Funds designed to attract private investment to projects that fight the impact of climate change in developing countries.
BNP Paribas Worried About Structured Finance Greenwashing (8:57 a.m.)
BNP Paribas SA's Chairman Jean Lemierre said he's concerned that banks offering structured financing including climate-related products could eventually be used to abuse carbon offsets and exacerbate greenwashing.
"That would be a big mistake of the industry, and that would be a big mistake of the world," Lemierre said. 
MSCI Says Climate Standards Needed to Stop Private Firms Hiding (8:44 a.m.)
MSCI CEO Henry Fernandez said mandatory requirements on climate issues need to be introduced across both private and public firms in order to stop companies being taken private in order to "hide" from the measures.
Fernandez, whose firm says it's the world's largest provider of ESG-based stock and bond issues, expects to see the biggest repricing of financial assets in history, due to climate concerns, he added in a Bloomberg Television interview.
Don't Ditch Those Dirty Assets Too Soon, Warns Ninety One CEO (8:21 a.m.)
Ninety One Plc's CEO has a warning for investors and politicians wanting to tackle climate change: transition gradually or it may not happen at all.
Money managers and banks representing $130 trillion in assets have now pledged to reach net-zero carbon emissions by 2050, and to provide interim goals by the end of the decade. Hendrik du Toit, who heads London and Johannesburg-listed fund manager Ninety One, said such targets would only be met if lenders and investors take a considered approach.

"If we stop all financing of what I would call dirty assets, then other forms of finance will come in, own them and not transition at all. That is the real risk," du Toit said in a Bloomberg TV interview.
Bayer Says Monsanto Products Are Key Tools in Climate Fight (8:12 a.m.) 
Bayer AG warned that an average increase in global temperatures of 1.5 degrees Celsius would wipe out as much as 10% of harvests, meaning that new farming tools will be needed to produce more food on less land.
The company is developing a new generation of cleaner crop chemicals and bio-engineered products -- including a type of corn that requires less farmland -- to deal with the twin challenges of a growing world population and warming planet, Matthias Berninger, head of public affairs and sustainability, said in an interview from COP26.