U.S. Elects Record Number of Women to House of Representatives
(Bloomberg) -- Women won more seats than ever before in the U.S. House after a record number of female candidates were on ballots across the country, fueled by Democratic opposition to President Donald Trump.
With some races yet to be decided, 96 women had been elected to the House as of Wednesday morning. That surpasses the record of 84 women set by the current Congress. Women could at best gain one seat in the Senate, potentially beating the record 23 women now in the chamber.
Before Tuesday's elections, women made up a record 20 percent of Congress -- 23 percent of the Senate and 19 percent of the House.
More women ran in congressional primaries this year than ever before, mostly as Democrats. Many were by spurred by Trump's treatment of women and the #MeToo movement along with wider fallout from the 2016 election, in which the first female major party presidential nominee, Hillary Clinton, faced attacks based on her gender.
Most Americans say women running in record numbers for Congress is a good thing, but there's less consensus about whether they think things will change with more women in office, according to a Pew Research Center survey.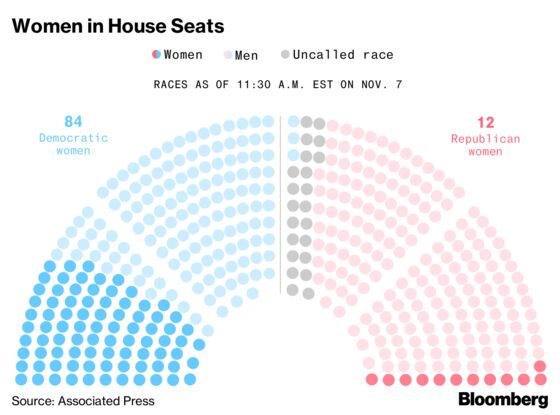 "Democratic women in particular and independent women, progressive women, upscale suburban women were clearly energized by the Trump victory and the Trump presidency in a negative way," said Democratic pollster Celinda Lake. Their lesson from the last election was that "if Donald Trump is president anybody can be president so I should run too, for at least Congress or state legislature."
Democrats nominated women in key races that helped determine control of the House. Candidates like Abigail Spanberger and Jennifer Wexton in Virginia, Mikie Sherrill in New Jersey, and Angie Craig in Minnesota helped the party win Republican-held seats in the suburbs.
"Powered by a massive turnout of women and fueled by our incredible candidates, House Democrats gained several seats in the heartland," Democratic Representative Cheri Bustos of Illinois said in a statement Tuesday night after House control was called for Democrats. Democratic women won one Republican-held seat in Illinois, two in Iowa, and one in Kansas.
There were 15 Democratic women running on Senate ballots along with eight Republicans. In five states -- Minnesota, Nebraska, New York, Washington and Wisconsin -- female candidates challenged sitting female senators.
Democratic Senators Claire McCaskill of Missouri and Heidi Heitkamp of North Dakota lost their races, while Republican Representative Marsha Blackburn became the first woman elected to the U.S. Senate from Tennessee. Nevada now has two female senators after Democrat Jacky Rosen defeated incumbent Republican Dean Heller.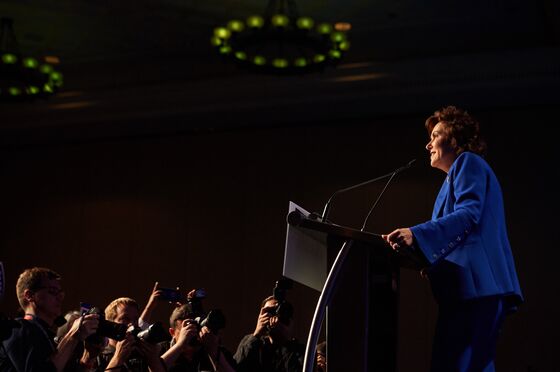 "On a night when women are winning up and down the ballot this is a historic night for us because now Nevada joins to be the fifth state with two women Senators," Rosen said during her victory speech.
Arizona will send a woman to the Senate for the first time -- either Democratic Representative Kyrsten Sinema or Republican Representative Martha McSally. Republican Senator Cindy Hyde-Smith of Mississippi is heading to a run-off election later this month.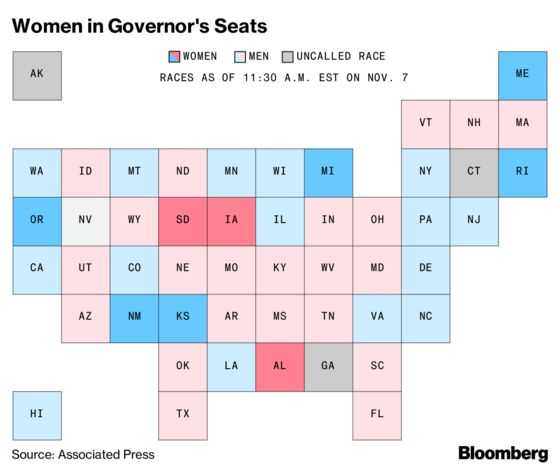 There are now more women governors, as well. Women were newly elected in Michigan, South Dakota, New Mexico, Kansas, and Maine, bringing the total number of female state executives to nine, matching the record set in 2004. Democrat Janet Mills of Maine and Republican Kristi Noem of South Dakota are the first women elected as governor in their state.
In the House, 71 incumbent women were running for re-election, 46 were running for open seats and 120 were challenging sitting House members, according to the Center for American Women and Politics at Rutgers University. In all, 237 were candidates for the House, including 185 Democrats and 52 Republicans.
"Nothing is more wholesome for our country, for our politics, for our campaigning than the increased participation of women in the electoral process," Nancy Pelosi, who's on track to be Democrats' pick for speaker of the House, said last month on CNN.
"This is a pretty exciting time because we will increase our numbers drastically and what I want for those women, I want them to serve in the majority on the Democratic side," said Pelosi of California. "So that's our purpose. And they are part of our path to it."
Tuesday's record wins for women happened not only in congressional races but all the way down the ballot, which could later set them up to run for higher office in the future.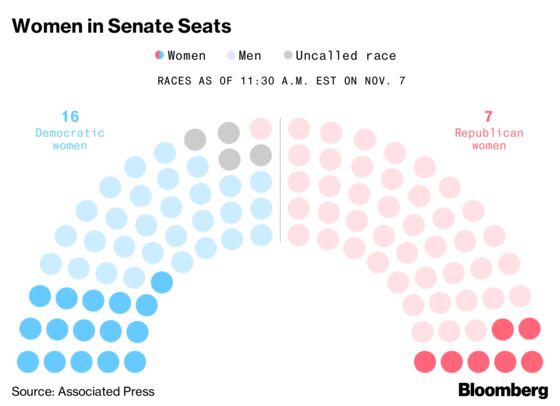 "We've had year of the woman before. What's different this year is the whole pipeline's getting filled with women," Lake said. "This could be the beginning of a decade of the woman where you have more women running and moving up because you filled the pipeline."
The new class of women elected to the 116th Congress will add gender and racial diversity to the body overall and to their state-level delegations.
In the 115th Congress, 11 states -- Idaho, Montana, Oklahoma, Louisiana, Arkansas, Pennsylvania, Maryland, Rhode Island, Vermont, South Carolina and Kentucky -- had no women in their congressional delegations. Vermont has never sent a woman to Congress.
On Nov. 6, at least two of those states sent women to Congress. Pennsylvania elected four women to the House, and Oklahoma elected one when Democrat Kendra Horn won an upset victory against a Republican incumbent.
Texas, which has never sent a Hispanic woman to Congress, elected two Tuesday night: Veronica Escobar and Sylvia Garcia, both Democrats.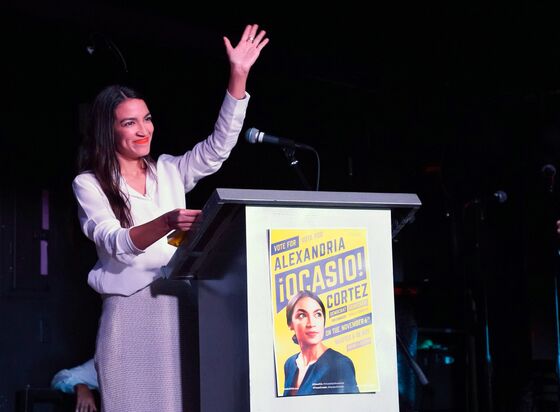 Alexandria Ocasio-Cortez, a 29-year-old Hispanic activist who won a surprising primary victory against a 10-term white incumbent, is the youngest woman elected to Congress. Ayanna Pressley, a 44-year-old member of the Boston City Council who scored a similar upset win, is the first black woman elected to Congress from Massachusetts. And Jahana Hayes, the 2016 National Teacher of the Year, will be Connecticut's first black congresswoman.
Voters in two states also elected the country's first Muslim women to the House: Rashida Tlaib, a former state legislator running in Detroit, and Ilhan Omar, a state legislator running in Minneapolis. Omar, who came to the U.S. as a refugee, will be the first Somali-American in Congress. Democrats Sharice Davids of Kansas and Debra Haaland of New Mexico became the first Native American women elected to Congress.