Woman Who Accused Murphy Aide of Rape Says Governor Failed Her
(Bloomberg) -- An aide to Governor Phil Murphy said multiple levels of New Jersey's government, including law enforcement and high-level staff, mishandled her sexual-assault complaint while the alleged perpetrator remained with the administration.
The rape allegations by Katie Brennan, deputy chief of staff in the state's Housing and Mortgage Finance Agency, drew into the #MeToo movement a governor who casts himself as a women's advocate. Murphy this month was elected vice-chairman of the Democratic Governors Association for 2020, elevating him to national importance in a presidential election year.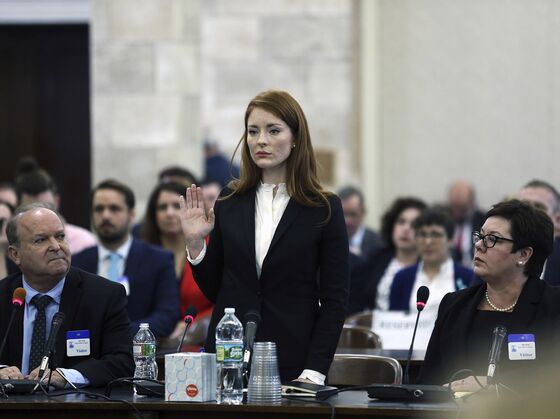 "I had access to people in the highest positions of power in the state of New Jersey," Brennan, 31, told a legislative oversight committee formed to review the matter in Trenton. "At each turn my pleas for help went unanswered."
In a statement issued in October, Murphy and his wife, Tammy -- whom Brennan had emailed asking for a meeting to discuss what she called only a "sensitive matter" -- said the issue "was handled appropriately by the administration." They said, though, that the accused man, a onetime campaign staffer, shouldn't have been hired by the administration. The governor ordered a review of how the state handles such cases.
Murphy, in a statement on Tuesday, praised Brennan's "courage, bravery and leadership," adding: "She is right: No one should have to go through an ordeal to have their voices heard." Two internal investigations are reviewing how the hire took place, Murphy said, and last week his administration updated guidelines on how sexual-assault victims should be treated.
Brennan said she was assaulted in April 2017 while Murphy was running for governor. Eight months later, while she and the man she accused were working on Murphy's transition team, she said, Hudson County criminal investigators told her that they wouldn't file charges because "they didn't believe that a jury would convict." She then pressed her case with Murphy confidantes, with no resolution.
The man she accused -- Al Alvarez Jr., 44, of Wood-Ridge-- resigned in October from his job as chief of staff to the state Schools Development Authority after Brennan told her story to the Wall Street Journal. Alvarez hasn't been charged with a crime. He couldn't be reached for comment. A phone message left at the office of John E. Hogan, an Eatontown-based attorney who has represented Alvarez, wasn't immediately returned. In past media reports, he has said his client denied the allegations.
Scrutiny of the incident's handling at a time when the #MeToo movement has emboldened sexual-assault victims to go public could prove a minefield for Murphy. One New Jersey select oversight committee unearthed evidence in the George Washington Bridge scandal that doomed former Governor Chris Christie's presidential run. Another aired widespread trouble within New Jersey Transit, the nation's biggest statewide mass-transportation provider.
#MeToo, a social media-driven movement that has its roots in sexual-abuse allegations against film producer Harvey Weinstein, prompted two members of the New Jersey legislative panel -- Senate Majority Leader Loretta Weinberg, a Democrat from Teaneck, and Assemblywoman Holly Schepisi, a Republican from River Vale -- to publicize how they, too, were assault victims.
They and their colleagues intend to examine why Alvarez remained on the state payroll for months after his boss suggested that he resign, according to Brennan's testimony. They're also looking at how Brennan's allegation was handled by law enforcement, attorneys, a state ethics officer and several top Murphy staff members.
"My only power was my voice," Brennan told the panel on Tuesday. "I and no survivor should have to tell their story to the newspaper to be heard."