Anti-Maduro Town Hall Meetings Are Popping Up Across Venezuela
(Bloomberg) -- Small, hastily organized town hall meetings are popping up all across Venezuela as the country's opposition regroups around a new leader and works up plans to try to break President Nicolas Maduro's hold on power.
Largely dormant since a government crackdown in mid-2017, the opposition is coalescing once more and may have found a new leader in Juan Guaido, the freshly minted National Assembly president, who's galvanized support by asserting that the constitution provides the lawful means to end Maduro's strongman rule and establish a caretaker government.
Fellow lawmakers and activists are fanning out to industrial cities and coastal towns to explain the idea and fire up a nation worn down by a collapsing economy and government oppression. On Wednesday, assemblies were held simultaneously in the capital and at least two other states, drawing crowds that numbered in the hundreds.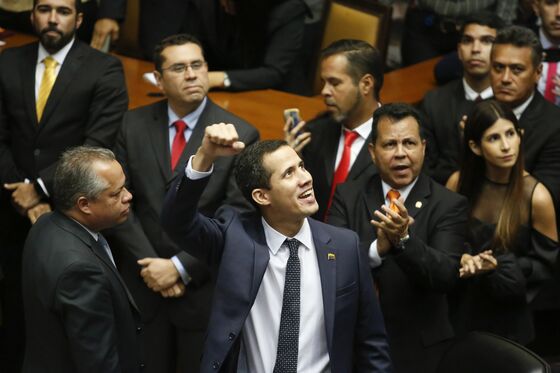 Guaido, 35, told residents in a southeast Caracas middle-class neighborhood Wednesday evening that the road ahead would be long and depended on the support of the international community and the military, long seen as a crucial power broker in Venezuela.
"We have to insist, resist and persevere until we reach our objective," Guaido called out to the crowd. "The goal for now is to maintain hope and organize those who did not come out tonight."
Congressmen Juan Andres Mejia, who accompanied Guaido in the Wednesday night rally, said the encounters were necessary to disseminate their message to supporters after critical voices were long ago forced off the airwaves.
"We have less and less space in the media" Mejia said. "What we're telling them is this could last days, or it could last months."
Venezuelans, exasperated by runaway inflation and empty store shelves, have begun to rally behind the fresh-faced leader despite knowing little about him. With just four years in the legislature before taking up his current post this month, Guaido nonetheless has managed to quickly gain international backing and rein in on fractious allies since taking the reins of the opposition-led National Assembly this month.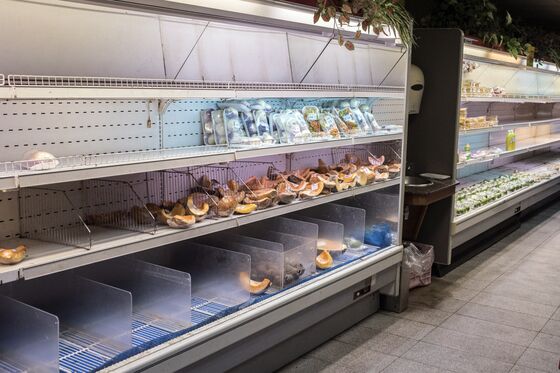 The Maduro regime has taken note as well. While en route to a rally Sunday, Guaido was briefly detained by intelligence police officers and then released shortly thereafter. Hours later, he redoubled his call for a nationwide protest this month, saying "We're staying in the streets, and we're not scared!"
On Tuesday, lawmakers declared Maduro illegitimate, and approved a road map to creating a caretaker government led by Guaido, who would serve as interim president until new elections can be held.
It's unclear how much of a threat –- if any -– the move posed to a two-decade socialist autocracy that has driven the oil-rich nation to ruin. The National Assembly was stripped of nearly all its functions nearly two years ago, but is increasingly recognized abroad as a democratically elected-body by regional powers including the U.S. and Brazil.
Last week, Maduro, 56, who succeeded the late Hugo Chavez in 2013, began a six-year term in defiance of domestic foes and the more than 60 nations that refuse to recognize his 2018 election. Opposition leaders are hoping that the appeal to constitutional law will help boost their standing at home and abroad as they prepare for a nationwide protest next week to put further pressure on Maduro.
The meetings are the first significant political demonstrations since hundreds of thousands of Venezuelans took to the streets in 2017 over hyperinflation, rampant shortages and a soaring crime rate. Organized demonstrations have fizzled out since then as Maduro consolidated power and cracked down on dissent.
Investors have also pushed up the price of Venezuelan bonds this month as the political situation heats up again on the possibility of a regime change, though 27-cent price on the country's benchmark notes which are in default shows the extent of the optimism.
Demonstrations now largely consist of small, spontaneous gatherings over faltering public services and food programs. Guaido is calling for a nationwide protest Jan. 23, the date in 1958 when opposition parties and soldiers overthrew military dictator Marcos Perez Jimenez.
The government has called for its own march that day to rally support behind Maduro.
Humberto Guerrero, a 70-year-old medic, who turned out to see Guaido stump Wednesday night, said he hopes the crowds he saw were a portent of what's to come.
"I came out to lift my spirits, because the prospect of change has been so grim," he said. "Until, recently we didn't have anyone to believe in."