With Confrontation Averted, U.K. Brexit Vote Loses Its Edge
(Bloomberg) -- Parliament votes again Wednesday on Theresa May's Brexit negotiations, but all the excitement was on Tuesday, when the prime minister agreed to allow a vote on extending talks if there is no agreed deal.
Nevertheless, there will be a vote, from 7 p.m. What will it be on?
Is anodyne. On Feb. 14, May made the mistake of asking members of Parliament to endorse her strategy of trying to get a deal and not wanting to leave without a deal. That was too much for Brexiteer Conservatives, who abstained, leading to a defeat. This time, the motion is so bland it's hard to see who could object: "This House notes the prime minister's statement of 26th February 2019; and further notes that discussions between the U.K. and the EU are ongoing."
The only possible problem would be if the pro-Brexit European Research Group were to decide that they can't endorse May's plan to allow a vote, and again abstain. But their chairman Jacob Rees-Mogg said Wednesday he will be voting with the government.
Here are the amendments selected for vote by Speaker of the House of Commons John Bercow, in the order they'll come up, with the letter that will be used to identify them. At least two won't be opposed by the government, and another was withdrawn during the debate preceding the votes.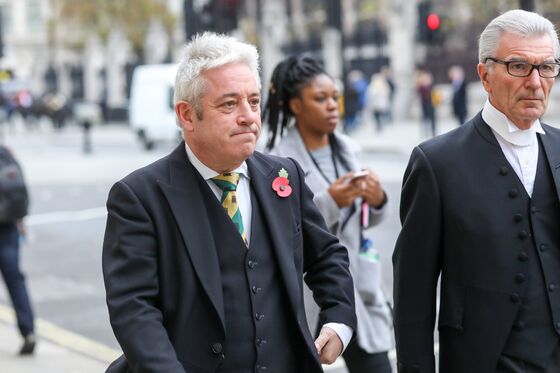 A. Corbyn's Labour Brexit
A motion from Labour leader Jeremy Corbyn, calling for Parliament to endorse his Brexit strategy, not May's. It won't pass.
The Scottish National Party has tabled an amendment to rule out a no-deal Brexit "under any and all circumstances" and regardless of the date. The House of Commons has on several occasions indicated it wants to do this, but the chances of the amendment passing are likely to depend on how Labour orders its members to vote.
The amendment would have been the third put to a vote, but Tory Caroline Spelman withdrew it after accepting government assurances on planned votes in mid-March. A cross-party motion alongside Labour's Jack Dromey, it threatened to take control of events out of May's hands. In their amendment, Spelman and Dromey had set May a deadline of March 18 to have either passed a deal, persuaded Parliament to go for no deal, or requested from the EU a delay to Brexit.
B. Costa - Citizen's Rights
Conservative Alberto Costa is concerned about the rights of EU citizens living in the U.K. in the event of a no-deal Brexit. He's proposed an amendment calling for more protections for them. The government will accept this amendment, according to a spokesman for May. Consequently, it probably won't go to a vote.
A cross-party motion from Labour's Yvette Cooper and Conservative Oliver Letwin that puts May's vote promise in writing. This isn't the Cooper-Letwin plan that had been hatched before Tuesday. That's dealt with by Spelman-Dromey. The government has indicated it won't oppose it, so it too may not go to a vote.