Winter Comes Early to Gas Market in Europe
(Bloomberg) -- Europe's consumers might not know it yet, but they're about to be clobbered by the shift to cleaner energy.
October's arrival marks the first day of winter in the world of natural gas trading. What's unusual this year is that wholesale prices are already near the highest levels in a decade -- even before the season's first cold snap. Those rising costs are set to boost the price of heating homes and powering industry, which is already under scrutiny from politicians in London and Berlin.
The surge stems from European policy makers' efforts to increase penalties for coal burning at the same moment that China draws more clean fuels to clear its smoggy skies. That means gas-fired generators, Asia importers of liquefied natural gas and storage sites in Europe still restocking after last year's harsh winter are all competing for the same supplies.
"You get a squeeze in gas that results in a massive spike in European energy prices, which isn't being experienced to the same extent elsewhere in the world," said Nick Stansbury, Legal & General Investment Management's head of strategy for energy. "This would be more palatable if the reasons behind it were clearly explained and communicated and if it was introduced gradually. You would not define this as gradual."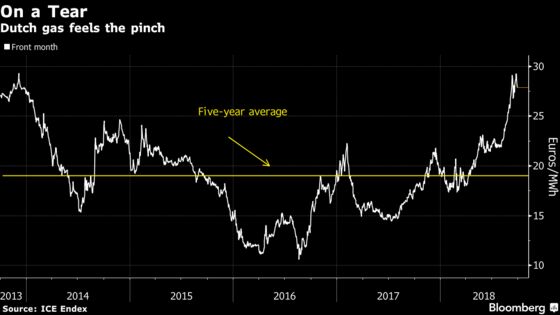 Prices have strengthened across Europe. Dutch gas surged 60 percent since March, while contracts for U.K. winter fuel have doubled in two years. On top of that, levels at the region's gas storage sites are at their lowest for the time of year since 2013.
In Germany, wholesale electricity rates for 2019 hit a record high as coal neared $100 a ton, the most in five years. Carbon emission permits are near their highest in a decade after reforms that will reduce supply of the pollution rights.
"This winter could be the most interesting in years," said John Twomey, a gas analyst at Bloomberg New Energy Finance in London. "If we have a sustained cold period, Europe may need to price high enough to attract additional supply from the global LNG market."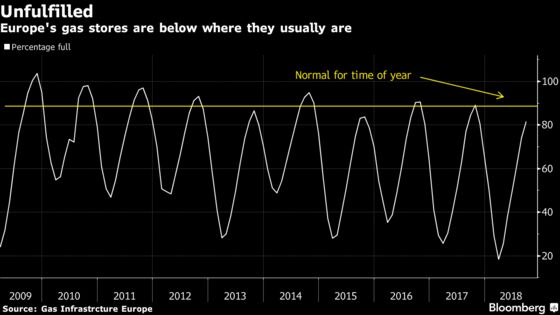 The cost of shipping LNG is jumping, too. High demand in Asia and fewer available ships boosted shipping rates close to $100,000 per day for the first time since January 2014. That's unusual for this time of year, when demand for the super-chilled fuel typically subsides.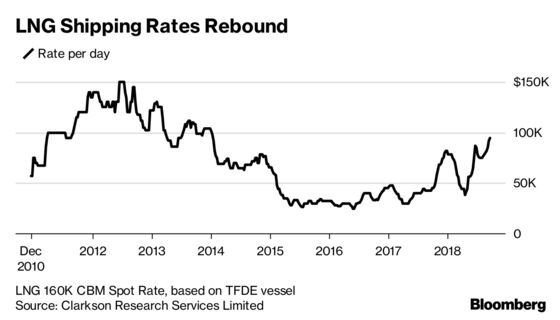 That's good news for owners and operators of LNG vessels, which have for years struggled with lower rates.
"LNG prices are high in Asia and of course people are making money moving their LNG to those markets," said Oystein Kalleklev, chief executive officer of Flex LNG, which has four LNG vessels on the water and four under construction. "It's time that the shipowners are taking a part of the value."
Asian nations typically pay the highest prices for LNG, especially when heating demand peaks in countries such as China, which lacks extensive storage facilities. But with European prices unusually high, it's harder for traders to benefit from the difference, or arbitrage, between the markets.
"We are in a situation where gas prices in Europe also had a very strong run," Alastair Maxwell, the chief financial officer at shipowner GasLog Ltd., said at a conference in London last month. "So the arb isn't all that strong at the moment."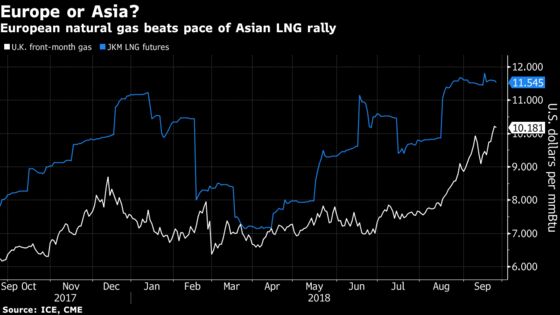 While a wider gap will encourage shipments to Asia, new LNG plants from Australia to the U.S. are set boost production by year-end and start weighing on prices. In that case, cargoes from Russia's Yamal plant might stay in Europe, which may also get U.S. cargoes avoiding China's import tariffs.
Energy users are certainly hoping this is the scenario that'll win, easing their pain.