Winning Votes for White South African Leader Is an Uphill Battle
The newly elected head of the Democratic Alliance admitted the difficulty of winning over voters as a white South African, even as he insisted the party will forge ahead with a policy of shunning race-based redress in a nation still grappling with the legacy of apartheid.
John Steenhuisen, 43, became the interim head of South Africa's biggest opposition party after it was roiled by the departure of its leader, Mmusi Maimane, outgoing Johannesburg Mayor Herman Mashaba and a number of other key officials. The resignations came after the DA's share of the vote fell for the first time ever in national elections in May and amid bitter disputes over policy.
"Of course race matters and I am not under any illusion that I don't have an uphill battle because I happen to be a white South African," Steenhuisen said in an interview at Bloomberg's Johannesburg office. "What voters are looking for more than the racial makeup of a leader is a party that speaks to them, that is very clear and unambiguous about what it is, what it's fighting for and what it wants for South Africa."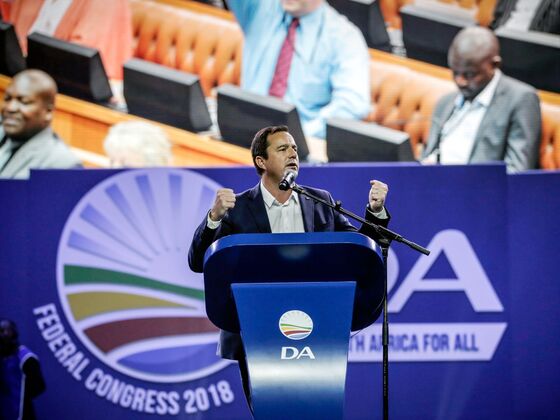 The return of Helen Zille, a former party leader who praised aspects of colonialism, as chairwoman in a race that featured four white candidates highlighted the obstacles the DA faces in trying to win over black voters. If it fails to surmount those, the ruling African National Congress will be left without an effective opponent at a time when its dogged by allegations of corruption and economic mismanagement.
Steenhuisen said the party is fully representative of South African demographics at the lower levels. The departure of high-profile black members such as Maimane and former parliamentary leader Lindiwe Mazibuko was a personal choice, he said. Mazibuko alienated other parliamentarians and Maimane took responsibility for the electoral setback that saw the DA's share of the vote slip to 20.8% from 22.2% five years earlier, he said.
At the heart of the DA's problems, Steenhuisen said, was its confused position on policies where it tried to become a "more honest" version of the ANC. The party was ambiguous on race-based redress and will now focus on alleviating poverty, which overwhelmingly afflicts black South Africans, he said.
"Being at the center of politics doesn't mean you have to be everything to everybody. I think the DA tried to do that," he said. "You end up being nothing to nobody and I think that's why we went backwards."
Steenhuisen said the ANC's policies of affirmative action and requiring that business are partly black-owned have failed as unemployment has risen since the first all-race elections in 1994, as has inequality.
"It was an inside deal between the ANC and big business that created an opportunity for corruption and rent seeking that has now led to a very small elite being continuously empowered," he said. "The majority of black South Africans are locked out of opportunity and are living in absolute poverty."
Instead, assistance should be means tested in the same way student aid and welfare is determined, according to Steenhuisen.
"Take race out of it and use poverty as the measure," he said. "Fighting poverty doesn't move the DA away from its core values."
In part, the DA has struggled to attract black voters because of its history. A predecessor founded in 1959 represented liberals in the whites-only parliament of the apartheid era. In 2000 it combined with the New National Party, which traced its roots to the political grouping that designed apartheid.
"This DA will unsee race in a country with a racist past," said John Dludlu, the former editor of South Africa's Sowetan newspaper. Port in a newspaper editorial. "Steenhuisen has now painted himself into a bit of a corner."
Steenhuisen was also critical of the anti-immigrant attacks mounted regularly on Twitter by Mashaba, the Johannesburg mayor, and under his leadership, politicians would be curtailed from fighting each other through the media and social media.
"There's a lot of scaremongering and hatred, it's the antithesis of liberal values," he said.
Illegal migration needs to be curtailed, he said, but there needs to more empathy in dealing with genuine refugees and those who are qualified should be allowed to work in skills-starved South Africa.
While the party has also come under criticism for ruling Johannesburg and Pretoria, the capital, in an alliance with the Economic Freedom Fighters, a black nationalist party, the DA will continue to pursue coalitions, he said.
"It would be a real shame to see these cities thrown back to the wolves of the ANC," he said. Still, "you can't stay at government at all costs. If people want to use the cities to loot and as patronage dispensing machines, well then we've go to be bold enough to say we are not going to do that."