Win or Lose, Trump Is Stamping His Imprint on GOP Over Reagan's
(Bloomberg) -- Donald Trump's re-nominating convention this week is united around his vision for the party, but a loss in November will expose deep rifts in the GOP, forcing a battle over whether his brand of divisive, populist politics will last.
Win or lose, few in Republican politics think the party can ever return to the roots Ronald Reagan planted 40 years ago that embraced small government and an interventionist foreign policy.
That's because Trump managed to harness a Republican base that isn't likely to fundamentally change even if he loses. It is older, predominantly White and more rural -- the same voters who gave rise to the populist Tea Party movement a decade ago -- and few Republicans think they'll automatically embrace a more moderate vision of the party or a more moderate brand of Republican candidate.
For that reason, the traditionalists face an uphill climb. Trump's allies see the president as a Reagan-like figure who has re-made the Republican Party in a way that will last for a generation, said Andy Surabian, a former Trump White House aide who is now a Republican strategist.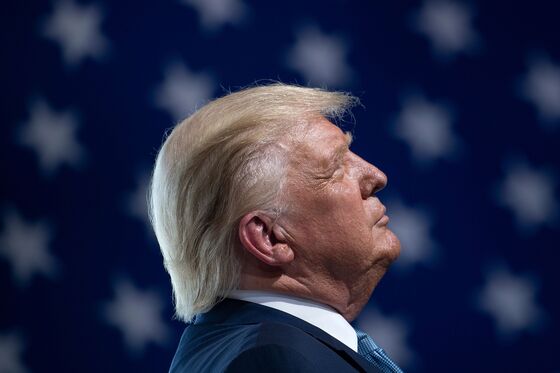 The next presidential election year in "2024 is going to end up being a contest of people trying to prove that they have the ability to carry on the Trump torch, moving forward," Surabian said. "The path for the party is pretty set."
The problem with trying to move away from Trumpism after he's left Washington is that there may not be enough Republicans in their corner, and they would need to persuade Democrats and independents who are hostile to Trump to warm to a GOP candidate. Well-to-do, college-educated suburbanites focused on business-friendly policies, many of whom were turned off by Trump's coarse style, might be hard to bring back into the GOP fold.
That tension is evidenced by the absence at the convention this week of the only living Republican former president, George W. Bush, who won two terms in part by appealing to suburban moderates open to his message of "compassionate conservatism."
By contrast, Trump draws his support heavily from working-class, non-college educated voters -- mostly men -- who want to slash immigration and oppose growing multiculturalism.
Michael Steele, who served as Republican National Committee chairman after President Barack Obama was elected in 2008, acknowledges the difficulty of fully remaking the party, but he would like to see the GOP alter its positions to be able to appeal to a more diverse swath of voters to remain relevant in a changing world.
"I think that's an important battle that has to take place," said Steele, a frequent Trump critic, who said he wants to see the party have the "epiphany" that Democratic nominee Joe Biden predicts will happen after Trump departs the scene.
"There's a reason why a lot of us have not left" the Republican Party, Steele said. "We think it's worth the fight."
The party doesn't lack for possible standard-bearers in a post-Trump world, as Republicans like Maryland Governor Larry Hogan emerged as a vocal critic of Trump's handling of coronavirus. In Congress, Nebraska Senator Ben Sasse and 2012 nominee Mitt Romney, now a senator, have been reliably anti-Trump voices.
But others in the party more likely to hew closely to Trump's playbook won featured roles at this week's convention. Former U.S. Ambassador to the United Nations Nikki Haley spoke Monday and South Dakota Governor Kristi Noem will speak later in the week, both considered 2024 possibilities. Others include Senators Tom Cotton, Tim Scott and Joni Ernst. Dan Crenshaw, a first-term congressman from Texas viewed as a future face of the party, will also speak.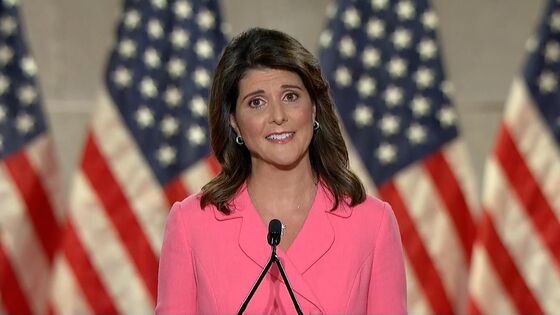 To varying degrees, they've all allied themselves with Trump, as have other possible 2024 contenders like Senators Josh Hawley, Ted Cruz and Marco Rubio.
"We're already starting to see all this jockeying for what comes next," said Republican strategist Doug Heye.
Haley, in her address, seemed to be looking at both this election and, fleetingly, at what's next. "We will build on the progress of our past and unlock the progress of our future. That future starts when the American people re-elect President Donald Trump," she said.
Democrats took advantage of the split to build their own strength, inviting a half-dozen Republicans, including former Secretary of State Colin Powell and former Ohio Governor John Kasich, to their convention.
But at the GOP convention on Monday, speakers sought to tie Trump to the party's values.
"The Republican party is the pro-America party," said Representative Jim Jordan of Ohio, who sought to tie Trump's vision to the party. "President Trump is the pro-America candidate. This election is about who can preserve the values, principles, and institutions that make America great."
A November win for Trump would all but end the internal strife, unifying Republicans around his vision for at least another four years. It would compel 2024 aspirants to play to his formidable political base and elevate the politicians already embracing his populist movement.
The roots of Trump's rise go back to Pat Buchanan's challenge to George H.W. Bush in 1992, which fueled the rise of an isolationist, protectionist wing of the Republican Party, according to Nicole Hemmer, a presidential historian at the University of Virginia.
"The ferment has been there and the accelerant of social media has been poured over the top of it," Hemmer said. "I don't think it's going to become Mitt Romney's or John Kasich's party. That ship sailed long ago."
The GOP has tried to change its ways before, ordering up a famous "autopsy" after Romney lost to Barack Obama in 2012.
Among the conclusions: Republicans need to be more welcoming to gay and minority voters, give a greater voice to GOP governors and get out of its ideological cocoon.
Trump was openly hostile to that report, calling it a Republican "death wish."
Steele said such a report isn't possible now. "You're going to come back around on the other side and what are you going to say, 'Just kidding?' Voters aren't stupid," he said. "There are going to be consequences to the choices we have made over the last four years."
Some Republicans say they hope the party can return to a focus on ideals, rather than loyalty to its leader once Trump is no longer in office. They're also hungry to show they can competently run the country, concerned that Trump's widely panned handling of the coronavirus pandemic may have undermined confidence in the GOP's ability to govern.
Trump has already made a mark on congressional races, boosting loyalists and torpedoing traditional figures who openly defied him. Several primaries in House and Senate races have boiled down to which candidate will be most loyal to Trump.
In two of the most dramatic examples, Laura Loomer -- an anti-Islamic, far-right activist -- and Marjorie Taylor Greene -- a supporter of the QAnon conspiracy movement -- won House primaries in Florida and Georgia, respectively.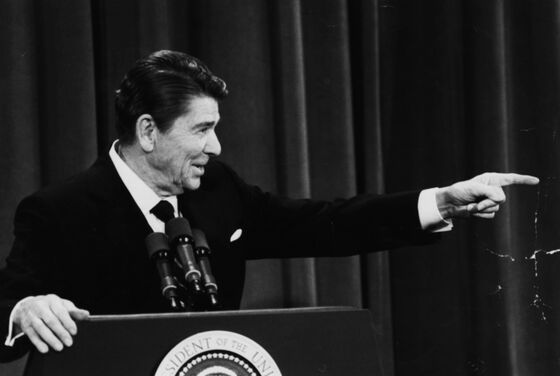 A Trump loss could hurt the Republican Party in donations.
More than any other Republican, Trump has relied on small-dollar donors, who have given more than half of the $1 billion that he and the Republican National Committee have raised for his re-election. But so far, those donors haven't done the same for other GOP candidates.
Republicans are increasingly worried whether the party can appeal to his loyal base of small-dollar donors who've poured money into his re-election effort once he's no longer on the ballot.
After winning the Republican nomination in 2016, Trump quickly took control of the party, making it tougher for anti-Trump candidates to have a voice. He installed loyalists as chairmen of the RNC and 42 state parties. Members of Congress who clashed with him -- including Senators Jeff Flake of Arizona, who endorsed Biden on Monday, and Bob Corker of Tennessee -- have retired.
Trump says the future of the Republican Party is Trump himself, often joking to rally crowds that he'll seek a third term in 2024, which would be unconstitutional. He leaves little doubt that he expects to maintain influence in the party well beyond his presidency, tweeting memes showing Trump yard signs into 2048 and beyond.
Yet some Republicans are sounding the alarm that the party's appeal to a mostly White voter base can't last.
Democrats win roughly 80% of non-White voters, and the country is on course to become a majority-minority country as soon as 2044. So the long-term viability of the Republican Party relies on getting larger numbers of working-class, White voters to turn out.
"Eventually the Republican Party is going to have to adapt to demographic change," said Daniel Galvin, a Northwestern University professor and author of a book on presidential party building. "The question is what happens in the meantime."