Why Sri Lanka's Power Struggle Is Good News for China
Holed up in a colonial-era mansion on an island in the Indian Ocean, an embattled prime minister is desperately trying to hold onto power.
In his first interview with international media since his ouster, Sri Lanka's Ranil Wickremesinghe told Bloomberg that the country's president had no legal grounds to fire him. He insists he has enough support in parliament, which was suspended, and can form a government once again.
Analysts aren't so sure. President Maithripala Sirisena replaced the premier with former strongman ruler Mahinda Rajapaksa, who ran the island nation from 2005 to 2015 and oversaw a final assault to end a 26-year civil war with Tamil Tiger separatists. This endeared him to the public while spurring condemnation in the U.S. and Europe over alleged human rights abuses
One nation likely to welcome Rajapaksa back is China, which doled out billions of dollars of loans to Sri Lanka during his presidency – so much so that about 80 percent of government revenue now goes toward paying down debt.
If the past is any indication, it won't be long before Rajapaksa cozies up to Beijing once again.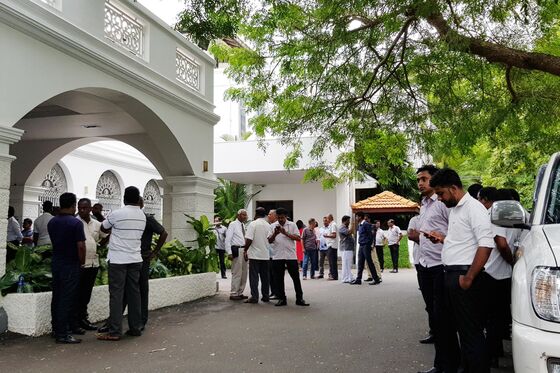 Senate play | President Donald Trump expressed confidence his party would retain its Senate majority in U.S. midterm elections next week as he began an 11th-hour tour to states where it's thought he may swing votes toward Republican candidates. In Florida, Trump doubled down on his vow to deny U.S. citizenship to children born of unauthorized immigrants. Earlier, he declared he's ready to deploy as many as 15,000 troops to the southern border of the U.S. to deter migrants.
Read more about Tuesday's election:
Political price | The fallout from the murder of columnist Jamal Khashoggi is mounting abroad for Saudi Crown Prince Mohammed bin Salman. Even his supporters say there will have to be a period of change as Saudi Arabia tries to rebuild confidence with allies burned by the kind of unpredictability previously alien to its foreign policy. While he remains secure at home so far, the prince appears a diminished figure with a debt to pay on the world stage.
Kim steps out | Kim Jong Un is planning an unprecedented flurry of summits with world leaders, as he steps up his push to ease sanctions, Youkyung Lee reports. South Korean President Moon Jae-in said Kim will likely meet soon with Russia's Vladimir Putin and China's Xi Jinping. Meanwhile, the North Korean leader leveled some of his most pointed criticism at the U.S.-led economic embargo, saying "hostile forces are foolishly keen on vicious sanctions."
Payback time| Sixteen years in the political wilderness hasn't mellowed Friedrich Merz's feeling toward one-time nemesis Angela Merkel. The 62-year-old lawyer still bears a grudge over his ouster as head of Merkel's parliamentary caucus in 2002. With Merkel stepping down as party chief in December, the contest to succeed her offers Merz an opportunity to get even.
Brexit hope | Is the mood music over the U.K.'s divorce from the European Union finally shifting? Brexit Secretary Dominic Raab certainly thinks so, telling lawmakers he expects a deal within three weeks, though his department later tried to walk that back. EU officials also reported renewed momentum, while in London, business leaders emerged from a meeting with Prime Minister Theresa May saying the government was finally taking their concerns seriously. The pound surged.
Deepening quagmire | Afghanistan's dire situation 17 years after U.S. intervention is getting even worse. Government control of territory against the Taliban insurgency has declined to the lowest since 2015, and a worsening drought is displacing more people than the armed conflict, according to a Pentagon watchdog. After $8.9 billion in U.S. counter-narcotics appropriations, poppy production also surged last year and is now four times higher than in 2002.
And finally… Israel's most decorated soldier, Ehud Barak, is going to pot. The former prime minister and military commander-in-chief chairs InterCure Ltd., the only publicly traded producer of medical-grade marijuana in the Holy Land. Barak, who rang the bell yesterday to open trading on the Tel Aviv stock exchange, says he hasn't tried cannabis – "never took a puff in my life" – though he sees  "real potential impact" in medical uses of pot.