Why a Political Battle for Warsaw Has Ramifications for Europe
(Bloomberg) -- The vote for who should run Warsaw barely resonates outside Poland ordinarily, but this time the scene is set for another election that could have repercussions for an increasingly divided Europe.
The city of almost 2 million is one of the last bastions of resistance to the nationalist, them-against-us political force that has turned Poland into the European Union's biggest rogue state. The municipal ballot on Oct. 21 pits the populists tightening their grip on all facets of Polish society against an opposition fighting to keep a foothold or potentially face oblivion.
"This is a historic moment that may decide our future for generations," said Kamila Gasiuk-Pihowicz, a lawmaker for Poland's Nowoczesna opposition party and among the most prominent leaders of anti-government protests. "We'll either remain a part of the EU or we will drift to the East."
The Law & Justice party has taken control of the publicly owned broadcasters, the biggest companies and the courts since winning the first parliamentary majority of Poland's post-communist era three years ago. It also embarked on a defense of Poland's national Catholic identity, which included a controversial defamation law on the country's role in the Holocaust and the branding of some opponents as traitors.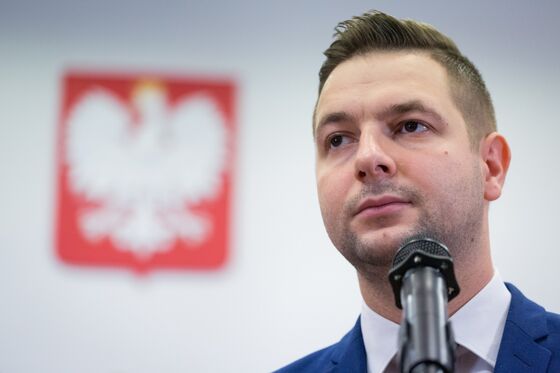 Supported by that narrative in Warsaw, Law & Justice candidate Patryk Jaki, 33, has all-but closed the gap in the polls on his leading opponent, Rafal Trzaskowski. The numbers suggest Trzaskowski, 46, would prevail in a run-off. Should he lose and the ruling party regains power in other regional councils too, opposition groups say the consequences would resonate for years, especially after Law & Justice changed rules for local elections to give the government more oversight of the process.
Already, Poland is in a protracted standoff with the EU over the government's alleged encroachment on the democratic rule of law. Poland is the biggest net beneficiary from the EU's common budget, and there are signs the economy is increasingly reliant on that money.
Prime Minister Mateusz Morawiecki says that things are going great and any criticism is just trying to distract from Poland's progress.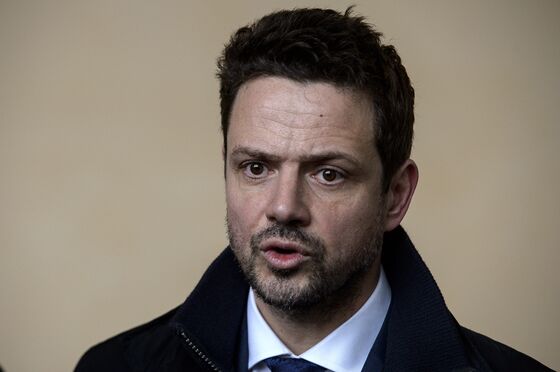 Morawiecki hailed the country as an "economic miracle" as the Polish stock exchange was promoted from an emerging market to a developed one by index compiler FTSE Russell. This week, he dismissed a media report linking him to a scandal involving secret recordings of top Polish officials as a German-led provocation before the local elections.
Warsaw is the key battleground along with the Baltic port of Gdansk, where the Solidarity uprising that ultimately toppled communism started and now a stronghold of the opposition Civic Platform that governed Poland from 2007 to 2015. The son of Lech Walesa, the Solidarity grandee and Poland's first elected president after communism, is running for mayor in the city.
On Tuesday, Jaki was pledging to build new metro lines with help from government funds offering coffee to pedestrians in downtown Warsaw. Trzaskowski walked in the old town presenting a thick booklet containing his election program and arguing his contender is just showing slides.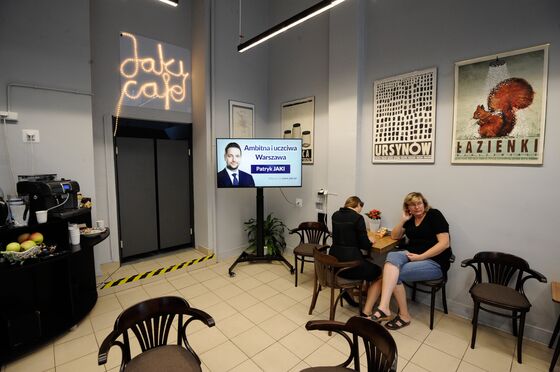 "Warsaw is a liberal heartland and extremely difficult territory for Law & Justice but the party's candidate has run an extremely energetic campaign," Aleks Szczerbiak, professor of politics and contemporary European studies at the University of Sussex in England, said in a blog post. However, Trzaskowski remains favorite to win and a Law & Justice victory in Warsaw "would be a political sensation," he said.
Jaki connects with fellow Poles with stories of humble beginnings growing up in a Soviet-style apartment block. They're mixed, of course, with the kind of anti-Muslim comments that are common in Poland nowadays. In 2015, he said he would take Muslim immigrants only over his dead body, though has toned down his message and backed off from his open support for more extreme nationalists groups.
One of the pillars of Jaki's campaign has been to leverage his role in a government-appointed commission looking into irregularities in the return of Warsaw properties confiscated during communism. It's an issue that dogged outgoing Mayor Hanna Gronkiewicz-Waltz, the former central bank governor in the post the past dozen years.
"We want to destroy the corrupt structures" in Warsaw, Jaki said after a meeting with voters at a downtown cafe on a September afternoon. "It will be very tough but I believe we can win."
At the gathering, Jaki heard pleas for such things as more traffic restrictions in Warsaw. Among them was Antoni Bojanowski, who voted for the opposition candidate in 2015 presidential elections, but now sees Jaki as someone who could help fix the problem he's having with the ownership of the prewar apartment block where he lives.
"Law & Justice may win in Warsaw because Jaki doesn't have a strong enough competitor on the other side," said Bojanowski. "By lacking a convincing message, the opposition is in fact helping Law & Justice."
That's the worry for opposition leaders, said Gasiuk-Pihowicz. The post of Warsaw mayor is crucial because it's a chance to be seen in the national media and City Hall independently approves—or rejects—applications for public demonstrations whether for or against the government.
She cites Hungarian Prime Minister Viktor Orban, an ally of Law & Justice leader Jaroslaw Kaczynski, whose deceased twin brother, Lech, was the last mayor of Warsaw from the party when he held the post between 2002 and 2005.
Orban's Fidesz party took Budapest for the first time in 2010, the year he was re-elected to power before becoming the lightning rod for anti-immigrant, anti-Brussels movements across Europe. He has held the post since with rising support, allowing him to increase control of most media and courts and to crack down on non-government organizations.
The European Parliament last month slammed Orban for his "illiberal democracy." Yet he won't face actual sanctions as several east European governments, including Poland, said they would veto them.
"If we lose, we'll end up like opposition in Hungary, which is almost non-existent now," said Gasiuk-Pihowicz.