Who Gets Face Masks in a Pandemic? Politicians Aren't So Sure
(Bloomberg) -- With no sign the coronavirus outbreak will be under control any time soon, surgical masks -- the three-ply, pleated rectangles that typically sell for a few cents each -- have become a political flash point across Asia.
In Singapore, where an election is expected soon, the government touted its move to deploy some 1,500 servicemen to help distribute 5 million masks, accompanied by a bilingual, cross-platform public health campaign.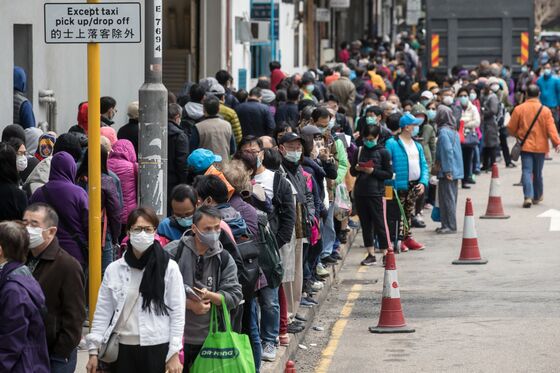 By contrast, Hong Kong politicians from all corners have blasted Chief Executive Carrie Lam for mismanaging the city's supply and mangling her message about their effectiveness -- in part with her own inconsistent mask use in the early stages of the outbreak.
On Wednesday, she apologized for "confusion caused" after restricting access to face masks for public officials, saying that Hong Kong was having trouble sourcing them globally. She also called on the general public to use fewer masks.
"What I wanted to say is that government should put the mask supply to medical workers as a priority," said Lam, who subsequently stopped wearing a mask for her official press briefings. "Therefore we need to evaluate the need of mask use by officials in public events."
The different approaches and messages -- on masks, but also on border policy, school closures and travel restrictions -- have spurred confusion among millions of people in Asia looking to their leaders for guidance on how to protect themselves and their families. The respiratory disease has been diagnosed in more than two dozen countries, with deaths in three, and the effects of national policies are rippling far beyond their borders.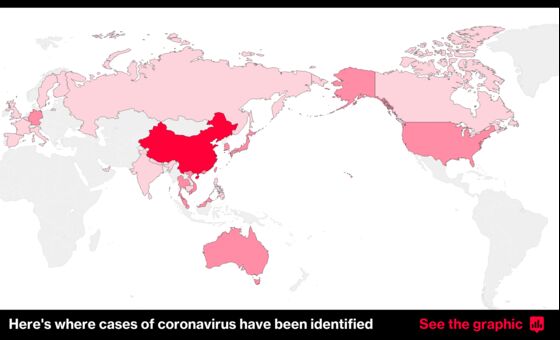 "This only highlights the importance of international coordination in response to the outbreak," said Yanzhong Huang, who directs the Center for Global Health Studies at Seton Hall University in South Orange, N.J.
"Governments should have a surge capacity that can deal with not just one but two outbreaks," he added. "You need a supply of things like face masks, goggles, even alcohol -- they should stockpile these things."
According to the World Health Organization, surgical masks are limited in their ability to helping healthy people stay that way. Diligent hand-washing, the global group says, is far more effective. It recommends masks for people who already have respiratory illness, their caregivers, and health care workers.
"A medical mask is not required for members of the general public who do not have respiratory symptoms, as no evidence is available on its usefulness to protect non-sick persons," said Olivia Lawe Davies, a WHO communications manager based in Manila. "However, masks might be worn in some countries according to local cultural habits."
For communities that saw otherwise healthy people succumb to SARS in 2003, wearing a mask doesn't seem so optional. In China, Japan and other parts of Asia, masks are commonly considered preventative -- the same way, for example, taking vitamin C or echinacea might be in the U.S.
Healthy people wear them on high-smog days, or if they're worried about a flu going around. Sick people wear them to keep their germs from spreading, and some people wear them as a fashion statement. In Hong Kong, the government last year actually sought to ban face masks, which had become a symbol of protesters seeking to hide their identities.
Last week, reports of mask hoarding, price gouging and counterfeiting circulated in Hong Kong's social and mainstream media. "Citizens have been very keen on the demand for masks, including children and pregnant women," said Eunice Yung, a Hong Kong lawmaker with the pro-Beijing New People's Party. "We can see on the news that hundreds have had to queue up for masks outside (drugstores) and supermarkets."
Elsewhere in Asia, mask distribution has been more coordinated and, according to reports, orderly. The government of Macau, which like Hong Kong is a semi-autonomous part of China, started distributing 20 million masks on Jan. 24. The city of 670,000 has authorized ID card holders to buy 10 masks at cost, every 10 days, and requires passengers to wear them on all public transport.
Singapore, which with 6 million people is more comparable to Hong Kong, has been stockpiling surgical masks since the SARS crisis. Now citizens can use an online program to find information on where and when to collect them. Officials say the supply is sufficient, but the Ministry of Health has encouraged Singaporeans to forego a mask if they are well.
"We will have to appreciate that different governments have different considerations and their local situations also vary from country to country," Singapore's Minister of Health Gan Kim Yong said on Feb. 4.
At the same time, Singapore has imposed some of the most stringent border restrictions in the region. As of Friday, Chinese visitor visas are suspended, and the city has blocked transit of anyone who's traveled to mainland China in last 14 days from Feb. 1.
While the political stakes are high everywhere, the impact can be more immediate in countries with governments facing elections. For now, the countries most affected in Asia are ruled by entrenched regimes: China, where access to masks varies widely by geography, is a one-party state that stifles dissent.
In Hong Kong, Lam's approval rating is already cratering after months of pro-democracy protests. She has resisted widespread calls to close Hong Kong's border with China, keeping three of the busiest crossings open: the Shenzhen Bay port, the Hong Kong-Zhuhai-Macau bridge and the airport. Hospital staff went on strike to demonstrate their opposition, and masks, where available, have continued to fly off the shelves.
On Feb. 4, a Hong Kong trading company announced it had 11,000 boxes of surgical masks to sell for HK$80 ($10.30) each over the following two days, limit two per person. Within in a few hours, thousands of people had lined up on the sidewalk outside, with chairs and tents to settle in for the long wait.
"Thanks to Carrie Lam, these elderly people in their 70s and 80s are queuing up overnight for masks," a man in the line told Hong Kong Now TV, giving his surname as Wong. "Where have the masks gone?"