White House Slams Texas Governor's Ban on Covid Vaccine Mandates
(Bloomberg) -- The White House criticized Texas Governor Greg Abbott's order banning businesses and other entities from enforcing Covid-19 vaccine mandates even as the Biden administration encourages employers to adopt them.
The move fits "a familiar pattern that we've seen of putting politics ahead of health," White House Press Secretary Jen Psaki said Tuesday. She added later: "It's not based on what is in the interest of the people you are governing."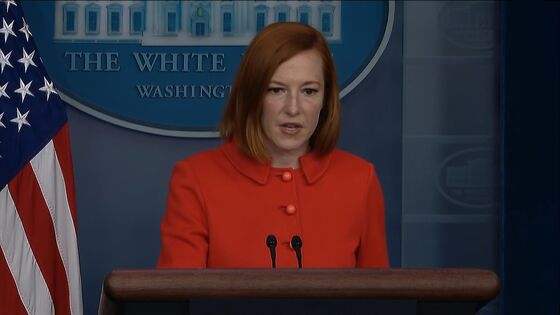 Abbott, a Republican, signed an order Monday banning vaccine mandates for workers and for consumers in his state. The order argued that the Biden administration is "bullying" private entities to implement vaccine mandates "in another instance of federal overreach," setting up a showdown between his state and the federal government.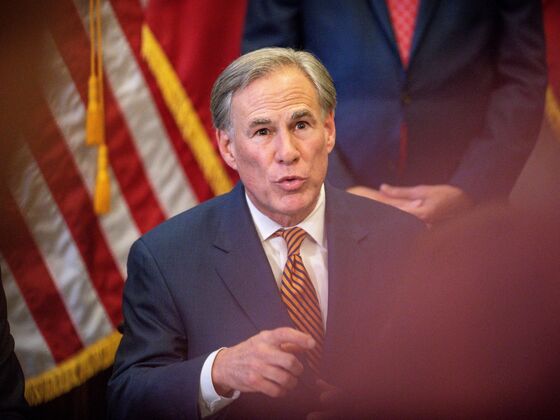 President Joe Biden has said his administration is close to issuing rules to require businesses with more than 100 employees to ensure workers are fully vaccinated or face weekly testing. The president announced the mandate -- which the White House said would affect about 80 million workers -- in September when Covid cases were rising, fueled by people who refused to get shots. He has also ordered federal contractors to require their workers be vaccinated.
"We're going to continue to implement the law -- which the president of the United States has the ability, the authority, the legal authority to do -- and we are going to continue to work to get more people vaccinated, to get out of this pandemic," Psaki said. "The president will use every lever at his disposal to do that."
The Biden administration has also been encouraging businesses to voluntarily implement vaccine requirements and has been especially aggressive in urging airlines to impose mandates even before his administration issues rules.
The two major Texas-based commercial airlines, American Airlines Group Inc., of Fort Worth, Southwest Airlines Co., of Dallas, have each set vaccination requirements for their U.S. workers. Both said in statements Monday that they planned to continue implementing the mandates, arguing that federal law would supercede any conflicting state laws.
Another Republican who has criticized Biden's efforts to curb the virus, Florida's Ron DeSantis, on Tuesday proposed a state law to shield workers from being fired for not getting Covid vaccines.
DeSantis said he didn't think he could "unilaterally" block employers from firing the unvaccinated using executive action, although he pledged to explore all options. Instead, he suggested that the Florida legislature would probably have to take the lead. 
In Texas, Abbott's order reads that "no entity in Texas can compel receipt of a Covid-19 vaccine by any individual, including an employee or a consumer, who objects to such vaccination for any reason of personal conscience, based on a religious belief, or for medical reasons, including prior recovery from Covid-19."
Abbott, who is running for a third term in 2022, faces a primary challenge from the right by former Florida Representative Allen West. West, who has said he is unvaccinated, was hospitalized over the weekend after contracting Covid-19. 
He tweeted on Sunday that his experience with the virus had made him "even more dedicated to fighting against vaccine mandates" and vowed that as governor he would "vehemently crush anyone forcing vaccine mandates in the Lone Star State."