Senators Moving to Avert Shutdown With Stopgap Funding Measure
(Bloomberg) -- Congressional leaders were moving toward a stopgap funding bill that would avert a partial government shutdown starting Friday night and defer a battle over President Donald Trump's demand for money for a border wall.
After the Trump administration signaled a retreat from a confrontation over the wall money and Democrats rejected a GOP plan to shift funds to the president's immigration priorities, lawmakers said temporary funding may be necessary for several federal departments and agencies.
However, Trump said at the White House that it was "too early to say" whether a shutdown can be avoided.
Senate Democratic leader Chuck Schumer of New York rejected a Republican proposal to move about $1 billion into what he called "a slush fund" for the president's immigration priorities.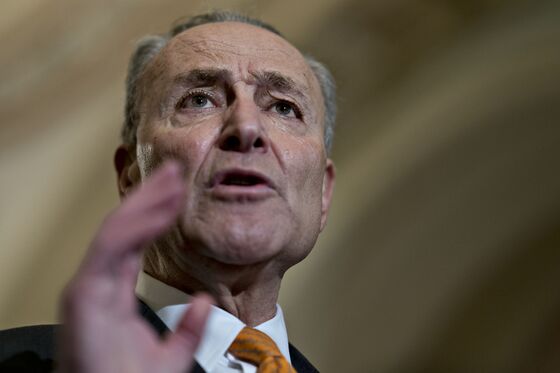 "Let me be clear: the Republican offer would not clear either chamber," Schumer said. But he indicated Democrats could support a short-term deal on funding the portion of the government set to run out of money after Friday.
A temporary funding measure would defer the fuller battle over the wall funding until early next year, when it will only become more difficult with Democrats in control of the House.
Trump said last week he would be "proud" to shut the government if it will force Democrats to give in to his demands for the $5 billion he's seeking for a wall on the border with Mexico. However, Democrats have rebuffed Trump's request and congressional Republicans don't have the votes to force the issue.
White House Press Secretary Sarah Huckabee Sanders said Tuesday the administration was looking into whether funds from various agencies could be used to fund a wall, though it was unclear whether the administration had authority to do it.
"We are looking at existing funding through other agencies right now that we can draw on to do that immediately," she said at a briefing. She also repeated Trump's unexplained assertion that additional revenue resulting from the revamped trade deal with Mexico and Canada would provide more than enough revenue to pay for the wall.
Democratic leaders this month offered Trump $1.3 billion for border fencing after earlier this year backing $1.6 billion. McConnell of Kentucky on Tuesday proposed to Schumer of New York a plan that would provide $1.6 billion for border security in addition to $1 billion for Trump's immigration priorities. The additional funding couldn't be used for a wall, according to a person familiar with the matter.
John Cornyn, the second-ranking Republican in the Senate, called Sanders's remarks "a hopeful sign" that a partial shutdown could be avoided before government funding expires for nine government departments and various independent agencies.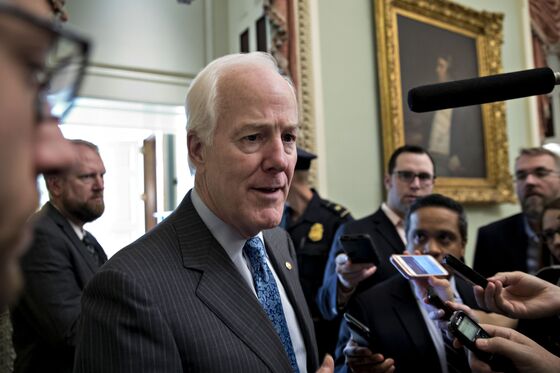 "I'm a little more optimistic this morning than I have been," Cornyn said. "Hopefully it will come together quickly."
Trump has previously suggested he might turn to the military to build a wall on the southern U.S. border. When Sanders was asked during an interview on Fox News Channel Tuesday morning whether the administration would seek to use defense funds, she didn't rule it out.
"There are certainly a number of different funding sources that we've identified that we can use, that we can couple with the money that would be given through congressional appropriations that would help us get to that $5 billion that the president needs in order to protect our border," she said.
Cornyn said it was unclear what authority could be used to shift money to border security from other government accounts.
"I think we'd all have to talk to our lawyers and figure out what his authority is and whether it requires Congress to approve it," he said.
House Democratic leader Nancy Pelosi of California objected. "The wall isn't about money," she said. "The wall is about morality. It's the wrong thing to do. It doesn't work. It's not effective."
Senate Appropriations Chairman Richard Shelby of Alabama said Tuesday after a meeting with Senate Majority Leader Mitch McConnell, Schumer and Democratic Senator Patrick Leahy of Vermont that "there's hope."
"We're trying to thread the needle," Shelby said. "At the moment people are listening to each other but that could stop."
Sanders suggested there are negotiations going on with GOP leaders in Congress, but many Republican lawmakers said they were in the dark.
If there is a plan, "whoever drew it up is keeping it to themselves," Republican Senator John Kennedy of Louisiana said Monday night.
Senator John Boozman of Arkansas, a Republican member of the Appropriations Committee, said Tuesday he hasn't heard heard from the White House but that defense funds could be used without need for legislation.