White House Pressure Ended Protection for Haitians, Lawyer Says
(Bloomberg) -- Elaine Duke was up against a deadline to extend Temporary Protected Status for 50,000 Haitians in the U.S. and was inclined to do so, after repeated renewals since a massive earthquake in 2010 and a subsequent cholera outbreak devastated Haiti.
But after John Kelly, then White House chief of staff, convened a meeting on Nov. 3, 2017, Duke, the acting Homeland Security secretary at the time, decided to end TPS for Haitians. Also at the meeting were Jeff Sessions, then attorney general, and Stephen Miller, a senior adviser to President Donald Trump.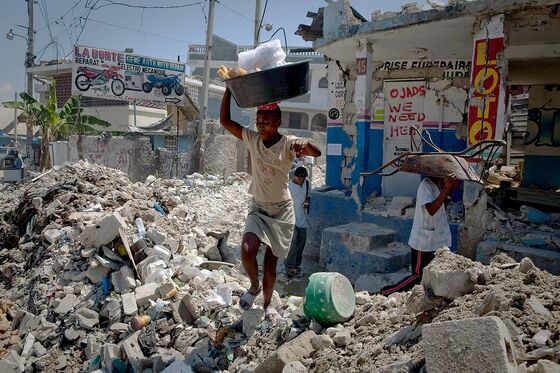 That's the scenario attorney Howard Roin sketched out for a federal judge in Brooklyn, New York, on Monday in opening arguments of a trial over whether the Trump administration improperly ended the program. Its decision thwarted the will of Congress and was "impermissibly infected by invidious discrimination on the basis of race and national origin," according to a lawsuit filed in May and the first to go to trial of four pending complaints.
"The evidence will show that Attorney General Sessions leaned on Acting Secretary Duke to terminate TPS," Roin told U.S. District Judge William Kuntz, who is hearing the case without a jury. Roin argued that the decision wasn't based on sound reasoning that conditions had improved enough for Haitians to return, as the 1990 law creating TPS requires, but on the president's "racial animus" toward people from places such as Haiti, El Salvador and African nations Trump has derided as "shithole countries," according to news reports.
The White House has denied the reports, and in the government's opening argument on Monday, Assistant U.S. Attorney Joseph Marutollo disputed Roin's scenario and claims of racial bias. He said Duke decided to terminate the program after conducting a "thorough and vigorous review."
"The decision was entirely hers," Marutollo said, adding that "the administrative record shows the plaintiffs' contentions are without merit." He said TPS was never meant to be permanent and that by September 2016, Obama administration officials found that conditions in Haiti had "improved sufficiently" to permit the U.S. to begin deporting non-TPS Haitians who'd arrived at the border without visas.
The trial comes as the president is locked in a showdown with the new Democratic majority of the House of Representatives over immigration and the southern-border wall he campaigned on, once referring to Mexicans as "rapists." His reported racial invective toward Haitians and Africans has figured in separate litigation over the administration's introduction of a citizenship question to the 2020 census.
At one point in the trial, Roin decorously rendered Trump's reported remark as "s-hole" countries, drawing an interruption from Kuntz.
"No, we're in grown-up land here -- let's use the words that were used," the judge said. "That's how I roll."
Temporary Protected Status dates back to a law signed by President George H.W. Bush that allows people from nations hit by natural disasters or war who are already in the U.S. to stay and work legally until it's safe to return, and protects about 300,000 immigrants. President Barack Obama extended TPS for Haitians at 18-month intervals.
On Nov. 20, 2017, a little more than two weeks after the White House meeting Roin described, Duke announced that the program would end on July 22, 2019, saying the "extraordinary but temporary conditions caused by the 2010 earthquake no longer exist."
At least 27,000 children were born to Haitians in the U.S. under TPS, according to estimates by immigrants' rights groups. Their parents will have to decide whether to seek care for them in America or to return with them to the far more difficult conditions of their homeland. That's a decision facing Rachelle Guirand, a 40-year-old home health aide who lives in Brooklyn with her eight-year-old, U.S.-born son.
"I would never imagine going to Haiti and leaving him here," she said under questioning by Sajel Zota, a lawyer for the plaintiffs. Yet when asked how the decision to end TPS has affected her, she admitted being at a loss.
"Since then, I've been living with the stress over my head," Guirand said. "Now that I've lived here for 10 years, I don't know what I'm going to do."
Asked later by Marutollo whether she knew the program was temporary, Guirand said she did.
In October, a federal judge in San Francisco issued a preliminary order blocking the government from halting the program for immigrants from Haiti, Nicaragua, El Salvador and Sudan. The judge cited evidence that the Trump administration lacked "any explanation or justification" to end the program and said there were "serious questions" about whether "a discriminatory purpose was a motivating factor" in its decision.
The case is Saget v. Trump, 18-cv-1599, U.S. District Court, Eastern District of New York (Brooklyn).