Trump Says He Ordered Staff to Wear Masks After Aide Infected
President Donald Trump said Monday he demanded that everyone entering the West Wing wear a face mask, after Vice President Mike Pence's press secretary tested positive for coronavirus infection last week.
The White House made the announcement in a memo addressed to staff on Monday, saying employees didn't need face coverings while working at their desks. Trump told reporters that he "required" the memo.
"We've had just about everybody I've seen today has worn a mask," Trump said at a news conference.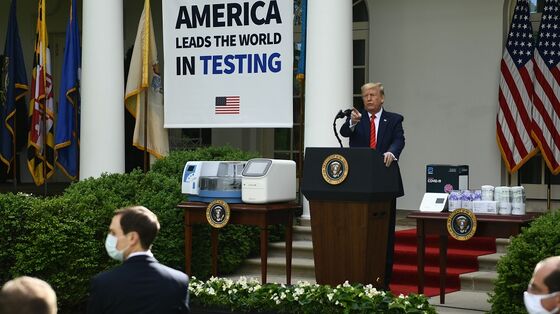 The memo from the White House Management Office reads: "Staff who sit in the West Wing are not required to wear a facial covering while at their desk if they are appropriately socially distanced from their colleagues."
"Unless you absolutely need to conduct in-person business in the West Wing, we respectfully ask you to avoid unnecessary visits," it added.
The memo was reported earlier by ABC News.
Pence briefly isolated himself over the weekend after the aide, Katie Miller, was diagnosed with Covid-19. The vice president returned to work on the White House grounds on Monday, though it was unclear if he entered the West Wing or met with Trump.
He did not participate in the president's news conference in the White House Rose Garden, and Trump said he hasn't seen the vice president since Miller's positive test.
Asked whether Pence is following Centers for Disease Control and Prevention guidelines to quarantine after contact with an infected person, Trump said he would make sure the vice president's office put out a "notice" on what steps he's taking.
Trump said he and Pence may stay apart during the quarantine period. "We can talk on the phone," he said.
Other top health officials who announced Saturday they'd adopt some degree of quarantine practices were also absent from the news conference, including: Anthony Fauci, director of the National Institute of Allergy and Infectious Diseases; Food and Drug Administration Commissioner Stephen Hahn; and CDC Director Robert Redfield.
Miller was the second White House employee to test positive for the coronavirus last week. A member of the military who works as a valet on the grounds of the president's residence was also diagnosed with the disease.
After Miller's diagnosis, Pence traveled to Iowa with the state's senators and met with the governor, Kim Reynolds, as well as faith leaders and food supply chain executives.
But he didn't attend a meeting at the White House on Saturday with Trump and top military officials, nor did two members of the Joint Chiefs of Staff who've had their own brushes with coronavirus: Chief of Naval Operations Michael Gilday and the chief of the National Guard Bureau, Air Force General Joseph Lengyel.
Lengyel tested positive on Saturday at the White House before the meeting. He later tested negative, a Defense Department spokesman said, and he tested negative again on Monday.
Gilday, who has had contact with an infected family member, tested negative over the weekend.
Iowa's Reynolds announced Monday she had adopted a "modified quarantine" because Miller was present during her visit to the White House on Wednesday. Reynolds said she had no direct contact with the aide and feels healthy.