White House Begins Debt-Ceiling Push With Congress Briefings
(Bloomberg) -- The White House on Wednesday stepped up efforts to get Congress to raise the federal debt ceiling, holding a public-relations strategy meeting with Senate Democratic aides ahead of a similar session with House staff planned for Thursday.
National Economic Council Deputy Director Bharat Ramamurti and Treasury counselor Ben Harris conveyed the message to Democrats that it's the shared responsibility of Republicans to avoid a U.S. payment default -- reinforcing a narrative that Democrats have been reciting for weeks.
The messaging push comes after 46 out of the 50 Senate Republicans wrote on Aug. 10 that they would not vote to increase the debt ceiling -- a sufficient number to block a bill doing so under normal Senate procedures. Senate Minority Leader Mitch McConnell said that with Democrats pursuing a $3.5 trillion social-spending package this autumn, they cannot expect GOP cooperation on the debt. 
The White House told Senate aides Wednesday that it expects Republicans and Democrats to join together to raise the debt ceiling, according to the White House official. They distributed talking points highlighting that the debt ceiling was increased three times during the Trump administration, that the vote does not in itself authorize new spending and that 97% of the total debt occurred before President Joe Biden took office.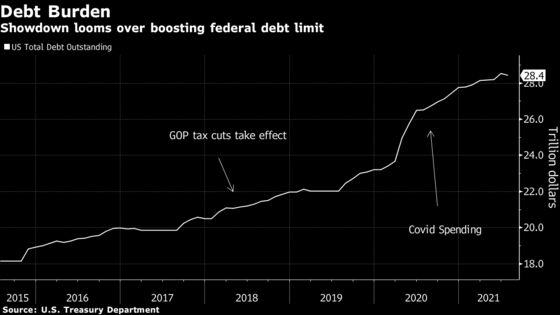 There was no message on whether or not any budget reforms could be attached to a bill raising the debt ceiling nor any on the exact timing needed to avoid a default, according to the White House official. 
The federal debt limit came back into effect -- at a level of $28.4 trillion -- at the beginning of August following a two-year suspension. The Treasury Department has deployed extraordinary accounting moves in order to allow the government to keep paying its bills, but the scope for such measures will at some point run out.
The U.S. could default on its payment obligations as soon as Oct. 1, according to estimates, yet House and Senate Democrats have decided not to raise the debt ceiling using a fast-track process that would not require Republican support.
A purely partisan vote could cause some moderate Democrats political problems in next year's midterm elections, and that may be one motivation for trying to force a bipartisan vote. Democrats are widely expected to attach a debt-ceiling increase to a stopgap government appropriations bill that will be required to keep the government open after Oct. 1.
The White House is working closely with Senators Mark Warner of Virginia and Michael Bennet of Colorado on its push.
A Senate Democratic aide said that the Wednesday session was the first in a series of planned meetings leading up to a Sept. 14 Democratic caucus gathering, where decisions could come on the plan to raise the debt ceiling.
The aide argued that Republicans are trying to play games with the debt ceiling, and that the economy could suffer -- with the losers being the middle class.
A decade ago, a tense partisan battle over raising the debt limit resulted in the first-ever sovereign-rating downgrade of U.S. debt, sending stocks reeling, damaging consumer confidence and hurting approval ratings for both then-President Barack Obama and Congress.