White House Says It's Not Tying FBI's Hands as Democrats Demand Details
(Bloomberg) -- President Donald Trump's team pushed back against reports that the White House has laid out narrow ground rules for the FBI probe into Brett Kavanaugh, while Democrats demanded to know specifics of the investigation.
Trump ordered the investigation on Friday into the sexual assault allegations against Kavanaugh following a request by Senate Republicans, a turnabout for a nominee the party had hoped to power through the chamber and onto the nation's top court by early this week.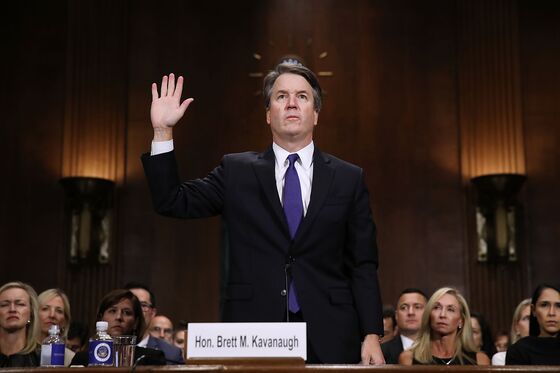 The probe, though, will be limited in scope in ways dictated by the White House, said a person familiar with the proceedings. That apparently includes not following up on claims of sexual misconduct by Kavanaugh from Julie Swetnick, the third woman to come forward, and on information offered about the judge's history of alcohol use, including on Sunday by a former classmate from Yale University.
The FBI was given initial orders to interview just four people, said the person familiar with proceedings. They were Kavanaugh's high school friends Mark Judge and PJ Smyth; Leland Keyser, a high school friend of California professor Christine Blasey Ford; and Deborah Ramirez, who accused Kavanaugh of exposing himself to her at a party at Yale University.
The bureau has flexibility about what to ask about, including Kavanaugh's alcohol use, said the person. It will report its findings back to the White House, which will then have to decide whether it wants the FBI to do anything more with regard to these four. The FBI could also come up with other people it wants to interview, although it's unclear if it would have to run those names past the White House for approval.
Senior Trump counselor Kellyanne Conway on Sunday rejected the notion that the White House is in control of the probe. "The White House is not getting involved in the FBI investigation in that way," she said on CNN's "State of the Union." "The president very much respects the independence of the FBI."
Senator Dianne Feinstein of California, top Democrat on the Senate Judiciary Committee, asked the White House and the FBI on Sunday to provide specifics on exactly what the bureau has been asked to do.
"Given the seriousness of the allegations before the Senate, I am writing to request that you provide the Senate Judiciary Committee with a copy of the written directive sent by the White House to the FBI," Feinstein wrote to White House Counsel Don McGahn and FBI Director Christopher Wray.
Democratic Senator Amy Klobuchar of Minnesota said on CNN that she's concerned the White House will micromanage the investigation. Questions about Kavanaugh's drinking are relevant, she said in a second interview on CBS's "Face the Nation," and shouldn't be off-limits, as some news reports have suggested.
Sarah Huckabee Sanders, the White House press secretary, said on "Fox News Sunday" that the White House isn't directing the process. Sanders added that she wasn't aware of any directives from White House Counsel Don McGahn.
Conway and Sanders both characterized the week-long probe as not meant to be a fishing expedition. Sanders added that the White House didn't expect significant new allegations to arise in the FBI investigation given six prior background checks into Kavanaugh.
Former FBI Director James Comey wrote Sunday in the New York Times that there should be no artificial limit on the bureau's probe. "If truth were the only goal, there would be no clock, and the investigation wouldn't have been sought after the Senate Judiciary Committee already endorsed the nominee," Comey said.
The bureau, he added, "is up for this." "Unless limited in some way by the Trump administration, they can speak to scores of people in a few days, if necessary," Comey said.
Besides the contours of the brief FBI probe -- one which Republican Senator Lindsey Graham of South Carolina said on Fox News could wrap up as soon as Monday or Tuesday -- Democrats questioned Kavanaugh's partisanship and judicial temperament.
In a fiery opening statement to Thursday's hearing, Kavanaugh said opposition to his appointment was stoked by "revenge on behalf of the Clintons, and millions of dollars of money from outside left-wing opposition groups."
"It made me wonder about his suitability to serve on the bench," Democratic Senator Chris Coons of Delaware said in a partial clip from an interview that will air Sunday night on CBS's "60 Minutes." "I thought his anger got the best of him."
Klobuchar had a heated exchange with Kavanaugh during the hearing, in which she asked the federal judge whether he'd ever been blackout drunk. "I don't know," he said. "Have you?" Kavanaugh later apologized.
"I was really stunned by how he acted," she said on CNN. "This is a -- basically a job interview for the highest court of the land."
Kavanaugh's characterization of his alcohol use in high school, at university and beyond was a big factor in Thursday's Senate hearing and in an interview the judge gave last week to Fox News.
A former Yale classmate came forward on Sunday to challenge Kavanaugh's account, and said he'd provided similar information to the FBI.
"I have become deeply troubled by what has been a blatant mischaracterization by Brett himself of his drinking at Yale," Charles Ludington said in a statement. "When Brett got drunk, he was often belligerent and aggressive." In one instance, Ludington said, Kavanaugh threw a beer into a man's face and started a fight.
"In denying the possibility that he ever blacked out from drinking, and in downplaying the degree and frequency of his drinking, Brett has not told the truth," said Ludington, an associate professor of history at North Carolina State University.
Three Senate Republicans sided with Democrats on Friday in seeking the extended federal background probe of Trump's second high-court pick. Senators Jeff Flake of Arizona, Lisa Murkowski of Alaska and Susan Collins of Maine forced the hands of Republican leaders in seeking the delay, because Kavanaugh must have the support of at least two of them to win confirmation in a chamber Republicans govern, 51-49.
The about face came after the raucous Senate hearing in which Kavanaugh forcefully and tearfully denied claims by Ford that he'd sexually assaulted her in high school.
Kavanaugh on Friday continued to defend himself and said he'll be cooperating with FBI investigators.
On Thursday, the Judiciary committee heard Ford testify that she's "one hundred percent" certain Kavanaugh attacked her in 1982 when they were teenagers, describing in detail being held down on a bed at a beer-soaked high school gathering. She described "uproarious laughter" by Kavanaugh and his friend Judge, who's said he doesn't recall such an incident.
Asked to square the accounts of Ford, whom Trump described as "a very credible witness," and Kavanaugh, Conway said on CNN that "they could both be right."