Whitaker Says He Won't Testify Unless Subpoena Threat Is Lifted
(Bloomberg) -- Acting Attorney General Matthew Whitaker said he won't testify before a House panel unless Democrats lift a threat to subpoena him if he refuses to answer questions about conversations with President Donald Trump and his oversight of Special Counsel Robert Mueller.
Hours after the House Judiciary Committee voted Thursday to authorize a subpoena, Whitaker issued a statement saying "it is apparent that the committee's true intention is not to discuss the great work of the Department of Justice, but to create a public spectacle. Political theater is not the purpose of an oversight hearing, and I will not allow that to be the case."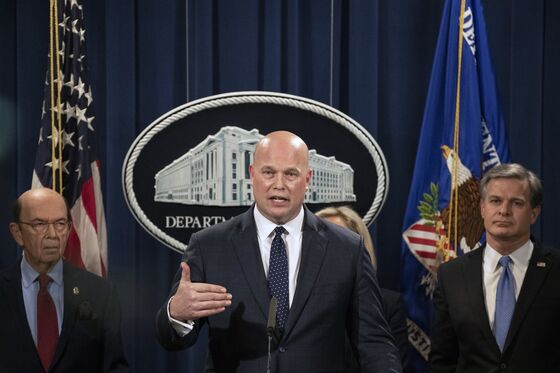 He said he won't appear unless committee Chairman Jerrold Nadler "assures me that the committee will not issue a subpoena today or tomorrow, and that the committee will engage in good faith negotiations before taking such a step down the road."
Democrats have said they want the option to subpoena Whitaker if he refuses to discuss some issues during testimony before the committee that was scheduled for Friday.
"I hope and expect that the subpoena will not be necessary," Judiciary Chairman Jerrold Nadler said before the committee voted along party lines to authorize the action, but he cited "troubling events" including previous efforts by the Justice Department to delay Whitaker's appearance.
Nadler declined immediate comment after Whitaker's announcement that he won't testify unless the subpoena threat is lifted. Representative Eric Swalwell, a committee member, tweeted, "Not how it works."
Now, Nadler has authority to issue a subpoena. Normally, that would open a prolonged dispute over subpoena powers that could end up in the courts. But in this case the issue may become moot because the Senate is likely to confirm William Barr, Trump's nominee for attorney general, next week. The Senate Judiciary Committee voted to approve Barr on a party-line vote of 12-10 on Thursday.
In a letter to Nadler after the hearing, Assistant Attorney General Stephen Boyd wrote that Whitaker is prepared to testify that "at no time did the White House ask for, or did the acting attorney general provide, any promises or commitments concerning the special counsel's investigation."
But Boyd said the Justice Department does not believe that the committee may "legitimately expect the acting attorney general to discuss his communications with the president."
The dispute comes as other House panels also stepped up investigations of Trump and those around him despite the president's warning in his State of the Union address on Tuesday that the nation's "economic miracle" could be stopped by "ridiculous partisan investigations." He's also called it "presidential harassment."