Whitaker Dismissing Notion He'll Starve Mueller's Probe of Money 
(Bloomberg) -- Acting Attorney General Matthew Whitaker has told associates that the Justice Department under his leadership won't cut the budget for Special Counsel Robert Mueller's investigation into Russian election interference, said a person familiar with the matter.
It's a signal that some of the worst fears that critics have about Whitaker's potential to interfere with Mueller's probe won't come true in the immediate aftermath of the former DOJ chief of staff being chosen to replace Attorney General Jeff Sessions.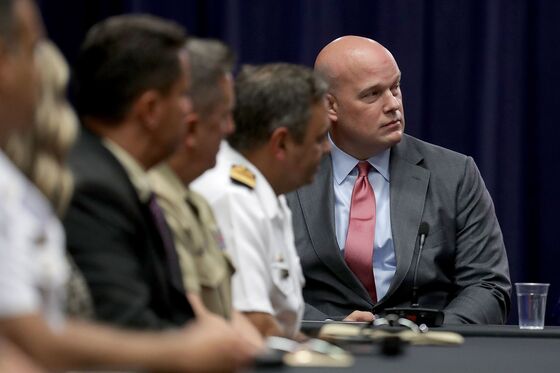 In July 2017, Whitaker said during an interview on CNN that he could envision a scenario in which an acting attorney general doesn't fire Mueller but "just reduces his budget to so low that his investigations grind to almost a halt."
Whitaker's telling associates he won't follow that course now that he has the job, but will allow Mueller's probe to continue. It's unclear how close Mueller is to wrapping up his work as he faces growing calls from President Donald Trump and other Republicans to finish quickly.
Mueller's investigation cost more than $16 million during its first year, according to figures released by the Justice Department in May. According to the department's most recent report, $10 million was spent from Oct. 1, 2017, through March 31.
Mueller's direct spending during that period was about $4.5 million; the rest reflects spending by Justice Department components in support of his investigation. The department said the components would have incurred those expenses even if the special counsel didn't exist -- an indication of how embedded investigative activities are within the department.
It's unclear to what degree Whitaker could shut off funds for Mueller. The special counsel's budget for fiscal 2019 has already been approved by the Justice Department.
Critics, including top House Democrats who'll take over control of key committees in January, fear that Trump chose Whitaker to be acting attorney general in order to curtail or stop Mueller's investigation. Even without cutting the budget, Whitaker could take a number of actions affecting the probe because he controls the composition of Mueller's team and must approve major investigative steps, including indictments.
Whitaker has been publicly critical in the past of the investigation, which is probing Russia's interference in the 2016 election, whether Trump or any of his associates conspired to do so, and whether Trump has obstructed justice.
Whitaker put out a statement shortly after taking the job that he would lead the department "with the highest ethical standards."
Mueller's team is paid for under a permanent fund for investigations by independent counsels that was established in 1998, which means it's not subject to Congress's routine spending debates. Mueller's budget isn't affected by a current stopgap spending measure that expires on Dec. 9.